Welcome to Car Mods. A new category in the "More Geeky Stuff" section of my website.  I don't always mod my cars, but when I do, I document it. 🙂  So this first post will be to catch you up to date and show you what I am currently working on.
In the past
I have always modded my vehicles. Heck, I think I have always modded my everything.  I am not a "cover your car with stickers and hang some brass nuts on my trailer hitch" kind of guy though.  I like subtle changes. Things that are custom but look like the fit and were just made that way.  There is one exception and that was my 2004 Harley Sportster.  The very first summer I had my bike (stock at the time), I was sitting at a red light and an SUV barreled into the back of me and launched me from the bike.  Here a photo of the stock bike taken in the guy's garage where I bought it: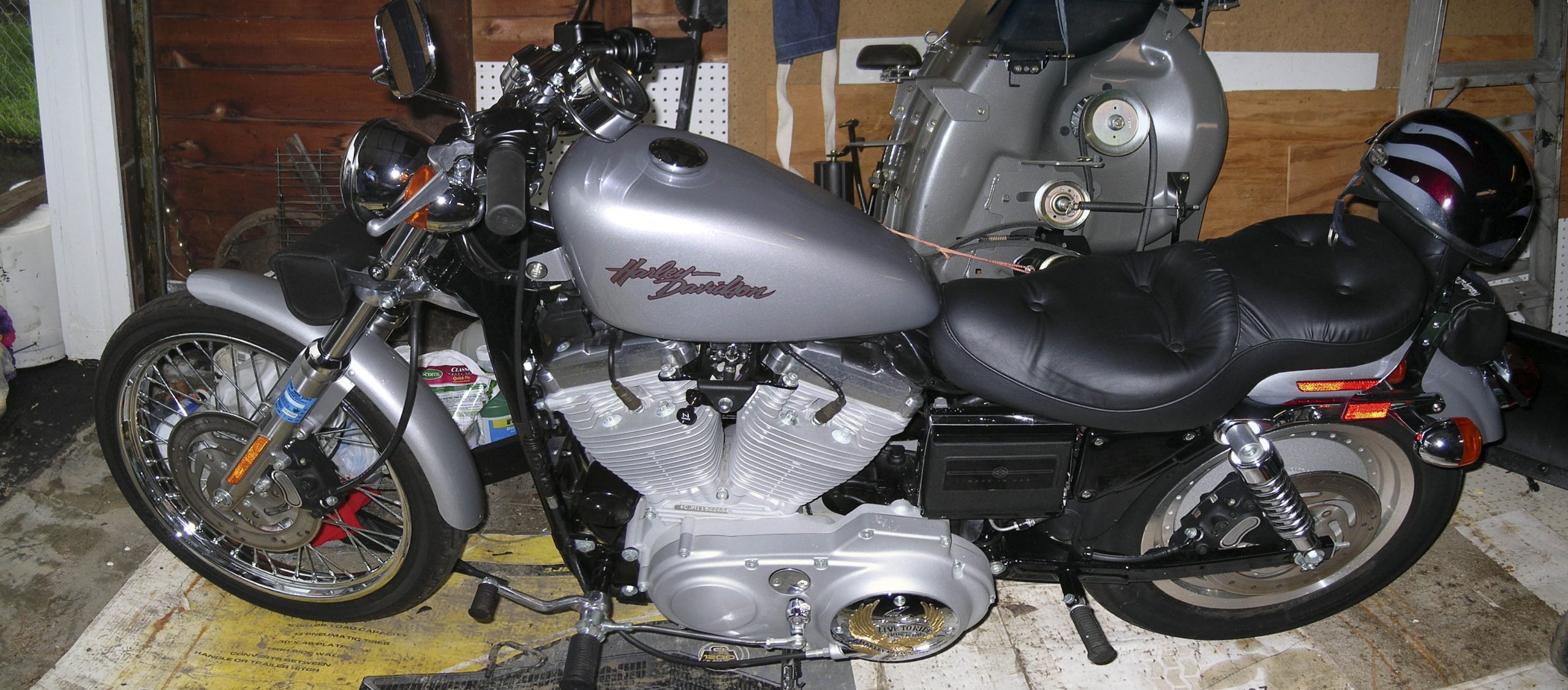 The accident did quite a bit of damage, so when rebuilding the bike, I did a few upgrades.  This is how it turned out: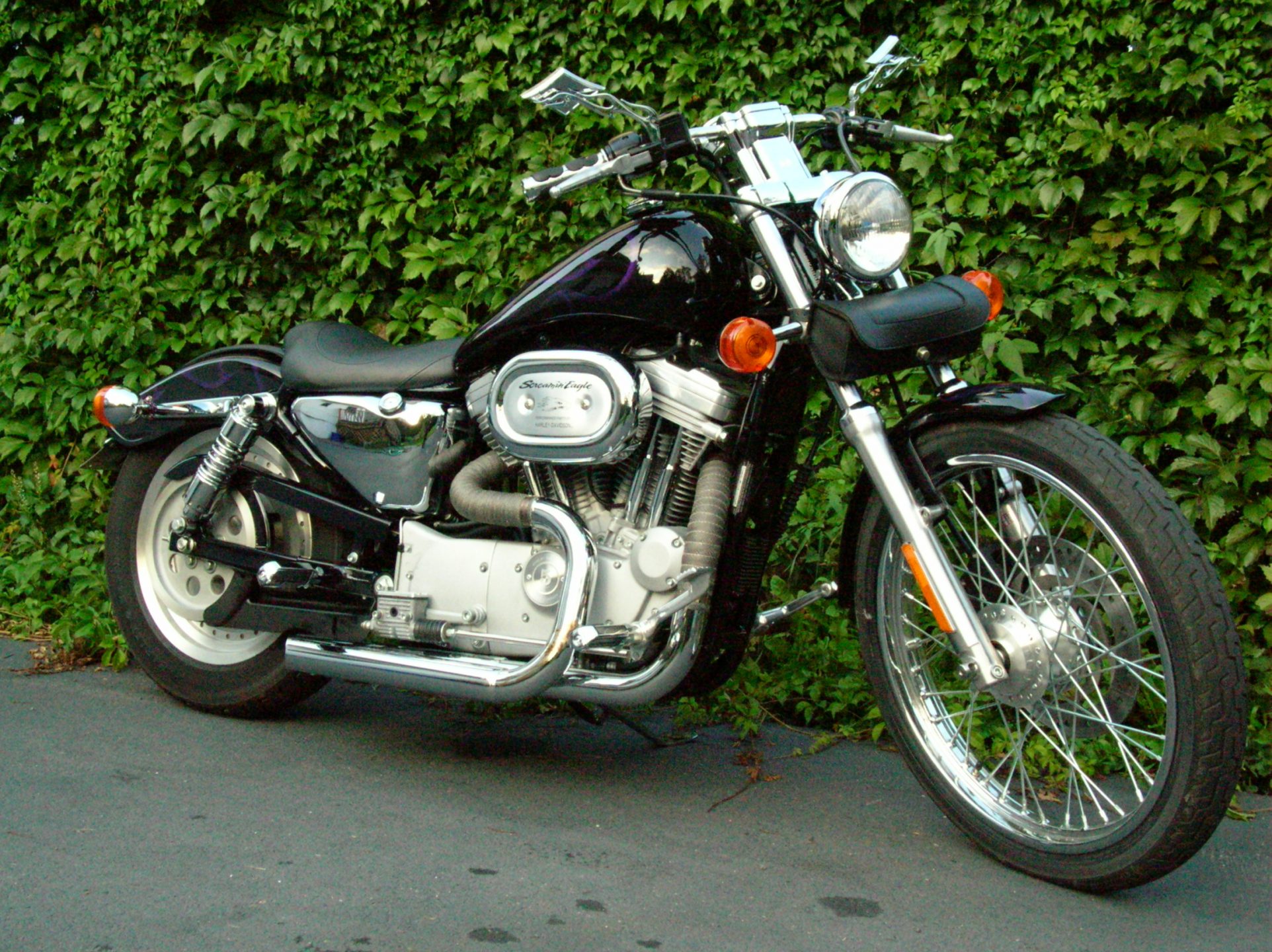 It wasn't long after this photo that I filed for divorce from my wife of 12 years. Maybe it was insanity, a case of "no f**ks given", or just finally getting some piece of mind. Whatever it was doesn't really matter. What does matter is that I decided that this just wasn't me and the soul searching began.  I think I lived that transformation of myself, through the changes I made in the bike and here is where I went with it.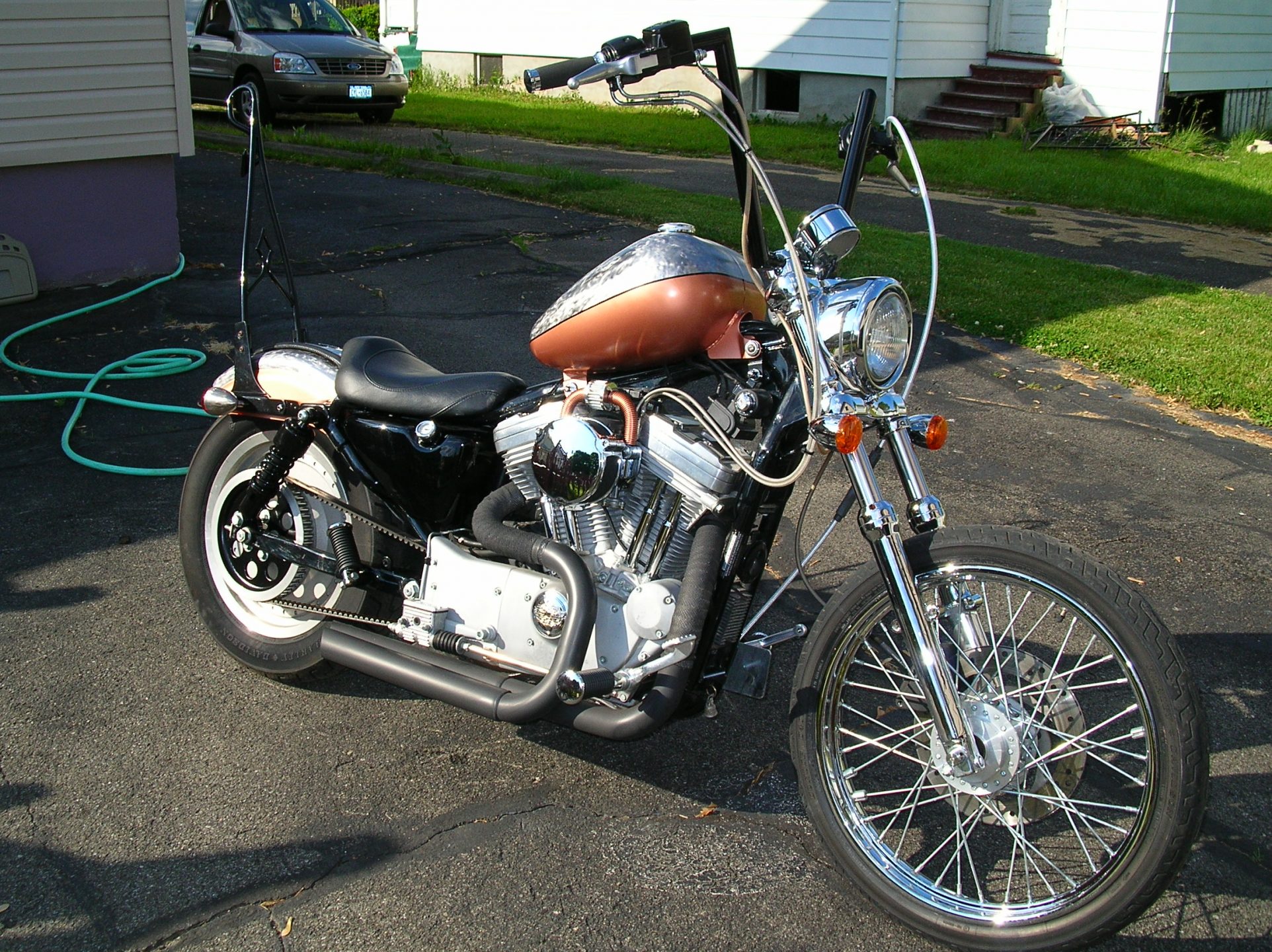 So there ya go. That's more of an extreme level of modding and I doubt you will see me mod to that level again in these blog posts…but…you never know!
Last Car Mod: 2012 Hyundai Veloster
My last mod is directly responsible for the current mod that I am working on with my 2014 Subaru Crosstrek and that was our 2012 Hyundai Veloster.  This isn't any major mods so to speak, mostly cosmetic. Here is the car, brand new on the day we bought it.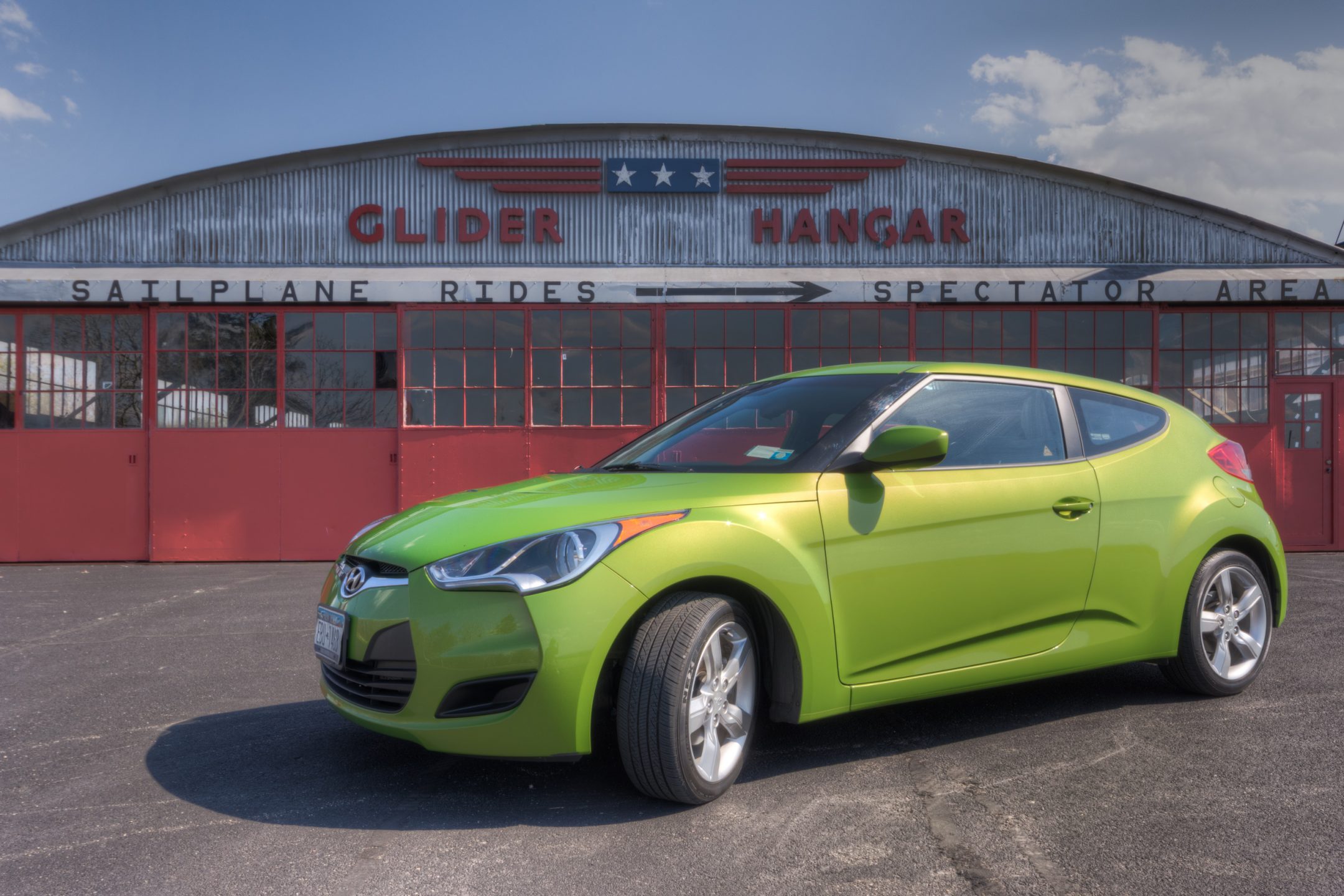 And here it is with the mods that I did on the car.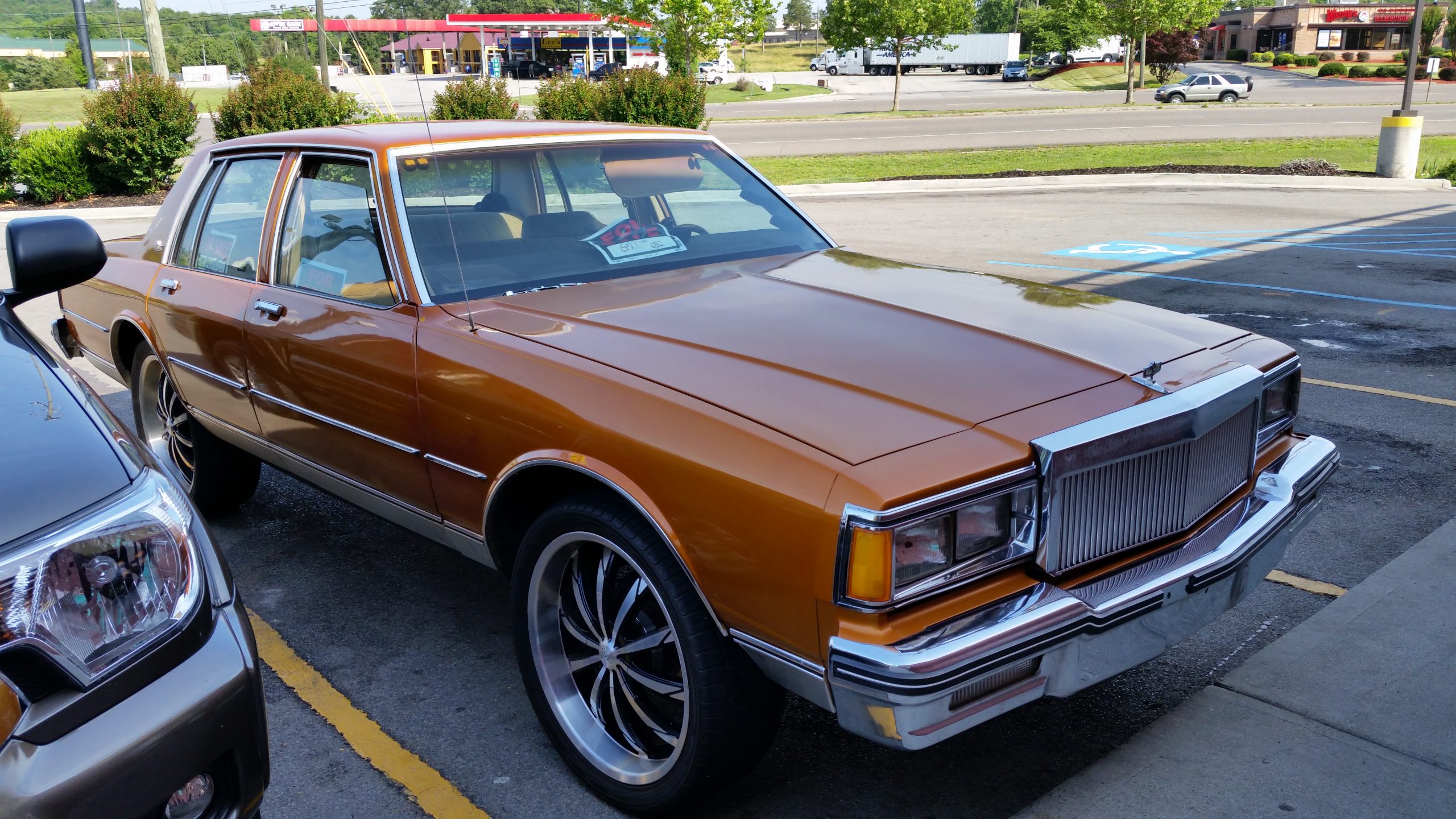 Hehe, okay, okay…just kidding. Here is the real thing: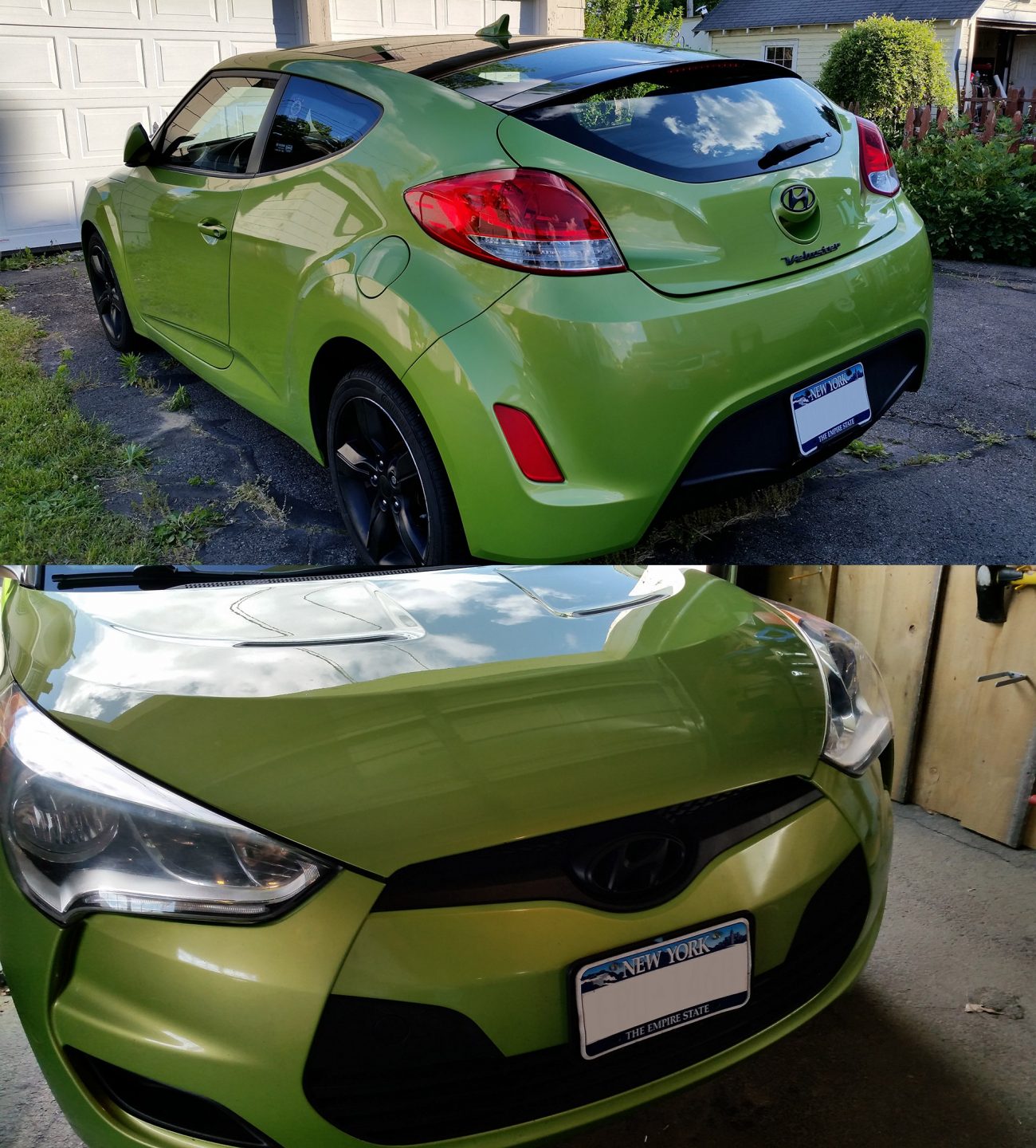 Just little things. Rims, logos, etc. To me, this is the way the car should have been from the factory. For the life of me, I do not understand matte black accents mixed with chrome accents. Anyway on to the current project!
Current Car Mod in Progress
So I saw a bunch of mods that I liked online at various sites so I decided that I would gather a list of what I want to do and get it underway.  Let's start off with looking at the car as stock from the dealer.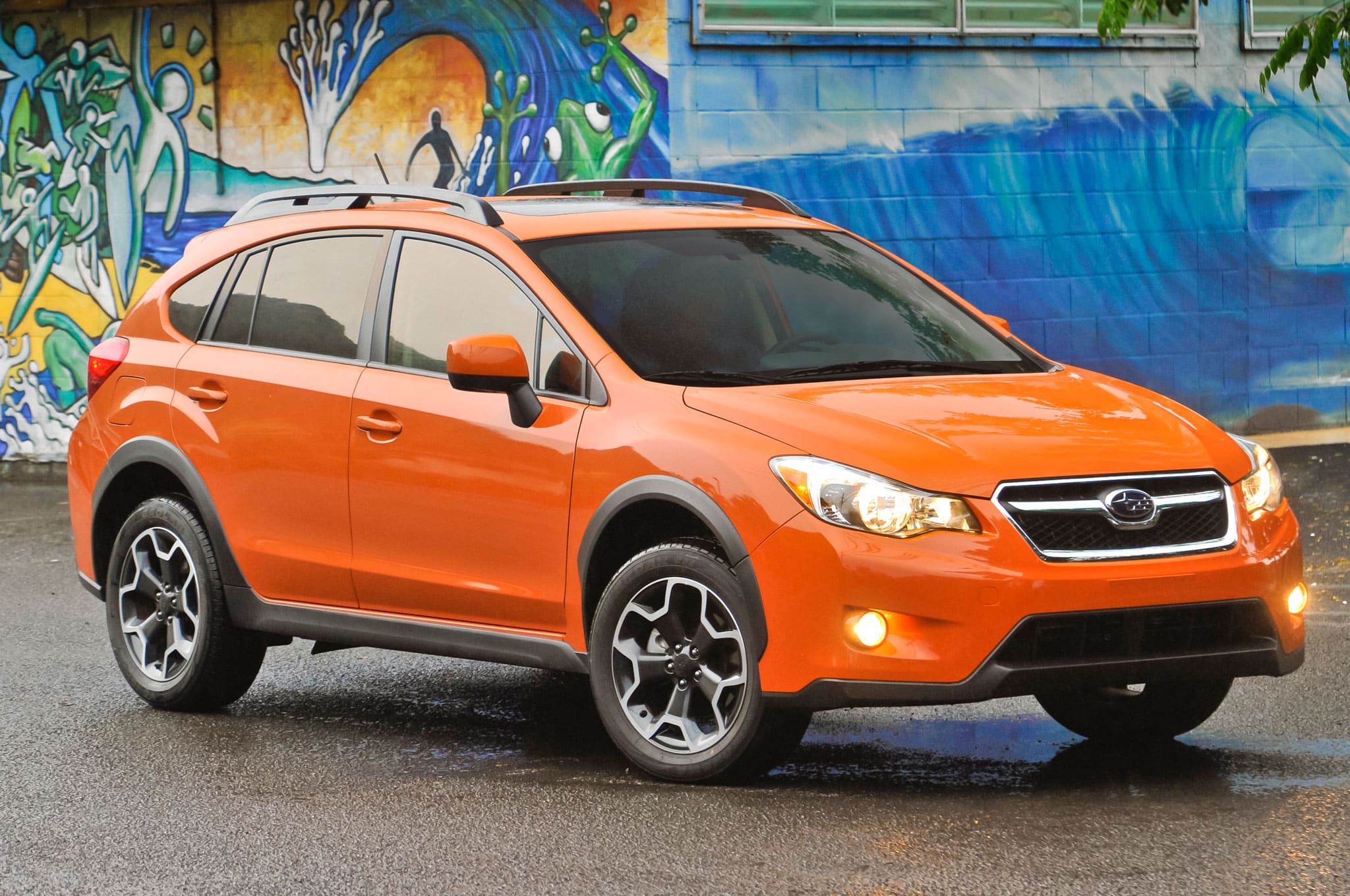 Again, the aluminum wheel accents, chrome grill, painted mirrors and a section on the tail that I will address later all have to go.  Just say NO to chrome!  So on top of those paint upgrades, I will be masking and painting the hood in matte black, putting in upgraded horns, new "knobby" tires, cold air induction, and some interior LED upgrades.  With that stated, where are we now?
Well, I just finished the grille.  Removal was simple.  There are some pop-up plastic rivets that hold the top in place. You pull the grille forward just a bit and remove the piece that they are all attached to. From there you can access for phillips head screws (2 left and 2 right) and then working from one side to the other, along the bottom of the grill are snap locks that you have to squeeze to release.  This is easiest by starting on the right, hold the grill out with your right hand and pushing in on the tabs with your left, one at a time.  There are 4 sets of 2. You must do each side of each tab separately. Working right, then left.  The grill will pull out slowly as you do this.
Once the grill is removed I washed the grill clean with a brush and the hose.  Then I used basic painters tape to mask off the logo. I am not a fan of blacking out logos.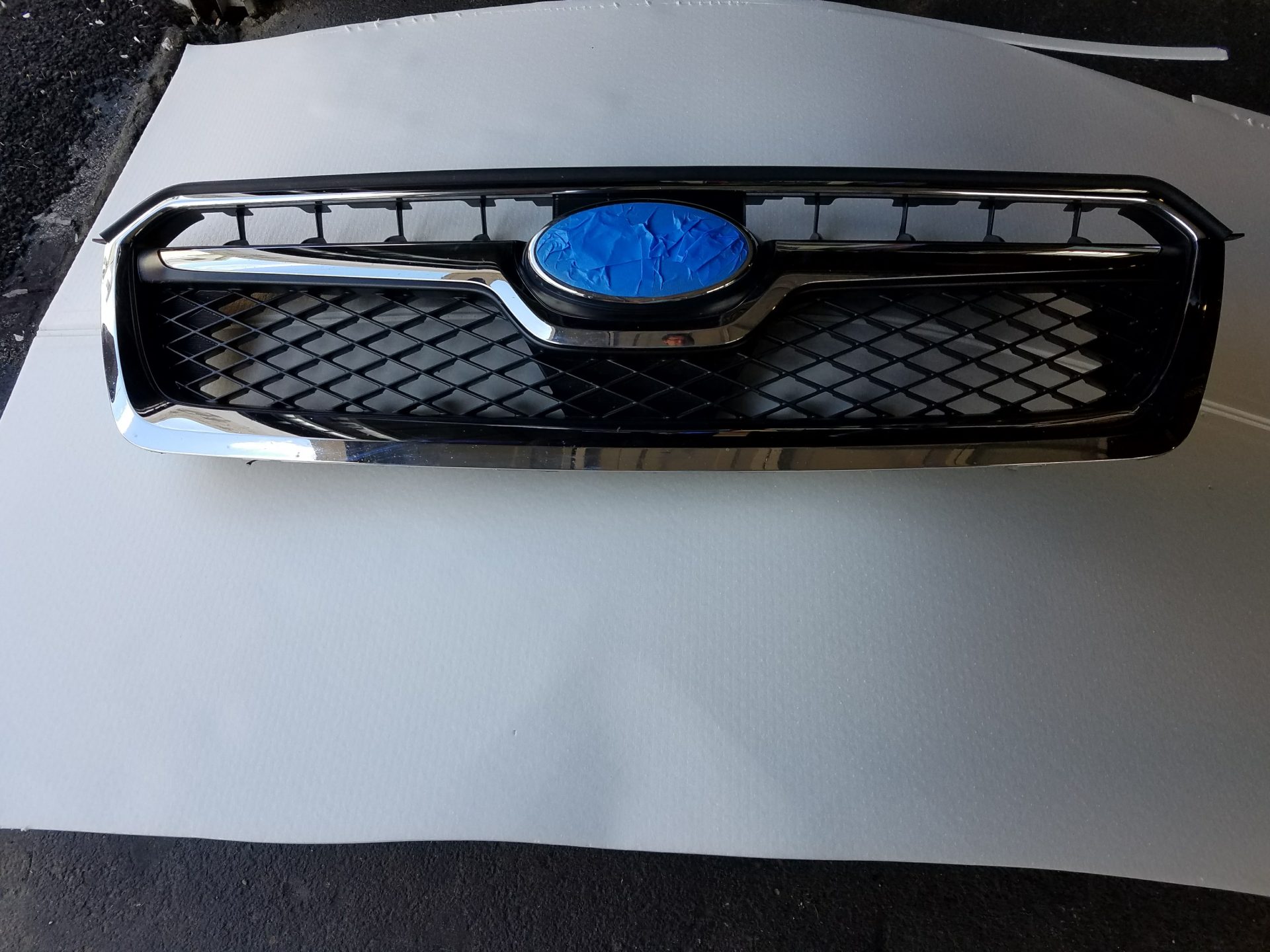 Once the mask was on I went over the entire grill with denatured alcohol to remove any grease prior to spraying.  For the coating I am using a new coating from Rustoleum called FlexiDip. When I did the Hyundai I used Plastidip.  While this worked okay, the overall feel was sticky even after drying. And I still don't think the coating has worn all that well.   So I decided to take a chance on the Flexidip and I am really glad I did.  The look and feel of the coating is dead on to matte spray paint.  It levels and hides imperfections really well.  Here is grill with a couple of coats on it.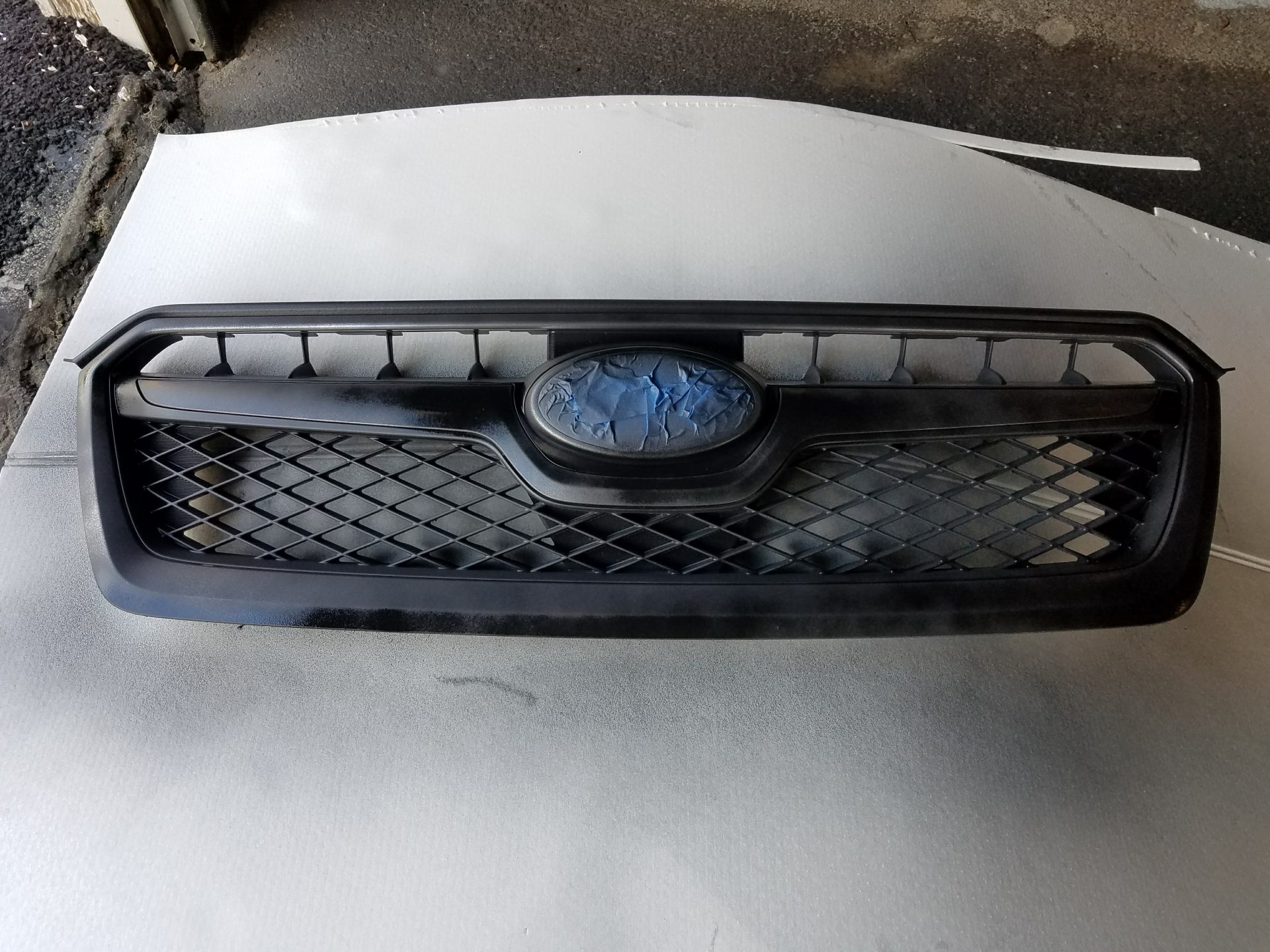 And here is the grill installed.  I did 5 coats with about 20 mins in between coats and about 2 hours before I re-installed the grill.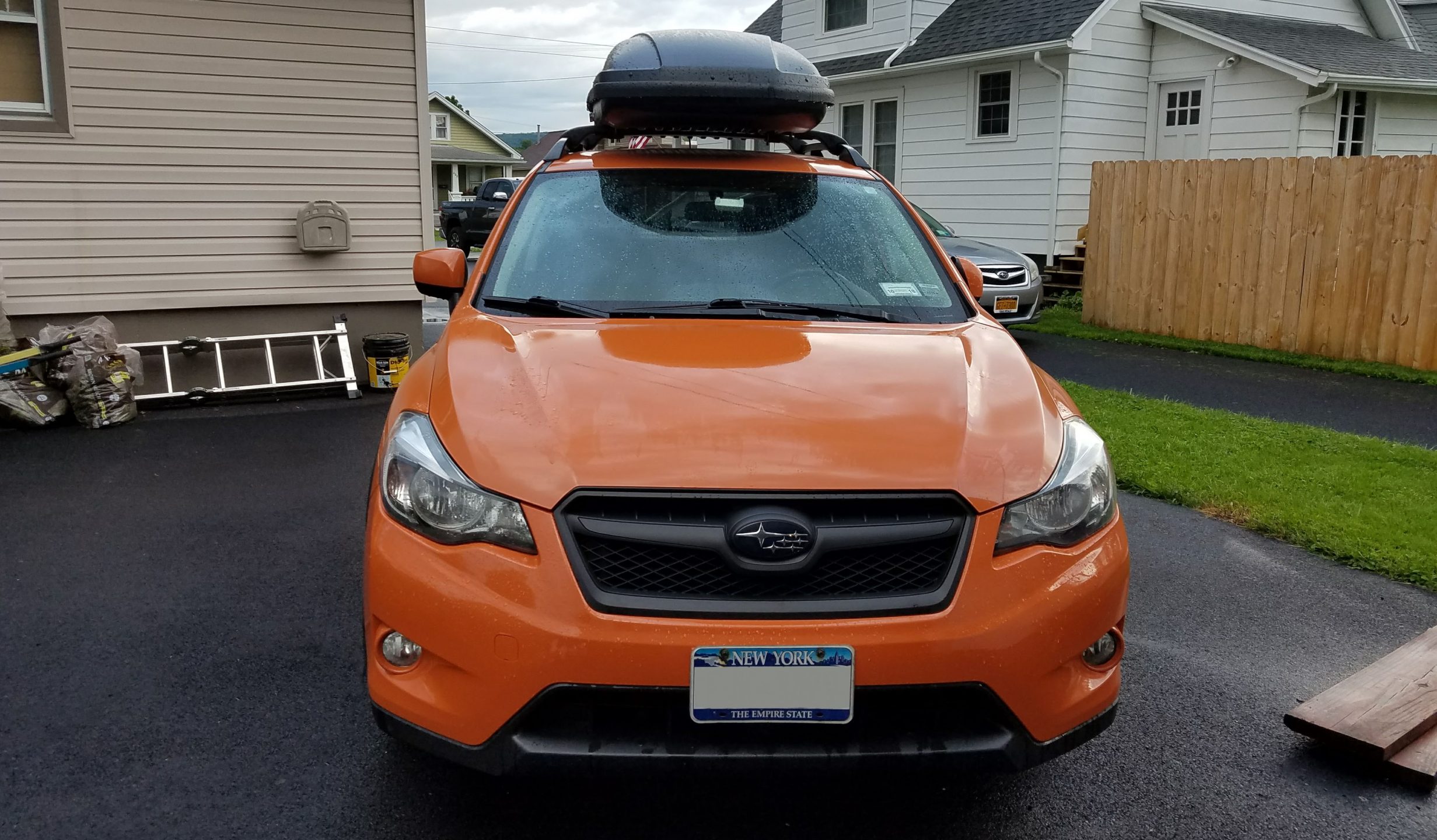 So that is step one on my way to the finished product.  Next entry I will be tackling the rear part of the car and the side mirrors.  We travel a ton with our Subaru and we are actually planning on getting a second one as our Hyundai is closely approaching 100k.  In the first week we had the Subaru Crosstrek I drove it 7000 miles across the US and went 4 wheeling in Moab, UT with it on the Klondike Trail.
We these mods (tires, lift kit and grill) I am hoping to be able to tackle even greater off-road adventures.  Thanks for checking out the story and I am glad to have you following along.  If you have any questions along the way, please put them in the comments below!
~AD