Part I of III
Right around the turn of the century Asher Selig Grossinger, after failing at several businesses, moved from his New York City home to a larger home in Ferndale, New York with the hopes of being a farmer.  Ferndale, originally called Liberty Falls is located in Sullivan County in the Catskill Mountain region of New York State.  Asher, along with his wife Malke, and his now famous daughter Jennie would end up operating a kosher kitchen and renting their home out to vacationers visiting from New York City.  This home, later known as the Longbrook House.
In 1919, popularity drove the Grossinger family to purchase a 100 acre plot of land and a new, larger home known as The Terrace Hill House, this would be the beginning of a resort empire.  Over the years the Grossinger family expanded their resort with cottages, playhouses, skating rinks, an airfield, a golf course, tennis courts, and even a ski lodge.
In 1952 the Grossinger Resort immortalized itself in history by being the first resort in the world to feature the use of artificial snow.
Through the 1950's, 60's, and into the early 70's Grossinger's was the vacation spot.  Hosting celebrities, sports figures, inspiring movies such as Dirty Dancing, building its own airstrip and even its own post office, Grossinger's had become the largest and most popular resort in the Catskill region.
In 1972, the resort saw the losing of an icon in Jennie Grossinger.  At the time the hotel had grown to 35 buildings, and was hosting a whopping 150,000 guests a year.  Most of them had known and loved Jennie, she was the jewel of the resort.  Her passing, plus the decline of interest by younger generations led to the decline of the resort through the late 70's and early 80's and it's closing in 1986.
I personally would not discover Grossinger's until some 23 years after it's closing.    I had been been shooting with my DSLR for about a year and was getting bored with shooting the same old barns, waterfalls, cows and the such.  Out of that sheer boredom and my love for adventure I took to the internet in search of some "different" subjects to shoot.   I was also just starting to experiment with HDR.  I am a member of Flickr.com and had a few contacts on my list from Europe that had been shooting a "new to me" type of photography called UrbEx Photography.  UrbEx stands for Urban Exploration.  Though it  really has nothing to do with photography, many photographers like myself have adopted the culture and combined it with our art.  Urban Exploration is the exploration of old buildings and sites that are sometimes "off-limits".   The appeal is the decay of these sites and that in turn, lends itself incredibly well to HDR.  So if you throw all of that into a big mixing bowl, you have me, and what I do.  Though my adventures started with a pure need for the adrenaline rush that accompanies them, the historical preservationist in me has prevailed.  We know that a lot of these places will never be saved.  And, a lot of them died long before the internet, along with any photos that may represent them.  So by gaining access and applying my art to their death, I am preserving what beauty there is left in these dying hulks.  I seriously cannot name all of the wonderful people that I have met through my photos of Grossinger's.  Every one of them are always overwhelmed with happy memories of this great place.
It was the fall of 2009 when I first visited.  I had lined up a couple of places for my friend and I to try and visit.  One was the Jackson Sanatorium in Dansville, NY (soon to be featured here) and the other was Grossingers.  I will skip the boring details on how to get there and how to get in…if you are on the internet, you can figure it out for yourself.   At this point I would not suggest a visit as security has tightened there and the place has become extremely unstable and dangerous.   Vandals, taggers, and scrappers have ruined the place to the point that it is nearly un-photograph-able.
All I remember from the first trip was the vastness of it all.  This place is roughly 1200 acres.  Buildings everywhere.  We make it down a road between a building and a large tennis court and are greeted with a large swampy area.   We explore several buildings and take a few shots.  Not really knowing the layout of the place we really had no idea at the time what we were shooting or where we were going.  It was only later through hours of research and talking to others did we grasp the real size of the place and the names and locations of all of the buildings.   The first place we shot was the boiler and laundry building.
Purchase a Print
Just to my left of where I took that photo was a dark loading dock area. To this day I still haven't explored this area. A flatbed cart caught my interest, it seemed to be screaming, "Get me out of here!".
Purchase a Print
The Golf Course at Grossinger's is still being used, and even though it was late October there were still some hackers on the course. Directly across from where we were was the road that led to the clubhouse. So of course we headed directly for it… Just across the road was another large cottage, a skating rink and an amazing green house. No time this day for the first two so we ducked into the greenhouse for a shot..
Purchase a Print
Purchase a Print
Having pushed a luck and the traffic on the road picking up pace, we decided to head back, deeper into the complex. We found a large elevated building which we had identified from the internet as the indoor swimming pool. We knew we HAD to get in to get some shots of this place. Everywhere we looked around the place was an 8 foot ledge. All the walkways had been taken down. There was a makeshift bridge made out of an old log and a board that my buddy wanted to try, right up until the moment he set foot on it. He decided that with 60lbs of camera gear in tow that it wasn't worth the broken leg. We continued to search. We made our way around the end of the building and found a walkway intact. This one was about 10ft up and connected to a small hotel. We kept that as an option but continued to search, knowing that there must be another easier way in. We continued around the back to find another swampy area that led to another hotel! There must be a way in here! This next photo shows my buddy with a sheepish grin on his face. In reality, we were freaking out as a murder of crows was swooping down on us at that very moment. They obviously didn't want us there for some reason.
Purchase a Print
This was the pool wing building. Very creepy here. Every time I have visited very strange noises in this building. I can usually explain away most anything, but not in this building. I can't quite put my finger on it.
Purchase a Print
We make our way in and find just one of the many gems hidden at the old resort. It's the coffee shop. Oh, those famous stools.
Purchase a Print
Purchase a Print
Today, many of these stools have been broken off, backs bent, and/or otherwise wrecked. Almost directly adjacent to the stools were these amazing soda jerks. These have all been stolen now and are gone.
Purchase a Print
I am sure these ended up on eBay or craigslist somewhere. Really sad that people can't leave this stuff alone. I guess in the long run it really doesn't matter because no one else is doing anything with it.
After getting our shots and our share of the creeps in the coffee shop we head back out. At the time, we had no idea how close we were to the easy way into the indoor pool area. We headed back into the courtyard and toward the Paul G. building where we spotted the 10ft walk way. We made our way into the Paul G. building and up to the second floor. After a very dangerous walk across a rotted out walk way we finally made it to the indoor pool. Boy were we NOT disappointed.
Purchase a Print
This was absolutely un-real. Lounge chairs strewn about a huge glass shrouded building. Terracotta and white tiling on the floor with giant support beams overhead. It was massive, ominous, spectacular, and alive. The pool area had become a giant terrarium with plants and ferns growing right on the tiles. I had never seen anything like it before.
Purchase a Print
Purchase a Print
Sometimes you just cannot get a shot off without another photographer stepping in your frame!
Purchase a Print
Not sure what this little "barn" was used for, probably storage of some sorts. What looks to be grass growing around it is actually a moss. One of the few things that would grow on the white tiles. Very strange even for this place was the fact that most of the plants would only grow on the terracotta colored tiles.
Purchase a Print
Just behind that the two doors we originally tried to Indiana Jones through.
Purchase a Print
At the other end of the pool are a couple of stairways that lead to complete blackness under the pool. At the time we had no idea what was there. This area will be visited at a later date.
Purchase a Print
After shooting the stairway I turned my camera across the way to take a quick shot of my friend lining up his last shot of the pool for the day.
Purchase a Print
As you can see, light was getting scarce so we decided to head out. On the way back to where we came in we stopped to take a shot of the famous Jenny G. hotel building. This too would be the subject of investigation at a later date.
Purchase a Print
Beyond the Jenny on our way back is the equally creepy Harry G. building. Another building we have not completely explored. In this first photo you can clearly see that a tree casts the wrong shadow on the building. Okay so I know its a trick of light, but still cool. 🙂
Purchase a Print
What makes this building extra creepy beyond the fact that we have never been in it are the windows. They reflect at odd angles and you swear you see someone standing in them out of the corner of your eye when passing by.
Purchase a Print
We climb the small hill behind the Harry G and decide to investigate the outdoor pool. I am glad we did, there are some pretty cool sights in this area. Here is a before and after shot of the outdoor pool.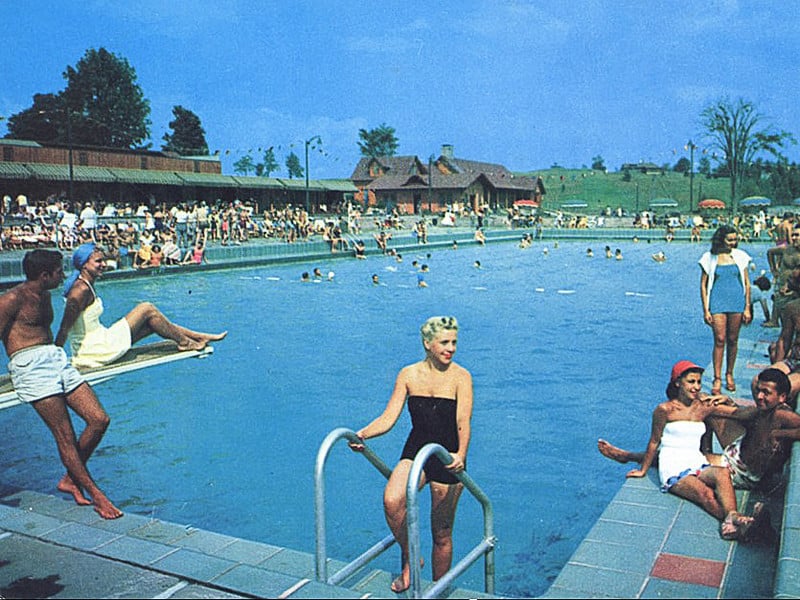 Purchase a Print
Unlike the indoor pool we decide to get courageous and explore underneath the pool. There we find a huge pump room and some other neat artifacts of a bygone era.
Purchase a Print
Purchase a Print
This pump room was packed with old lounge chairs, giant 55 gallon drums of leaking chemicals, pool buoys, and this old suitcase that look as though it housed some secret government alien hyper-drive part. I know, weird right!?
Purchase a Print
We were about to leave and I decided to take one last shot. It was extremely dark but I am glad I took the time. I later discovered when I got home that in this shot, one of the pipes says Kennedy Valve on it. Kennedy Valve is significant because it is located in my home town. Pretty cool I thought!
Purchase a Print
Going on 5 hours of exploring and picture taking now we decided it really was time to head out. Ooh, one last building to see, the tennis clubhouse. This was a very cool room with awesome beams in the ceiling and some cool furniture.
Purchase a Print
Purchase a Print
This stairway leads up from the tennis clubhouse to a large storage barn. The stairs looked too deteriorated to attempt so no exploration there this day.
Purchase a Print
On last shot on the way out was of this very cool NYNEX pay phone. This too has been stolen. I have to admit, this would have pretty cool to have.
Purchase a Print
We head out of the tennis clubhouse and stop briefly to take a few shots of the defunct tennis courts. The courts had many tournaments played on them. The only thing going on there now are a whole grove of birch trees.
Purchase a Print
Purchase a Print
Purchase a Print
With the long shadows casting we head for the car. What an amazing place. Even though we spent the whole day shooting and exploring we know we have only scratched the very surface. There is no doubt we will be back. This story has only just begun.
You can read Part II at this link: Grossinger Abandoned Resort ~ The Revisit
and Part III at this link: Grossinger Abandoned Resort ~ The Re-Revisit
~A.D.