As some of you know, I am the guitarist for the band Wendy Owens and Renegade.  We are a fairly successful band with 12 song CD out and have shared the stage with Big & Rich, Lee Brice, Trace Adkins, and Dierks Bentley.  This year we put away roughly 57+ shows all over New York and Pennsylvania.  One particular venue we play a 4 night stand is called "The Winner Circle Saloon" in Hershey, PA.  When we are there they put us up in a hotel for the 4 nights.  Each night we play a 4 hour show and then we are done.  For the rest of the time, there really isn't much going on, so we have to get creative.  This past round in August was our one year anniversary playing there.  Now Hershey is a pretty happening place with plenty of stuff to do…but having spent 24 days there, we have started running out of easy options.  There are just so many restaurants and malls you can visit.  There is Hershey Park but we are musicians and the park is quite expensive.  In our travels there I have passed by this place with a cool old bus and car out front but I had no idea what it was.  So bored in my room, I hopped on Google Maps and tracked down the bus and car to find out that it was the Antique Automobile Club of America Museum. You can find out more about this great place by following the links at the end of my article.  Let's check it out!
Here is a shot of the two cool vintage vehicles out front.
Purchase a Print
If the uniqueness of the vehicles outside is any indication of what is to be found inside, this place is going to be a lot of fun. Here is a shot of the back of the bus. It made me smile!
Purchase a Print
Then, as I approached the front entrance, I was greeted by this crazy and confusing vehicle. I thought to myself, "There is no way Gene Simmons would drive this thing!" 😉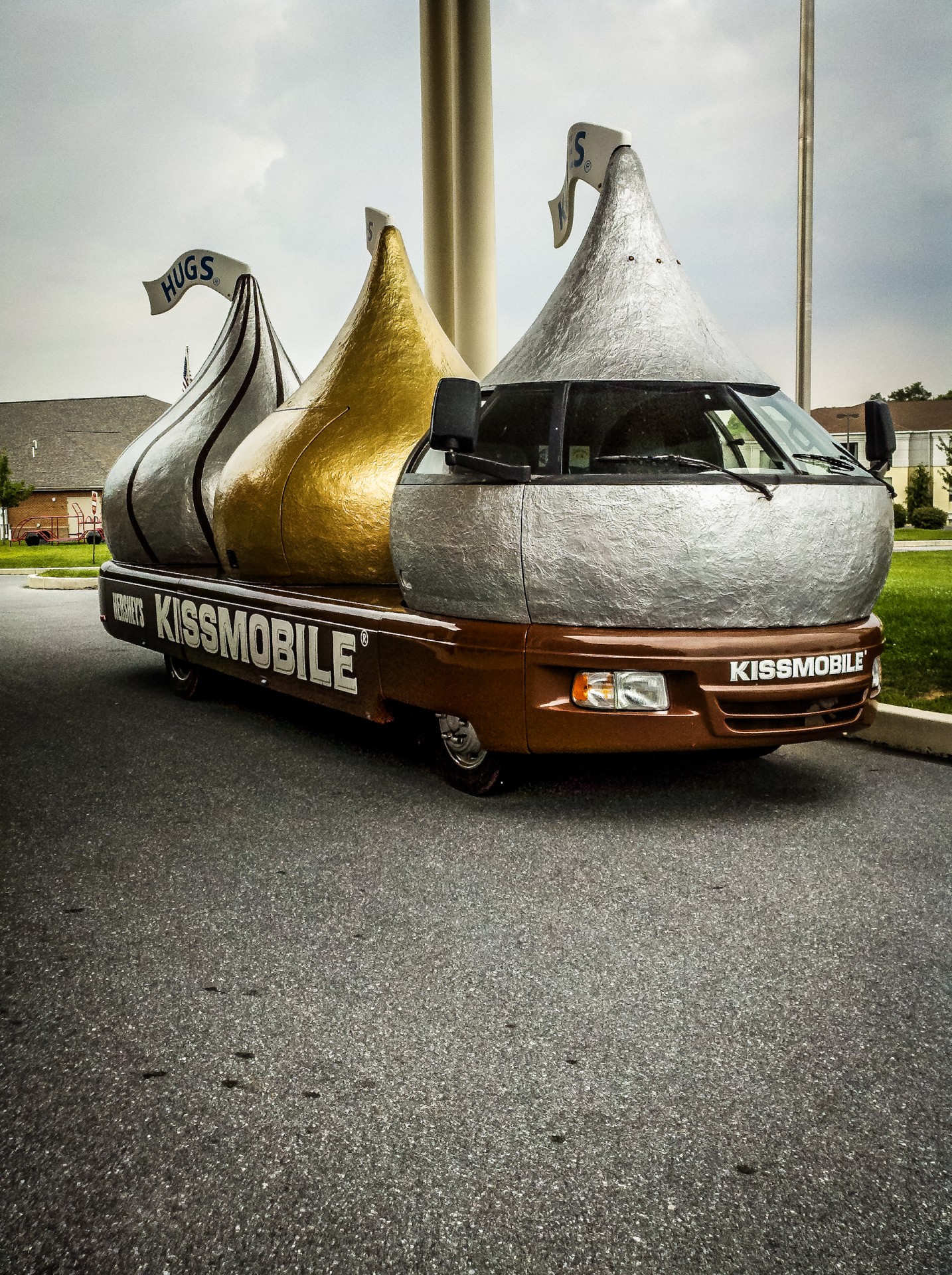 Upon entering the museum I am greeted by some nice folks there. Much to my surprise they are all about me coming in with my tripod and full gear to shoot. Admission is just $10 for the full day, come and go as you please. Unfortunately, I am restricted to about 2 hours here so run and gun I must. If you go here to shoot, go early as there is way much to take in.
Most of the displays are in chronological order and there are two floors. The top floors start with the earliest autos and move on up to the modern age. The lower floor or basement houses a huge bus, public transportation, and vintage motorcycle collection as well as a classic 50's diner, vintage car photo shoot area and an eatery with snacks and beverages. Quite an impressive layout to say the least.
The first area I hit is a collection of early 1900's cars including this "orange" Brush Model D.
Purchase a Print
Purchase a Print
As you will notice, I did not take too many full car shots. These pieces were in such perfect condition that I really wanted to focus on the details and let your imagination run with it. Most all of the rooms are "themed" and I also tried to capture a bit of that as well. A good example is this machine shop found in the second room I entered. Very detailed and laid out like an old machine shop, which is right up my alley!
Purchase a Print
Purchase a Print
This replica of an old New York City workshop in Battery Park was awesome. All the tools and machinery, and cars too!
Purchase a Print
Purchase a Print
Around the next corner was a fantastic mural painted by artist David Naydock, a resident of Pottsville, PA and a car I had heard much about but had never seen in person, the 1924 Moon 6-50 Touring. All I can say is wow! See if you agree.
Purchase a Print
Purchase a Print
One of the coolest things about these old cars are the hood ornaments. Some of these things are just ridiculous, and THAT is what makes them so cool! Here are a few that I captured while there.
Purchase a Print
Purchase a Print
Purchase a Print
Purchase a Print
Not only are there some amazing vehicles on display here but the museum has gone out of its way to set up realistic displays for the vintage pieces as well. Including gas pumps, air pumps, vintage neon signs, vintage coke-a-cola machines and this complete replica service station.
Purchase a Print
Purchase a Print
Purchase a Print
Purchase a Print
Purchase a Print
Purchase a Print
Remember these?
Purchase a Print
Purchase a Print
Sweet Hot Rods everywhere.
Purchase a Print
Purchase a Print
Purchase a Print
Along with the permanent displays at the museum they are currently hosting "100 Years of Chevrolet".
Purchase a Print
All sorts of Chevy's are featured here, including my favorite, the Chevy Nomad Wagon. I couldn't get a clear shot of it, but I think this one tells the story.
Purchase a Print
There is a pretty sweet 1959 Chevy Apache truck there too. In my favorite color. 😀
Purchase a Print
Purchase a Print
This place was car heaven for sure. And the staff was extremely accommodating as well. A couple of guys that were working there even offered to move some stuff for me to get the shot, very cool indeed. One of my more favorite shots of the day was this vintage 1954 Corvette Stingray. I admit that I did hop the rail for this one.
Purchase a Print
Purchase a Print
Not to be out done by the beautiful Stingray, right next to this iconic masterpiece was a one-off 1963 Monza GT Concept. Step into the future.
Purchase a Print
Purchase a Print
Purchase a Print
The Stingray and Monza were a treat to shoot. The epitome of over the top futuristic sports cars. Even still, not my favorite car of the day. One last stop before heading downstairs. And it would be to this car:
Purchase a Print
Yep, to me, this is the coolest car at the museum. Front wheel drive, 125hp V8 engine, and advertised as the car for those who can afford it. Unfortunately the car failed commercial success due to the stock market crash and subsequent depression. The L-29 is hailed as one the best looking American cars to date.
Purchase a Print
Time is running short and there is so much to see. Quickly I head downstairs to check out the bus collection. Man, there are some great old buses here. Because of time constraints I have to pick and choose my shots carefully. Now for most folks, a bus is a bus, is a bus. But, the one thing that stuck out immediately to me was the front emblems. Some of these were works of art in themselves.
Purchase a Print
Purchase a Print
Purchase a Print
There was actually a local bus from near my hometown there as well. I though that was really cool.
Purchase a Print
Just past the local bus was an interesting piece the clearly showed the transition from cable car and trolley to the self-powered bus that we know today. And no, it did not have a chandelier in it, that is just a reflection of the light behind me. I was so focused on checking out the cool radiator thermostat that I never saw the reflection when I was taking the shot.
Purchase a Print
Here is that thermostat that I am talking about.
Purchase a Print
Holy cow it's 5pm and the museum is closing. Still so much to see! I guess I will have to revisit next time I am in the area in October. (oh darn) One last and REALLY cool vehicle on the way out. This old truck was incomplete but its "incompleteness" is what intrigued me. I love the decayed and industrial look, and those crazy "Dragon Beam" headlights!
Purchase a Print
Purchase a Print
One of the staff filled me in on the headlights and their unique purple glow. Apparently it was common practice to irradiate the bezel and that gave it the purple tint. Pretty cool, and I am glad that I was standing 6″ away when he told me that!
If you love Americana, cars, history, or any of the above, I strongly urge you to visit the Antique Automobile Club of America Museum. For the price, it is the best entertainment in the Hershey area by far! Want to learn even more? Check out their website @ http://www.aacamuseum.org And, if you do visit, make sure you tell them that ADWheeler Photography sent you!
Oh, if you like what you have seen here, please consider purchasing some prints from my gallery so that I can return and take some more shots of these amazing pieces of history.
VISIT MY GALLERY HERE
~AD
Here are a couple of parting shots.
Purchase a Print
Purchase a Print