In my life thus far I have only had a few things that I have seen, that I could not explain or debunk. And though I love shows like Ghost Hunters and Ghost Hunters International and what they do, I cannot say whether I believe in ghosts or not. I do believe that the spirit carries on and that there may be some people who are more sensitive to those energies than others. I also believe that there are certain places that those spirits emit stronger energies as well. With all the will and bloodshed at Gettysburg, I would have to say that it is definitely one of the more spiritually active areas.
In a recent road trip stop-over I got to spend a night, and a morning in Gettysburg, and I am really glad I did. My shooting partner on this trip was Louis Quattrini from Mach III Photography. Make sure you check out the links at the end of this entry to see his great shots from this shoot. So, we got into Gettysburg late and decided, since the park did not close until 10pm, that we would do some sightseeing.
Now if you know the history of Gettysburg, you know that this place, in the dark, could be a very creepy place. I found it to be the complete opposite. I felt very comfortable and at peace on the grounds. In fact the only that scared me was the chestnuts falling out of the trees when I was setting up for my first shot of this cannon at one of the many memorials in the park. I swear there were some very mischievous squirrels running about. Despite the pelting, I still managed to get the shot. This shot was a combination of several long exposures and strobe painting.
Purchase a Print
After driving through the park and seeing a few park officers ready to give us the boot, we drove back through town towards the hotel we were staying at. Along the way we stopped at the Gettysburg Lutheran Seminary Church. Though not quite as historical as the rest of the national military park, this 1942 built church was all lit up and looked really cool with the night sky behind it. Here are a couple of long exposure shots.
Purchase a Print
Purchase a Print
We head back to hotel for some sleep and then a 5am start to give us plenty of time to catch the sunrise over the park, and maybe some of that awesome Gettysburg fog as well. First stop in the park is the ominous Pennsylvania Monument. This domed behemoth is an architectural masterpiece and full accessible, meaning we could actually go inside the monument and up to the dome. The sun wasn't up yet so we had some time to do some long exposure light painting again. In this shot, I put my camera in bulb mode and locked open the shutter. Then I went to each place that I wanted lit up and flashed it once or twice with my strobe. I am pretty happy with the results.
Purchase a Print
Purchase a Print
Some of the large monuments like the Pennsylvania are accessible. So we ventured in the complete darkness to the long spiral staircase that took us to the top of the dome. This shot combines HDR techniques with long exposure to capture the outside detail where it was so dark. From inside the monument dome.
Purchase a Print
From outside the dome we could see the sun was coming quick so we hurried back downstairs. I did pause quickly to snap this very Batman-esque shot of the Moon and Jupiter through the arch. Another single long exposure.
Purchase a Print
Quickly, Lou and I scurry across the lawn to a very cool soldier on his mount monument we saw on the way in. For me, this was the classic Gettysburg, low fog creeping in, sunrise in the background, photographers heaven. I literally had to force myself to shoot instead of just stand there in awe.
Purchase a Print
Purchase a Print
Purchase a Print
We head back to the truck to drive on up to Round Top and are greeted with this amazing and iconic scene.
Purchase a Print
Purchase a Print
From there we drive into the Devils Den/Little Round Top area and spot a really cool castle monument up on the hill and decide to check it out. It is a very short hike up to the monument and what do you know? This monument is also explore-able. I pause to take a shot of the outside.
Purchase a Print
This is the 12th and 44th New York Infantry 3rd Brigade, 1st Division, 5th Corps monument. 106 men died here. Inside I find another spiral staircase that takes me to the top of the castle for a cool view of the valley below including Devils Den off to the left.
Purchase a Print
As I descend from the castle wall the view out the doorway captivates me. I am always a sucker for these types of shots. This will really give the 3 exposure 32bit HDR a run for its money. A lot of dynamic range in this shot and I think it worked out well. Looking towards Devils Den.
Purchase a Print
In a quick search back up the hill for my shooting partner, I run into this fine fellow. This is the General Warren Statue. General Warren is said to have stood on this boulder on July 2 to observe the surrounding battle lines. The memorial uses the rock as its base. I took this shot 4 times before the sun started to expose the fall foliage on the far hill. Patience pays off every time.
Purchase a Print
Here is a parody camera phone shot of Lou doing his best Warren impression. Pretty good Lou!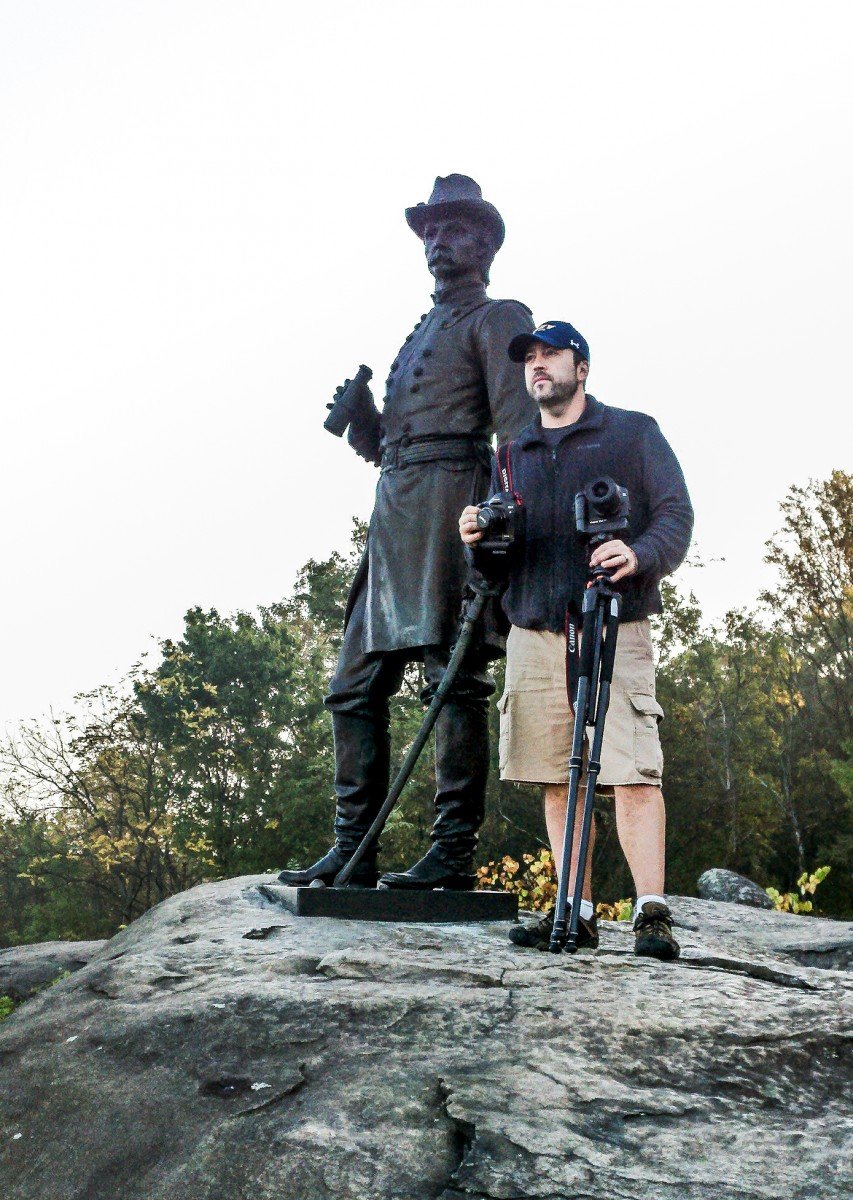 Here is another view from the top of Little Round Top. I really liked the fog rolling on Devils Den and the neat cracks on this boulder.
Purchase a Print
I was suffering from a pretty bad sinus headache this morning so I decided to head back to the truck. I was blessed with some amazing sun breaking through the autumn leaves.
Purchase a Print
Purchase a Print
Purchase a Print
Lou finally returns from the mountain and we head out to our next stop. No ghosts were seen or filmed on this day, but there certainly was the strong sense of presence out there. One thing is for sure, a return Gettysburg, Pennsylvania for a more thorough shoot is definitely in my near future.
Make sure you check out my buddy Lou's shots over at:
Mach III Photography Galleries
~A.D.