Who in their right mind drives their car 2427 miles, from New York to Nevada to take pictures of a junkyard in 110°F heat? That would be, me. And who also believes that there is an island somewhere that misfit toys go to be played with and taken care of? Okay, that is a little too much, even for me. But, I do believe there is a paradise that photographers go to and can take thousands of photos and still not capture all there is to see. And, I believe I have found such a place.
Drive out to Vegas, hang a left. About 30 miles south on i95, hang another left and head out into the desert. Somewhere along that lonely highway between the Highland Range and Arizona border, you will come across paradise. It may not look like paradise at first, but trust me, if you are a photographer or adventurer, it most certainly is. The minute I stepped out of your vehicle, the heat hits me like a Roger Clemens brick, the distant caw of the ever watchful crow screeches through the air and sinks deep into my bones, this, THIS is the place.
This place was not built as a tourist stop, as a movie set or a souvenir shop. But at any given time it could be all of them. This is an authentic old Gold mining settlement that has turned into the 8th wonder of the world. This is the Techatticup (Tea-Chatty-Cup) Millsite at the Eldorado Canyon Mine, NV. Fallout:New Vegas video game players will know this area well and I am here to tell you that this ISN'T a fictitious place in a video game. This place is as real, or as surreal as it gets. Maybe you saw the movie "3000 Miles to Graceland" with Kurt Russell and Kevin Costner? The scene where Kevin Costner's character blows up the gas station with the plane in it was filmed here. Here are a couple stills from the film.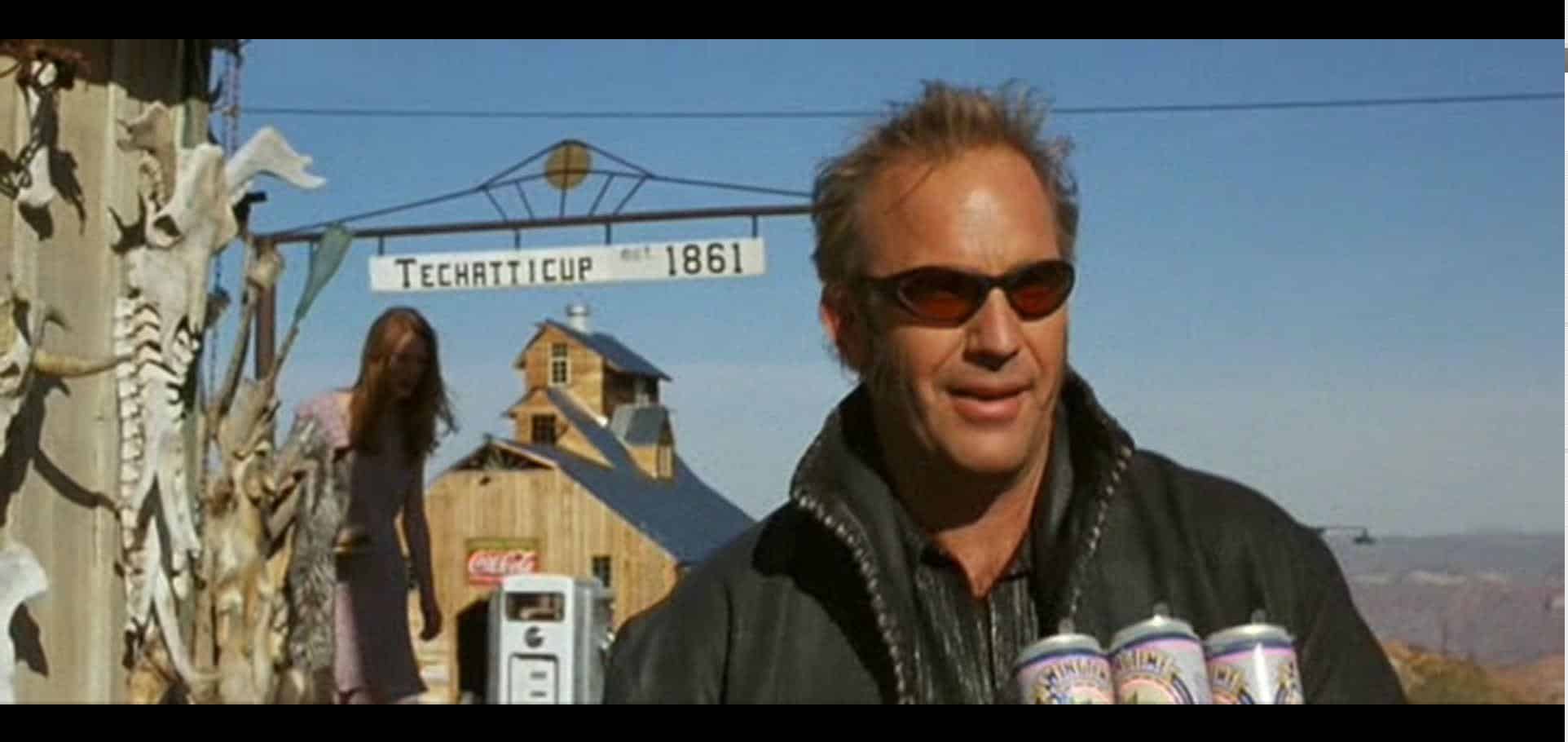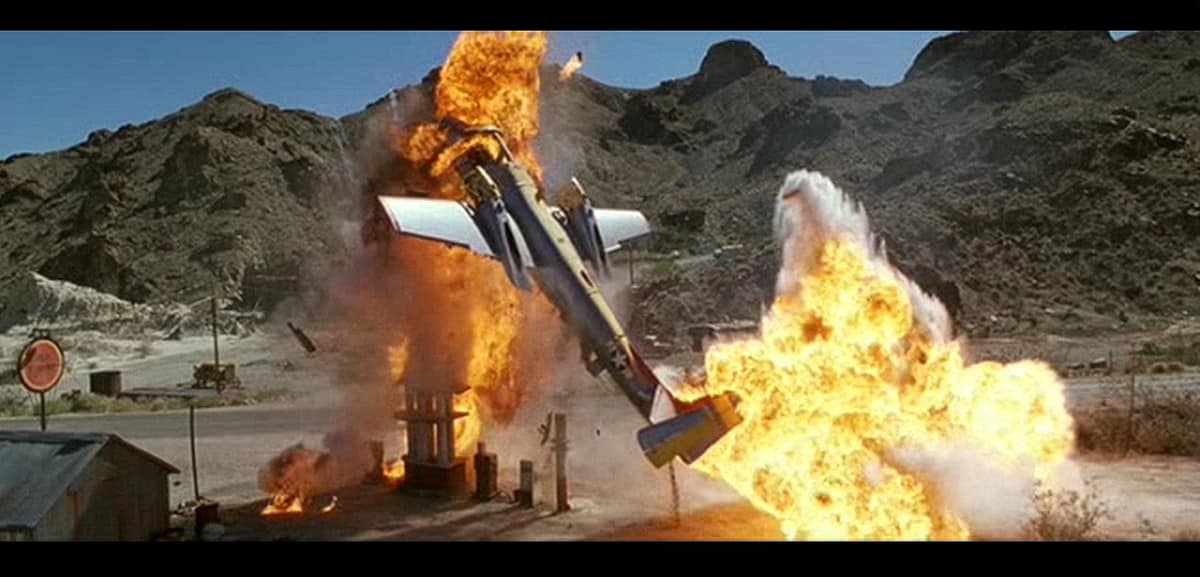 Add to that, countless movie scenes, album and book covers, and model shoots.
Like I said, this place is not a movie set, because of it's amazing and eclectic look and feel, musicians, stars, and directors are always coming here to shoot. Just goes to show, the best shots are not made up, they are real. It is just another magical thing that happens at the mine. The Werly family re-built and own the millsite here and there are a few folks who still live and work in the buildings scattered about. Other than that, this is a true old west "ghost town". The sheer amount of vintage "goodies" that are gathered here is un-imaginable though. Everywhere you look it is something new or should I say, "something old".
Here is a bit of "history" from their website:
Man per man and mile per mile Eldorado Canyon has a wider range of historical events than anywhere in the Wild West. Old west history don't get no better than this…
— Spanish explorers in the 1700's. (Mexican treasure maps)
— In 1880's more men lived in Eldorado Canyon than all of the Las Vegas valley.
— Steamboats ran the Colorado River for over 40 years.
— The canyon was full of deserters during the Civil War.
— Two of the most famous renegade Indians were raised in the canyon.
(Avote killing 5 men, and Queho killing over 20.)
— 1874 claim jumping that resulted in numerous murders & hauntings of the Techatticup Mine.
— Camp Eldorado 1867. (A forty-nine man Military Post.)
— John Moss and the Mojave Chief Irataba.
— The Ives Expedition, 1858.
I had read a little about this place online and seen some photos but not many. One of the most prominent items here is the "exploded" plane from the Graceland movie. Bobbie Werly who works at the mine told me that after the movie was shot, the director simply said, "Hey, you want the plane?". Silly question, of course they wanted the plane. So, upon my arrival, before heading into any of the buildings, I ran off to shoot the plane. (Click on any image to enlarge, or the button below to purchase a limited edition print)
Purchase a Print
Yep, that's a plane crashed into the side of the hill right there.
Purchase a Print
So cool to see something so prominent in a movie up close and personal. Naturally, I continued up the dirt road checking out all the goodies. As I followed the small dirt road I came upon a large oddly shaped building.
Purchase a Print
And to the right of that building, housed by a small shack, I could see it. This was the entrance to the Eldorado Gold Mine!!
Purchase a Print
It was kinda creepy, but I walked up and peeked in the gate and got this wonderful blast of 60°F cold air right in the face! I could have stood there all day and cooled off. But no, so much more to see and shoot, no time to waste. Behind me was a mass of old machinery, stove parts, mining equipment, wagon wheels, it just goes on and on. And there is no rhyme or reason to any of it which just heightens the surreal-ness of the whole experience. Here is just a taste of what I mean. Next to the old mine is what looks like the parts to an old stove.
Purchase a Print
Here is one of countless wheels stacked up around the mine.
Purchase a Print
The textures of all this old stuff against the desert background adds up to sensory overload. I think I could have shot here for a year and not captured half of it.
Purchase a Print
Purchase a Print
To the left of this oddly shaped building was a very cool old shed.
Purchase a Print

Purchase a Print
If you notice, around the base of the shed there are rocks piled up. These buildings have no basements and are built about 6 inches off the ground. Literally a deck with a room on top. The problem out here is Rattlesnakes. And during the hot day they like to get under things like floors and porches to stay cool. The rocks are packed tightly together and because it is easy for them to get trapped, the snakes will not pass. So at least you know, that is one place they are not. As for everywhere else, well the boys told me to scuff my feet on the gravel and sand when I walked so that it would disturb them and they would rattle. Otherwise, you could actually step on them before they would make a sound and then it is too late. One of the snakes out there is the Green Mohave and it is the most poisonous of all of the rattlers. The guys told me, if you get bit by one of those way out here, the best I can do is call your next of kin and tell them you are dead. That'll keep your eyes open and you on your toes while exploring!
Every turn down this old road brings a new surprise. Here is what looks to be a sifting pan.
Purchase a Print

Purchase a Print
Here is a press of some sorts and an old barrel tumbler in the background. This stuff is awesome!

Purchase a Print

Purchase a Print
Here is a look inside the tumbler.
Purchase a Print
Before heading around the bend and back to where the plane crash is, I found this gem. One of my favorite shots of the day.
Purchase a Print
Along the way back up the road to the plane and the general store I pass all sorts of crazy contraptions. Your guess is as good as mine on some of this stuff, but one thing is for sure, it's all really cool and really photogenic.
Purchase a Print
Check this winch out. Made in Philly! And it has a lizard as a guard dog. Can you spot him?
Purchase a Print
Here is the rest of the crazy stuff I saw on the short walk back to the general store.
Purchase a Print

Purchase a Print
Purchase a Print
Purchase a Print
Purchase a Print

Purchase a Print
Purchase a Print
As I started to cross the highway and head into the general store, I noticed this sign.

Purchase a Print
Oops!! To be honest, I may have seen this on the way in, but there are tons of signs like this all over the place and I really thought nothing of it. I headed into the store to find out what the story behind this cool place actually is. Of course, I can't even get across the highway without taking more shots.
Purchase a Print
Purchase a Print
It occurs to me at this moment that it was going to be a long hot day in the sun. Every single inch of this little "town" is packed with memorabilia. As a curious photographer, it is really difficult to walk 10feet with out stopping to take a shot. Here is a perfect example of me trying to make my way in the front door.

Purchase a Print

Purchase a Print
Finally, I make it the door. Wow, if you think the outside is cool….you should see the inside! And that is where the story goes sour. I was so overheated by the time I made it indoors, all I wanted was water and to sit in the shade for a bit. I did talk with the guys there among the antlers, skulls, alien fetuses in a jar, rattlesnake skins, parking meters, various pieces of art and photos of all of the stars that have either starred in movies there, shot music videos, OVERLOAD! And if I took pictures of all of it, you wouldn't want to visit, so I left out the amazing interior of the general store. Okay, maybe one shot of the alien fetus in a jar..(don't say I didn't warn you).

Purchase a Print
See, I told you this place is awesome. Just an FYI, the picture is blurry on purpose. I mean, ALL alien photos are supposed to be blurry right? In conversation with the guys I learn that most of the areas I was in are off limits unless you are on the Mine tour or on a paid photo shoot. So being totally respectful of the huge collection of great stuff there the fact that it is a family owned and operated business, I offer a "donation" to continue shooting for the rest of the afternoon. They graciously accept and I head back out for some more "unrestricted" access to the site. Ready for more "Hot in the shade" photography? Alien fetus behind me, I head out into the heat, this time to capture some of the stellar vehicles parked just about everywhere on the site.
Probably one of the top show pieces of the site is this '52 Chevy 3000 Pickup truck. I really dig the color contrast with the desert surroundings.
Purchase a Print
Purchase a Print
Purchase a Print
Purchase a Print
Purchase a Print
Around the back of the truck on a dirt path in front of the General Store is the old water tower.
Purchase a Print
That shot really gives you an idea of how much stuff is here, it's everywhere! This next shot shows what is left of the the 3000 Miles to Graceland shoot.

Purchase a Print
Once I reach the tower I can see there is an old Ford Water truck attached to it. You can almost hear the wind creaking the old metal shoot and the crows call in the distance here.

Purchase a Print
Purchase a Print
'Round back of the water tower there is this really cool orange Dodge pickup. For this shot I decided to to something a little different. I moved myself back out to the road and switched from my trusty Sigma 10-20mm lens to my Sigma 70-200mm APO. I then zoomed in to 200mm and shot the entire scene, section by section. Then when I got back to the studio, I assembled all of the HDR shots in Photomatix and then those shots into a panorama in Photoshop. The results is a super depth of field, super resolution shot. This makes for a print that can be scaled up to huge sizes without loss of resolution, or for me, just a really cool shot.
Purchase a Print
I also captured many of the vintage signs in this format as well. If you are looking for a cool print of an old sign, these are your ticket. These a high resolution shots that can be blown up to to cover and entire wall.
Purchase a Print
Purchase a Print

Purchase a Print

Purchase a Print
Purchase a Print
Heading west on the property I find an old garage building with more neat signs inside.
Purchase a Print
Purchase a Print
Adjacent to the garage is strangely wired shed and vintage Chrysler Traveler.
Purchase a Print
Purchase a Print
Purchase a Print
Purchase a Print
Here is an exterior shot of the large garage as seen from the road.
Purchase a Print
Permanently at rest out front is this killer International TV Service Truck.

Purchase a Print
Purchase a Print
Purchase a Print
Purchase a Print
Just over from the International truck is one of many Coca-Cola proudly screwed to the side of an old tin shed with a nifty Sinclair Gas Pump along side.
Purchase a Print

Purchase a Print
Purchase a Print
Along the foothills of the compound are probably the most unique naturally occurring item known as the "Teddy Bear" cholla. The plant has a soft appearance due to its solid mass of very formidable spines that completely cover the stems. From a distance, the stems appear soft and fuzzy, giving it the name "teddy bear". The spines are barbed, so if you get to close, you will end up covered in them and they are extremely difficult to remove. I kept my distance for these shots. Some of my best of the day.
Purchase a Print
Purchase a Print
Purchase a Print

Purchase a Print
Purchase a Print
You really never know what you will find wandering around the the compound.

Purchase a Print
Purchase a Print
I wish I had more time here, I would love to shoot this place at night. It must look amazing in the dark under the stars. Well that about covers one side of the road, time to head over to the other side. Most of which is off limits, but there is still plenty to see. Like this old Chevy truck and another vintage gas pump, this one from Germantown Junction, New Lisbon Wisconsin.
Purchase a Print
Purchase a Print
Some of the vehicles scattered about are not of the typical Ford/Chevy/Dodge ilk. Take this rare International Harvester Metro Van for instance.

Purchase a Print
More rarities, a 1950 Dodge water truck and a 1951 Ford "Snarling" Short Bus.
Purchase a Print
Purchase a Print

Purchase a Print
Another bizarre vehicle is this old mule/donkey winch truck. It was used to raise and lower donkey's and mules down into the mine where they would work.
Purchase a Print
Next to the bus was this old 1949 1 Ton Ford F & G Farm truck. This old dog looked like it was still in use here.
Purchase a Print
It was then I stumbled upon my dream car, and home!!
Purchase a Print
Man, I would love to have this thing and just travel the west and photograph!! Of course I would needs some wheels on that trailer but, minor inconvenience. A few more items on this side of the road such as this old yellow Gardner radiator that peaked my interest.

Purchase a Print
A quick stop by one more building (can you tell I am addicted to this place?), then across the road to the final stop of the shoot.
Purchase a Print

Purchase a Print
Just as I start to cross the road, this big guy catches my eye under a bush near the road. Now during this entire trip I have seen 30-40 lizards when hiking and they are usually skittering away as I walk through. This guy, stood his ground and even puffed up several times. Even the lizards are cool out here!
Purchase a Print

Purchase a Print
As soon as I cross the road I am greeted by an International tow truck (Mater) and a 1953 Chevy, both equally as cool as the other.
Purchase a Print
Purchase a Print
Finally I make it to the last building to check out. Please keep in mind, there is MUCH more to see here. I had to hit what I could as I was limited for time. Out front were some pretty cool antiques including this old bike.
Purchase a Print
As I peer inside I see another entire universe of craziness. Here, take a peek for yourself.
Purchase a Print

Purchase a Print
Purchase a Print
A perfect way to end off this adventure is upstairs in the loft…..

Purchase a Print
With all of this unbeleieveable stuff to photograph and all that I shot that day, there is still much more to see and do here. For one, there is an entire gold mine tour, and they rent kayaks (and will lash them to your vehicle for you) for kayak tours (guided and self) through the canyons on nearby Lake Mohave. Tony, Bobbie, and the guys at the Eldorado Canyon Mine Tours are just great people and I highly suggest you make this a MUST stop while in Southern Nevada. I drove 4 hours, one way, out of my way, and this was a major highlight of my trip out west. I cannot wait to go back and explore even more. Speaking of which, I urge you to buy a print and help support more adventures like these. It doesn't have to be the largest print (although that would be nice), anything will help the cause. Hope you enjoyed the story, tour, and shots. Feel free to share this blog with your family and friends and encourage them to purchase a print as well. Thank you!
~A.D.