When approaching Bryce Canyon, Utah from the west you must travel through a patch of land called Dixie National Forest. And because the forest is neither a park or monument, hiking and entry are free. With its great beauty, well maintained trails, and bike paths, that's pretty hard to believe. The canyon shares the same basic elements as Bryce Canyon with the main difference being that Bryce's hiking starts on the canyon rim and at Dixie you start in the canyon itself. Being that I am a creek-walker from the Northeast, I prefer the latter. Stopping at Red Canyon in Dixie started as a simple rest stop and quick photo-op. A closer look at one of the hoodoos, spawned a full-fledged hike and then some. Here is the view from the first pull-off in Dixie/Red Canyon.

Purchase a Print
The trails here are basic footpaths but can easily be spotted if you pay attention. Hiking here gives the unique opportunity to get up close and personal with hoodoos like you see from afar in Bryce.

Purchase a Print
Among the sandstone are areas full of life and death.

Purchase a Print

Purchase a Print
I hike up higher to get a better perspective of the valley. It is a long way up for this old dog. The altitude is 7400 feet here. I am not used to high altitude hiking with a 60lb camera pack on my back. The pace is slow but sure.

Purchase a Print
The towering hoodoos drive me forward until I have to stop and take a drink. The ground flattens a bit, so I take a break to reflect back on my climb.

Purchase a Print

Purchase a Print
After the short rest I climb a bit higher for an even better view.

Purchase a Print
Like a kid in a candy store I see another shot I want to take almost straight up the ravine. Sometimes, I forget I am not spiderman. After about 4 slides back down the hill I make it to the spot. The challenge now was setting up my tripod and getting the shot on a 45° sandstone fallout. Who doesn't like a challenge right?!?

Purchase a Print
A climb even higher, (I am already up here right?), reveals another breathtaking view.

Purchase a Print
I take another trail I find on my way back down to the original trail and it leads me closer to the red tower I saw in the distance earlier.

Purchase a Print
Higher I climb, yet the canyon still looms above.

Purchase a Print
Crisscrossing trails give me a myriad of choice on which direction to head. I think that is what I loved the most about Red Canyon, the freedom to choose my own path and explore. In a lot of parks it is almost like you are on a tram ride with one path, and one direction. Red Canyon is wide open for exploration.

Purchase a Print
I reach an open area on the trail surrounded by canyon walls and giant dead trees scattered among the living.

Purchase a Print

Purchase a Print
I make my way up to the twin hoodoos I spotted earlier. No real trails exist at this point as you are pretty much commanded by the terrain here as to where you can and cannot step.

Purchase a Print
I pause to build and shoot a marker for those that will follow. A hoodoo in the hoodoos if you will.

Purchase a Print
The morning light here is really spectacular. One more shot here at the top.

Purchase a Print
Though there is still more to climb and see, Bryce, Kodachrome, and more awaits. Time to make my way back down. On the way I catch a glimpse of the only food source I have seen on this hike, and someone who seems to be enjoying (and defending it).

Purchase a Print

Purchase a Print
Making my way around an angry chirping squirrel, I pause briefly to look back up at my accomplishment.

Purchase a Print

Purchase a Print
After a refreshing hike down from the hoodoos, I hit the car and head up the road to Bryce. Since my trip out west in 2010, all I have been hearing from folks is that I have to visit Bryce Canyon. So this time, in 2012 it was on the list. I have to say, I was kind of disappointed. Mind you though, I do not like rim hiking, and I did only do the auto tour with pull-offs. Plus, this was just after a beautiful hike in Red Canyon and a day after just visiting Zion National Park. First stop on the auto tour.

Purchase a Print
Bryce is beautiful, don't get me wrong. I have a deep respect for ALL of our national parks, one of the reasons I invest in a national park pass every year. But, for me, after the third pull off, the views became all too familiar. At $25 a car for entry, this was a day I was glad I had purchased the pass. I really enjoy getting up close to the hoodoos rather than the bird's eye view. But, when life gives you lemons (please no hate mail) you make lemonade! This is a 22 shot panorama at one of the larger stops, Farview Point at elevation 8819ft. This particular shot will print up to 12 feet wide without loss of detail!

Purchase a Print
Next stop up the auto tour was my favorite, Natural Bridge. It has been filmed at least a gajillion times but it was still quite nice to capture it for myself. Natural arches are timeless subjects and always hold a certain fascination.

Purchase a Print
I continue to drive passing a few stops along the way. As I mentioned, it all starts to look the same. Fighting the urge turn around and head out, I make two more stops. First at Black Birch Canyon. This featured a unique slot view of the canyon below. Nothing spectacular but I found it interesting none-the-less.

Purchase a Print
Last stop on the auto tour and the end of the road is Rainbow Point. This stop gives quite a panoramic view of Bryce. Well worth the drive out if only for the fresh air and spiritual uplift.

Purchase a Print

Purchase a Print

Purchase a Print

Purchase a Print
It was at this point my girlfriend and I were getting hungry so we decided to stop at the Bryce Canyon Lodge at Sunrise Point on the way out. I have eaten at many other park lodges and the food is by no means gourmet but is always good. Upon arriving at the lodge we are instantly whisked away to scene out of the movie The Shining. Inside the lodge is a nicely appointed yet extremely dated restaurant. The waiters, host, are all dressed in tuxes and clean white shirts, black pants, and shiny shoes attire. The host appeared to be 90-95 years old and was quite offended when we asked to see a menu before entering. I don't know about you, but I travel on a budget and can't afford too many $75 a plate meals per trip. Prices were moderate at a burger starting around 9.00. We got seated, and after about 20 minutes the waiter arrived. He too was in his late 60's and apologetic.
He brings us menus and disappears. Some 10 mins later he arrives with water and asks us if we need more time to decide. Any more time to decide and I would have been dead from starvation. I ordered a burger, fries, chocolate shake, etc. About 35 minutes later, our food arrives. Burger was a frozen patty. Fries were cold, and no milk shake. Roughly 5 minutes into choking down this horrible burger, Jeeves shows back up and apologizes for the milk shake and says that he will have it shortly as he is making the ice cream himself!?! It should be noted, he was not joking about this. I asked! 20 minutes later he arrives, with "milkshake" in hand. He sets it down in front of me, says, "I hope you enjoy it as much as I did making it". Creepy…I tip the glass to take a sip and realize that what he has brought me is chocolate milk with a scoop of ice cream in it. As I am leaving this "fine" establishment all I can think is, who makes them dress like this when the service and food is so bad!?! I understand National park budgets, etc. But, for the prices they were charging, the 20 plus people the seemed to have working there, and the presentation they put on, you expect a lot more for your time, AND your money. Bryce Lodge Restaurant, EPIC FAIL.
Well with that lovely meal in my belly it is time to head north, east and then south to another suggested park, Kodachrome Basin State Park. Along the scenic 24 mile route I come across this old frontier cabin and pause along the road to take a shot

Purchase a Print
These old frontier cabins are everywhere out west. Many in much rougher condition than this one. But, it gets me thinking. These structures are simple at best, so why don't people maintain them? These are at the very core of our history and should be preserved at all costs. Even if they are removed from private lands and moved to the national parks. Seems sad to me to just let them rot in a field somewhere.
Heading through Tropic and out Cottonwood Canyon road we make our way to Kodachrome. Kodachrome is unique with its white sandstone and red sandstone mixture. And yes, the park was named after the Kodak film of the same name. And the park does adhere to the song lyric as well. "Kodachrome, You give us those nice bright colors, You give us the greens of summers, Makes you think all the world's a sunny day"

Purchase a Print
A drive through the park reveals several camping sites. I took a bit of looking but I finally found a trail head on the way out. It was actually near the entrance.

Purchase a Print
The trail is smooth and flat with no real direction. There are several off-shoots that allow you to explore at will. Small markers are dotted here and there that explain the local flora and geology. There a plenty of photo ops here but you have to look for them as they are not as obvious as most parks.

Purchase a Print
All along this trail are one of my favorite things in the desert landscape. It is what I call desert driftwood. Old dead, twisted and gnarly trees!

Purchase a Print

Purchase a Print

Purchase a Print

Purchase a Print
Everywhere you look in this small park there are tell tale signs that water does not show its face around here often. The dead wood stands like grave stone markers in a tree cemetery.

Purchase a Print

Purchase a Print

Purchase a Print

Purchase a Print
At the end of the trail I find a single spire reaching into the desert sky. The suns position is perfect!

Purchase a Print
Well that wraps up Kodachrome. Definitely another cool little park that warrants further exploration. Time to head back through Bryce to another little known trail. I stop along the road on the way out to grab another cool shot of that old frontier home we saw on the way in.

Purchase a Print
The small park is actually on the northern outskirts of Bryce canyon wedged between Tropic Valley and the Dixie National Forest. The site is known as Mossy Cave Trail and if it weren't for sheer curiosity, I might have missed this gem all together. The parking and hike are free here and very similar to Red Canyon in difficulty. 2 minutes into the hike and you are greeted with this amazing view.

Purchase a Print
Right beyond this beautiful view is a small bridge crossing a small pristine creek marked by this stoic conifer.

Purchase a Print
I cross the bridge and immediately feel the need to get my feet wet. I look around, no signs saying not to so down I climb. This creek is known as Tropic Ditch. It was a hand cut creek bed forged by early settlers to bring water down from the East Fork Sevier River to feed their crops and mills. A beautiful sight is crystal water flowing through the desert.

Purchase a Print
Just up the way from the first bridge is a second before a steep climb up to an overlook. At this second bridge, with a little fancy footwork, I make my way to the creek bed and the jewel of this trail. This is Tropic Ditch Falls. Quite possibly the worst name ever given to such a beautiful place.

Purchase a Print

Purchase a Print

Purchase a Print
I make the steep climb to discover that the upper trail is closed due to a washout. This is just the other side of the monsoon season so it is understandable. While admiring the view above the falls I notice a very cool rock formation across the small valley. What do YOU think it looks like?

Purchase a Print
Well, at first I thought that it looked like that crazy super cartoon dog from the 1970's, Underdog! Then I took a wider look at the whole picture.

Purchase a Print
It was then I realized that it was a giant sleeping dragon. Even though there were no signs stating that was what it was, I am convinced in what I see. I make my way back down, across the bridge and up the hillside to get a closer look at the other side of this "dragon".

Purchase a Print
It is amazing how the light changes the rocks appearance from the other side. I struggle up the very steep sandstone fall out with my tripod and camera in tow. I get about as close as I dare.

Purchase a Print
What a beautiful formation. I make my way back down about 75 feet to snap this photo of my girlfriend and I documenting the hike. 🙂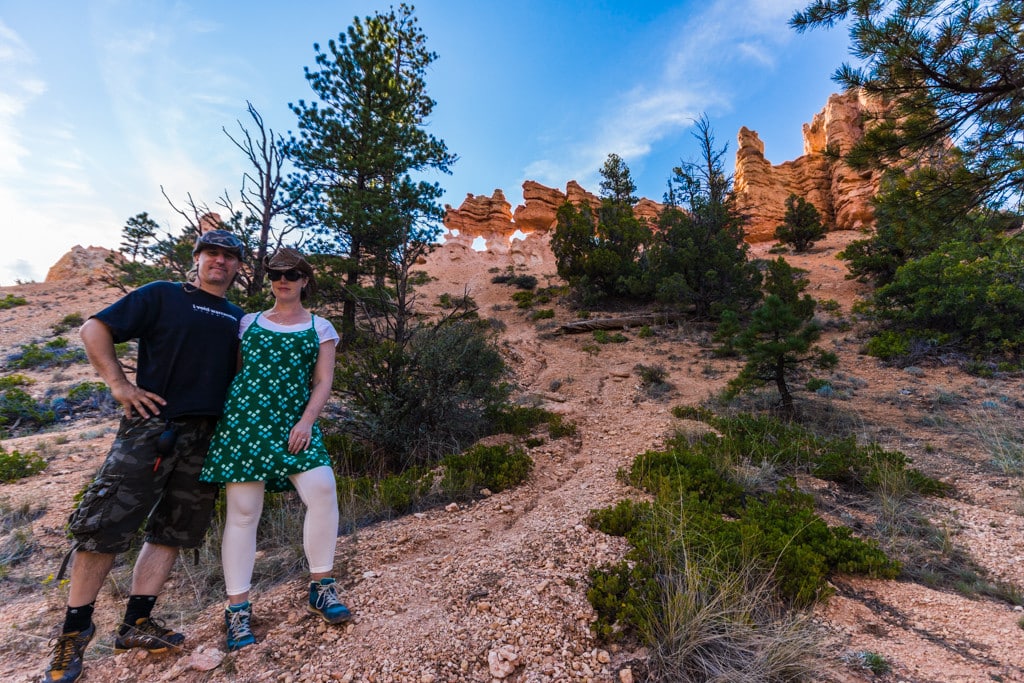 With the sun fading it is time to start heading back to home base in Kanab, Utah. As the sun dips the golden glow on the hoodoos and blue purple flora makes for a wonderful parting shot from Mossy Cave Trail.

Purchase a Print
As we drive out through Red Canyon the light is just to amazing not to stop and take a few more shots. Who says I am addicted to this? I can stop anytime I want to!

Purchase a Print

Purchase a Print

Purchase a Print
At the edge of leaving the Dixie National Forest and Red Canyon, it's one last stop to take in the desert sunset. A perfect end, to a perfect day.

Purchase a Print

Purchase a Print
Hope you enjoyed following along on this leg of my 2012 going west trip. Please consider buying a print for your home and/or office from my gallery found here:
Help keep the adventures going! Thanks!
~A.D.