In 2009 I was "forced" out of my mild-mannered job at a local music store due to an economic down-turn and a family owned business that was not ready for the 20th century. I was faced with the decision to hit the bricks or turn my photographic hobby into something real. Well, I am sure you have figured out my path by now and that it has not been an easy one. But when everything is said and done, I am okay with that. Nothing worth anything in life, comes to you for free. If there has been one thing that I have learned beyond that fact over the past 3 years it is the meaning behind being a "starving artist". The work day is generally 18+ hours sometimes closer to 30+. Beyond the time cost is the monetary cost of equipment maintenance, website fees, legal fees, fees fees. I think you get the picture. In 2010 during my first trip out west I stayed in hotels every night for 12 nights out and back and I rented a car instead of putting the miles on my own. With money being even tighter this year I decided to try something a bit different. My girlfriend and I have a cabin property in upstate New York that we rent out online through a site called AirBnB. It has been a very successful move for us. So, in turn, we decided to try to make use of AirBnB for our trip. Through a vigorous volley of arguments over amenities and locations, we decided on Brookside BnB in a small town of Kanab, Utah.
About Kanab
Kanab is a city in and the county seat of Kane County, Utah. The area was first settled in 1864 and the town was founded in 1870 when ten Mormon families moved into the area. The population was 3,564 at the 2000 census. Locals refer to Kanab as "Little Hollywood" due to its history as a filming location for mostly western movies and television series such as Stagecoach, The Lone Ranger, Gunsmoke, Daniel Boone, El Dorado, Planet of the Apes, The Outlaw Josey Wales. Kanab is situated in the "Grand Circle" area, centrally located among Vermilion Cliffs National Monument, Bryce Canyon National Park, the Grand Canyon (North Rim), Zion National Park, and Lake Powell. Other nearby attractions include Grand Staircase-Escalante National Monument and Coral Pink Sand Dunes State Park.
Through our listing and being a freelance photographer for AirBnB I was pretty confident and secure in our choice. We contacted Brookside's owner Cathy Church and booked our stay in one of her 2 private rooms. We were able to stay 6 nights for an un-believable $595!! (rates may vary of course) You may be wondering what kind of accommodations you can get for a price that good. Well, before we left, I snapped some shots of the place for you to check out. We stayed in the double room which is actually an old converted garage. You wouldn't know that to see it though. Cathy's property is an oasis in the desert. A lush Eden-like garden surrounds the apartment.

Purchase a Print

Purchase a Print

Purchase a Print

Purchase a Print

Purchase a Print
Along with Cathy's amazingly infectious personality, her hospitality was totally un-matched by any other host we have had. Cathy was always willing to take time out of her busy schedule to give us directions and attraction hunting tips. She had checked out my website and got a real feel for the photographic subjects that I was looking for and then went so far as to put together a personal tour for me to shoot. Add to all of that this wonderfully comfortable place to stay at such a good price and it is a triple win. Take a look at the accommodations and then it's off on the adventure we go.

Purchase a Print
As I said, the apartment is a converted garage, and it should be noted that this was no hack job. Textured concrete floors and walls gave the sense of being in an Italian villa. An open loft-style design and rafter ceiling also contributed to the extremely warm and welcomed feel.

Purchase a Print

Purchase a Print
The room was appointed with a few pieces of artwork but not too much to clutter. This minimalist approach keeps the dwelling simple, spacious, and comfortable.

Purchase a Print

Purchase a Print
The bathroom is an open glass wall design, which took some getting used to but wasn't that difficult.

Purchase a Print
No stove here, but there is a coffee maker and fridge. When you are in Utah for vacation, the last thing you want to do is cook so it really is all you need.

Purchase a Print
Saturday rolls around and Cathy tells us it's time for the adventure she has planned to begin. The first destination on the list is a private slot canyon that Cathy gave tours at back in the day. This slot canyon is known to the locals as "Indian Footsteps" and is one of the most unique un-advertised features area. After a short but exhilarating 4×4 Jeep ride through washed out creek beds and a sandy off-road trail we arrive. Cathy easily proves she is not just another pretty face with her excellent off-road driving skills. A short hike around the bend puts us right in the thick of things.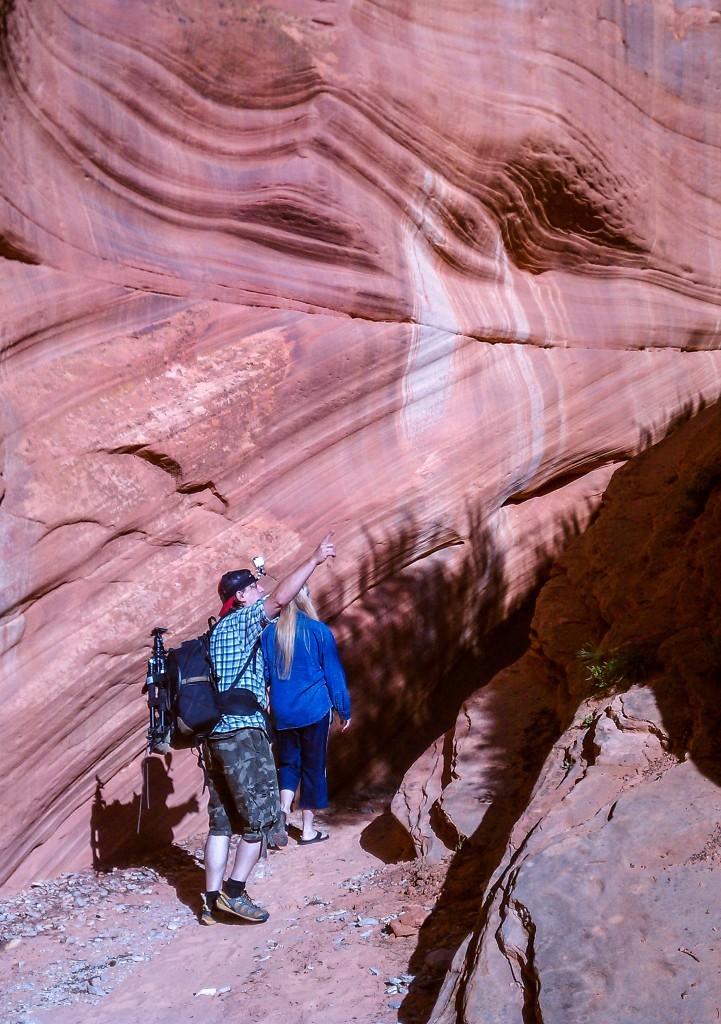 Cathy walks us all the way through the slot so I can get a lay of the land and wait for the perfect light. The whole canyon is divided in about 3 sections and a total of approximately 1/2 mile in length. It is all relatively flat with no scaling or climbing. The most difficult part of the journey is deciding when and where to shoot due to the ever-changing light. As the sun moves across the sky the narrowness of the slot causes reflections of light from the top down. These reflections are what causes the amazing colors in the sandstone. In more narrow slot canyons you generally wait for the light to be directly overhead. In this canyon you need to wait for just the right light bounce and avoid the direct overhead light if possible. Here my first set from the shoot.

Purchase a Print

Purchase a Print
The sandstone waves are flowing and defy logic. Cathy points out that the monsoon season has dumped roughly 3 feet of sand in the slot and that floor of the canyon is a lot higher than usual. She says that is what she loves about coming here. It is ever-changing and there is always different view for her to enjoy. Definitely a woman after my own heart!

Purchase a Print

Purchase a Print
The greatest part of the experience for me was the changing light and color. I would shoot a frame or two and 15 minutes later it would be completely different. A true natural color kaleidoscopic!

Purchase a Print

Purchase a Print
I have doing a lot of shooting utilizing the 110mm looking-glass I bought earlier this year. Once again I carted the beast with me for a few non-traditional shots in the slots.

Purchase a Print

Purchase a Print
The more I shoot with the ball the more I am challenged. In this next shot I was inspired by those shots you always see of the rolling rocks in the desert.

Purchase a Print
Time to pack up the ball and continue exploring.

Purchase a Print
If you take your time in these slot canyons you will see a lot more than first meets the eye. For instance, this guy was hanging out near the sandy floor and I had to grab a shot of him.

Purchase a Print
A few steps past Mr. Stick Bug and we arrive at the marker for which the slot is named. The small pock marks in the sandstone wall are actually holes dug by the native Indians to be used as steps to reach the canyon rim in case of flooding.

Purchase a Print

Purchase a Print
The shallowness and size of the holes is a clear indicator of the erosion and change here from the rushing monsoon waters. A beautiful, natural museum whose exhibit is in constant change.

Purchase a Print

Purchase a Print
This next section is known as "the horseshoe" as it makes a big sweeping bend in the slot. This was a very challenging 5 shot panorama that I had to prop my tripod tightly against one side of the slots ledge to get the angles right. The entire shot was then stitched together in Photoshop.

Purchase a Print
Just past the horseshoe is another slot illusion. It is said that an Indians face appears in the rocks when the light is right. Cathy tried her best to point it out to me but I could not see it. I am sure I was looking in the wrong place. Regardless I attempted to capture the phenomenon.

Purchase a Print
Water, sand, stones, boulders and dead trees all take their toll on the canyon walls. The giant boulder in this next shot was moved several hundred feet in this last monsoon season alone.

Purchase a Print
It's not only the canyon walls that get shaped here. Anything and everything in the slot is affected by everything else.

Purchase a Print
This giant 400+ pound log was snapped off at its base. As the light shifted it looked as though a giant had laid his torch down, still burning and walked off. Can you see it?

Purchase a Print
As the morning rolls on, the light just keeps evolving. The next 3 shots were taken just a few yards from one another within a 15 minute span.

Purchase a Print

Purchase a Print

Purchase a Print
While the slot canyon is full of flowing lines and smoothly lit transitions, at places it borders on the chaotic. It boggles the mind to understand how some of these lines and patterns were created.

Purchase a Print

Purchase a Print
Almost back to the beginning of the canyon now we come across another large washout log. Something that I did not notice on the way in was that the lines of the log and where it has been laid to rest match the lines in the sandstone almost perfectly.

Purchase a Print
We reach the last open area before the canyon slots up again for the final stretch. These open areas are extremely rough an are good candidates for falling rock and slides. The water must be pretty violent in these open areas during big storms. I cannot help but to wonder what it must be like when it storms here. I would love to set up a remote camera and film it!

Purchase a Print
These washout areas are prime areas for unusual rocks and tree formations.

Purchase a Print
Water in force can do some amazing things. Take these holes carved neatly in and around the sandstone for instance.

Purchase a Print

Purchase a Print
So our trip through the canyons comes to an end! What a day.

Purchase a Print
As we start to drive off in the Jeep across the sand, Cathy says that she has a short appointment and then would like to meet after lunch to take me someplace special. Here I thought we were done for the day and just did something special. Little did I know, Cathy had done her homework.
We break for lunch and after a short time Cathy returns to the BnB and asks if we ready to go. We load up the camera gear and head out on the road. After a short drive up an old canyon road, Cathy pulls to the side of the road and says, "Here we are". Well, yep, there we were, but where were we? She points to an old corral gate and says, "Just hope the gate, head out that way, and watch for rattlesnakes". Um, okay. We hop out of the jeep and proceed to jump the fence. Cathy assures us this is a friends land and there is no problem with us snooping about. I pause at the top of the gate and lean back toward the jeep. "Rattlesnakes?", I exclaim. Cathy tells us to scuff our feet as we walk as the stones will disturb them and they will rattle. Apparently, this gives us a chance to RUN LIKE HELL! Either that or lets the snakes know which way we are coming from so they can get the jump on us. Reluctantly, and jokingly, I carry on. We scuff our way 150 or so yards into the field, and there it is….

Purchase a Print
Yep, it's a hangman's gallows. But not just any hangman's gallows. This gallows is from the 1950's TV show set of Gunsmoke! Remember how I said earlier that Kanab was also known as Little Hollywood? Well, this is really all that is left besides the trinkets at the museum in town. This amazing old town replica, now a real ghost town, has been left to rot.

Purchase a Print
All of these shots were in color, but I thought the sepia black and white treatment was a much greater tribute to this once famous town.

Purchase a Print
While carefully maneuvering through the ruins and side-stepping rattlers, I could not help but reminisce on how cool this must have been during the filming days. I could almost hear the distant dissonance of an old ragtime piano playing as I approached the old saloon.

Purchase a Print

Purchase a Print
Took me a second to get up the nerve. You know, rattlers, rotted boards, and all that. After a moment, and a deep breath, I powered up the steps to take a closer look.

Purchase a Print

Purchase a Print
There are roughly 10 buildings on the property. A full fledged western town for sure. Some buildings are completely fallen and some, like the old barn are ready to go at any moment.

Purchase a Print
Now, with the confidence and courage of a lion, (not really) I venture into the rickety barn to take an interior shot.

Purchase a Print
It is so sad that this amazing piece of history is just melting away. 🙁

Purchase a Print
An old homestead and the chapel seem to be in the best shape. I fear another winter or two and these will be nothing more than a pile of sticks as well.

Purchase a Print
I feel very fortunate to be able to see and photograph this amazing piece of history before it is wiped clean off the map.

Purchase a Print
We make our way back to the Jeep, rattlesnake bite free. "See any Rattlers?", snickeringly asks Cathy. Nope, not a one thank goodness! Upon loading back into the jeep, Cathy says she has one more stop for us, and she is sure there are many rattlers there! Oh. Joy. Off we cruise up the road about a half mile. As we pull up a minivan full of tourists with a large cowboy in a ten gallon hat cruises slowly by in the other lane. Cathy says to us, "Oh there is so and so giving a tour." She laughs, "Everyone used to be afraid of him because he is so big and always wears that 10 gallon hat, and a six-shooter on his hip. Now he gives tours." Kanab is full of folks that are a little off-center, but it's a good kind of off-center. 🙂
Our last stop of the day is an old farm corral at the base of a sandstone butte with yet another fence to climb. This time, Cathy insists she comes with. Before we hop the fence she fills us in on the history of this area and points out an old sign painted on the rock wall for the Jensen & Brooksby Store and Garage in Fredonia, Az. Notice the kodak logo on the left.

Purchase a Print
We hop the fence to see what Cathy brought us here for, ancient petroglyph drawings. Petroglyphs are drawings by ancient tribes that are pock-marked into the sandstone instead of being painted. There are a host of theories about who actually put these pieces of art here. One thing is for sure, aside from the he loves her, and movie star markings, some of these are very, very, old and kind of creepy. Take a look and you can make up your own mind.

Purchase a Print

Purchase a Print

Purchase a Print
Unfortunately, more than just the native tribes have exercised their graffiti muscles here. Or should I say "tagger" muscles? Either way it is sad that people feel free to deface history like they so often do.

Purchase a Print
There were a ton more to shoot but the sun had dipped behind the hill making it very difficult to see the carvings. Add to that the fact that there was a large shed between me and the wall that Cathy insisted was loaded with rattlers. Here is a shot of the shed and for reasons beyond the rattlers, I was not about to go in there. I call this one "Kanab Chainsaw Massacre"

Purchase a Print
We explored a little more on this very unique property. Quite honestly I was more afraid of the owner popping out from behind a rock with a shotgun! I wonder what is behind this door?

Purchase a Print
Nope, it's locked. One thing that wasn't locked though was this cool old cattle chute and creamery dug out of the solid sand stone.

Purchase a Print
Unfortunately the creamery walls cracked and the whole thing was a failure. It's definitely cool the left the ruins here for others to experience. Here is a bottom up-shot from inside the cracked creamery.

Purchase a Print
This is most certainly some old frontier construction.

Purchase a Print

Purchase a Print
When we reach the end of the property there is another fence. Cathy warns us that we cannot go past this fence. Apparently there are more petraglyphs on the cliffs that the owner believes are a secret map to some hidden gold. You can't make this up folks. Needless to say a couple of shots of the fence at least are in order.

Purchase a Print

Purchase a Print
Cathy is all the way back to the jeep as I begin to head back across the field. Something catches my eye up a head. It's an extremely large and active fire ant hole. If you are un-familiar with fire ants, they are one of the nastiest creatures in the Utah region. In fact, I would have to bet that the only thing a rattlesnake is afraid of besides being stepped on by a horse is fire ants. As long as you don't disturb them, you are pretty safe. I got pretty close to snap this shot, as close as I ever want to be to these little monsters.

Purchase a Print
I was so focused on keeping my feet out of the path of these guys that I failed to notice the rattlesnake rattle next to the hole. Hmmm, I wonder what happened to that snake?? Before I am unfortunate enough to find out I head back to the gate, stopping briefly to snap this shot of the old tractor shed and windmill.

Purchase a Print
Cathy's tour was amazing! We never would have found all this cool stuff on our own. She studied the sites I like to shoot and came up with the perfect combination of nature, decay, and history. I cannot wait to return to the Kanab area and stay at her great accommodations again! If you are interested in visiting, see the links at the end of this article. Time to head back down the road to the BnB.

Purchase a Print
Cathy drops us off and quickly scurries off to another destination. A quick pitstop and we decide to head over to Coral Pink Sand Dunes State Park to see if we can catch a sunset. As I head back to the car, I catch this guy crossing the patio at the BnB.

Purchase a Print
On our drive out to the dunes we get in a momentary stare-down contest with Bob and his skiddish girlfriend Sally. We won!

Purchase a Print
Free range cattle are pretty funny out here, they just mosey along, wherever and whenever they want. No darting or running out in front of you, or out of your way for that matter. It's a quick drive to the dunes. Unfortunately, the sun is setting in the wrong direction. We still climb the dune to take some shots and boy am I glad I don't have to climb sand dunes all day, tough work!

Purchase a Print
Coral pink dunes is absolutely gorgeous. If there is one regret on the day it would be that we didn't have enough time to explore this cool park.

Purchase a Print

Purchase a Print

Purchase a Print
One of the natives to the dunes is the Pink Tiger Beetle and it has now been listed on the endangered species list. I was fortunate enough to get a photo of some pink tiger beetle tracks in the sand, even though I didn't know it at the time.

Purchase a Print
The sun is fading fast, time to call it a day, and amazing day! Thanks to a new friend who really "gets it" and cares about the folks that stay at her BnB. I cannot wait to return to "Little Hollywood"!

Purchase a Print
If you would like more information about Kanab you can visit them online @ http://www.kanabchamber.com/
If you want a crazy great place to stay, then look up Cathy's Brookside Bed and Breakfast @ https://www.airbnb.com/rooms/211073
Oh, and to seal the deal? Yeah, she put a little basket next to our door each morning with two giant fresh blueberry muffins in it! I leave you with one last shot. Star trails over the bed and breakfast that evening. Kanab is magic@

Purchase a Print
~A.D.
If you are interested, check out this YouTube video I shot with my GoPro as Cathy led me through the entire slot canyon.