"The artist alone sees spirits. But after he has told of their appearing to him, everybody sees them." – Johann Wolfgang von Goethe
I have so many awesome friends that are constantly keeping a watchful eye out for great locations to shoot. This particular location is no exception. Robyn Baty is a friend of mine on facebook and an incredible portrait/model photographer from Hornell, NY. She sent me this location about a year ago and I finally got around to visiting. More about my adventures there in a minute. But first, a little history on the place.
Allegany County Poor House (Alms House) 1831
From the Friendship Chronicle, Vol. 1, No. 25, July 28, 1880
The Allegany County Poor House proper is a long and narrow stone building two stories in height and looking very low from a casual view. There are a number of barns and other outbuildings scattered over the farm which is the property of the county. A small iron tablet on the front wall bears the following inscription in faded gilt raised letters:
Allegany County
POOR HOUSE,
Erected A.D. 1831.
John Lloyd, Contractor.
Samuel S. Haight,
William P. Wilcox,
Andrew C. Hull,
Lorenzo Dana,
Stephen Mayor,
Superintendents.
It ws a few minutes after eight A.M. when we hitched our horse to a fence in front of the building and sauntered into the yard through an open gateway. If there is any sight under God's heavenly canopy, which can stir to the inmost fibres the sorrowing sympathies of the human heart it is such a spectacle as we beheld in the Poor House quadrangle.
Man was formed by the omnipotent, a little lower than the angels, but how heart sickening is the thought that it is possible even in his infallible wisdom that man may be reduced a little below the brutes of the field and the fowls of the air in both physical, moral and mental attributes. And yet so it is, and the yard of the County Poor House we encountered human beings whose mental and physical condition betokened the uttermost desuetude of those powers which mankind is ordinarily endowed. To those who suffer under trifling afflictions, who groan under what they consider burdens in life of body and mind we would heartily recommend a visit to the Poor House. We venture to predict at least a temporary cure of their ills.
At the time of our visit there seemed to be a general season of cleaning and sweeping out. We found afterwards that it was only the usual after-breakfast business, that each morning there was a thorough washing and scrubbing out of all the rooms in use. This work is done by the inmates, but chiefly by the women.
A short thickset little fellow, whose face bore a fixed expression of amusement, and who wore a very large straw hat, came chattering up to us. He shuffled along rapidly and flapped his arms by his side. Ths we afterwards learned was Chauncey Smith, an old inmate. A thin tall old man was trotting backwards and forwards in one corner of the yard, indulging in a sort of go-as-you-please with himself. He had a rope tied about his waist and appeared to be well pleased with his occupation. This was David Crossman aged about 70, who had passed some 30 years of that time in this place.
After looking around for a few moments we passed into the front of the building and in a pleasant and neatly furnished parlor we found Mrs. Weaver, the wife of the Keeper Mr. William Weaver, who was appointed to the position last January. Mrs. Weaver, a quiet and at the same time, courteous little matron, very willingly conducted us through the building.
We visited the sleeping rooms upstairs which were as clean as soap, water and elbow grease could make them. Some of the rooms are small and inconvenient but not a particle of dirt is to be seen. There are 28 females in the House, several of them being very old and decrepit. Many of them are terrible but generally silent physical sufferers; one particularly we noticed, Miss Wilcox, aged 92, formerly of Belfast, who is in a very pitiable condition. Perhaps the most pitiful sight is the totally helpless condition of George McCarthy, of Scio 69 years of age who has been palsied for 9 years. He lies on his bed without the slightest power and his eyes are the only members having voluntary motion.
Accompanied by Mrs. Charles Yaw, who has been assistant female Keeper for several years, we visited other parts of the House. Across the yard we were shown into the Block House, fitted with strong cells formerly used for refractory inmates but now occupied by some of the most helpless cases. In one of these cells sat a very old colored woman. Our guide informed us that her name was Debbie Nelson; she came from Birdsall, was formerly a slave, had been in the House over 30 years, and was certainly nearly if not quit 120 years of age. She occasionally walks into the yard but is quite blind.
Out in the yard we met "Peggie" or Margaret McTighe, of Andover. She believes she owns the entire place, farm and all, and is usually very attentive to visitors. She walks continually, when not at work and is very anxious not to tread with her bare feet on the wooden cross walk. She has never been married.
Mrs. Yaw called Chauncey Smith towards us. We have before mentioned this curious individual. At her request and bribed by the promise of a piece of pie, "Chauncey "preached us a brief sermon, the only word of which we could at all distinguish was the final "Amen "which was pronounced with much gusto. He was afterwards persistent in claiming his reward of pie.
We interviewed several others but have not the space or mention their idiosyncrasies.
The inmates appear to be well supplied with good wholesome food and some indeed are treated to luxuries scarcely to be looked for in their condition. Indeed Mr. and Mrs. Weaver evidently do the very best they can, with what the County affords, to render the condition of the "unfortunates" as endurable as possible.
We were shown around the barns, wash house, and other outbuildings by an old inmate, one Jacob Fleger, who seemed to be quite happy and certainly quite proud of the live stock. In the hog pen were 55 fine fat and extremely contented porkers. Indeed we could not refrain from mentally contrasting their perfectly healthful (hoggish) condition with that of the human "inmates". On the farm there are 16 cows and about 100 sheep. There are 180 acres of land under cultivation and about 200 acres of woodland, all the property, of the county.
Returning to the quadrangle we saw a healthy looking boy walking about. He was a terrible epileptic sufferer. There are seven other inmates afflicted in the same way. Waddling about the yard in a helpless manner, very like that of some of his human associates, was a large dog, evidently quite aged. "Jack "is said to be 18 years of age, he certainly looks it.
We left the Poor House not unreluctantly, for even the grotesque oddities of some of the inmates could not drive away the remembrance of their lowly condition or the utter hopelessness of life to the majority. We wondered whether Ingersoll or his fellow atheists could claim for those unfortunates that the hereafter was to be a blank. If it were so, surely it would be a mercy, to some of them at least, to terminate speedily their blankness on earth.
The 1923 Fire
Considered the "most horrible event in the history of Allegany County," the Allegany County Alms House at Angelica burned down 50 years ago with seven aged women and one man trapped in the burning buildings and perishing in the flames. The night fireman Fred Scheu, was still unaccounted for three days later.
A little before midnight on March 15, 1923 fire was discovered in the boiler room in the basement of the administration building, above which were the inmates' dining rooms and kitchen, and the second floor above, the employees' sleeping quarters. Connected to this by a 50-foot passageway was the women's dormitory with seven bedridden patients and 14 other inmates plus two babies, one about one year old, and one, three months old.
In front was the dwelling, of Superintendent William Hall, his wife and two sons, Alfred 8 and Rodney 5. The men's concrete dormitory housing 29 inmates, was in back. Following the discovery of the fire, immediately there was an explosion in the passageway which quickly spread the flames to the women's dormitory and the superintendent's house, and all three buildings were quickly wrapped in flames. Employees started jumping from upstairs windows; one Lynn Weir jumped from his window, grabbed an electric wire and slid to the ground; Olin Colin followed and Hall and his family were roused from their rooms. They immediately aroused the men and women inmates, and the 29 men with their attendant marched out.
The fourteen women and two babies were removed from the burning building by the concerted efforts of the employees and Mr. and Mrs. Hall, but the seven bedridden patients were not so lucky. Lost to the fire were Miss Sylvia Gibbs, of Granger, 80, Mrs. Addie Olmstead of Belmont, 73, Mrs. Marietta Foster of Wellsville, 75, Miss Christina Grastorf of Wellsville, 52, and Mrs. Hannah Webster of Belfast, 96. One heavy woman, Miss Francis Cooke of Wellsville, sister of Mrs. C. Braunschweiger and Mrs. Fred Dornow of Scio, jumped from the upstairs window and was severely injured. Because she was a large woman, Mrs. Hall was unable to lift her to carry her away from the heat of the burning building and had to roll her over and over.
In a very short time all three buildings were burned to the ground. The only things saved by any inmate, employee, or Hall and his family were the nightclothes they were wearing. They all agreed however that, had it not been for Everett Stafford, an employee who was visiting with Miss Ethel Jennings, the inmate's cook, who discovered the fire in the boiler room, they too, would probably have been burned to death.
Volunteer fire companies came from Angelica, having made the three mile-run from the town with their hose carts and truck, only to find that their services proved of little value. The pipe through which part of the Alms House water supply came was from a deep well but the pump and heavy pressure air tanks were located in the basement near the boilers and shortly after the firemen arrived, they were out of commission. Through their efforts however, the fire was kept from the stables and the other buildings.
Rebuilding the County Home
The destruction of the three buildings made it necessary to disperse the majority of the surviving inmates. Seventeen men, a woman and an infant are being cared for in a private institution or home in Angelica, several others are at the Steuben County Farm, others are with friends or are boarded, several were in a hospital.
The men's building, the only dwelling to escape destruction, was immediately equipped for the emergency and has since the fire housed some of the staff and inmates.
Plans for fireproof structures to replace those that were destroyed, were drawn, and were approved by the State Board of Charities. The work preliminary to the laying of the foundations has been started. The farm buildings escaped damage, and farm work continued without check. One barn has been re-shingled, and another is to be. The dairy herd received a final tuberculin test, the survivors being free from infection.
New equipment includes tableware, clothing, washing machine, refrigerator, tables, chairs, gas heaters and lights, and (ordered) a combination range to replace gas plates; there are also a new Register and State Board of Inmates.
An electric line is being extended to the Home from nearby Angelica.
Poorhouses were established in the United States to assist the un-educated and un-employed in becoming useful members of society. Unfortunately, and quite often, residents where flogged, bound and chained, often naked in tiny rooms with nothing but a straw mat on the floor. Once audits of these poorhouses began and the atrocities within were discovered, they were reorganized or the residents were dispersed to other locations. These "new" poorhouses were labeled "Asylums". Many believe it was to ease the minds of these dispersed residents. And asylum at the time was a place of protection whereas today we think of them as a place to protect the world from its residents rather than the other way around. I am no expert on the Mental healthcare system, and have never professed to be. I do study and try to learn its past and progression through the years.
The Allegany County ended up as none of the above. What was once a horrific poorhouse became a county home for the aged after the fire. In several of the photos you will see large fire bricks used in the rebuild of this site as a way to make folks feel safe to return. Many brick and fire brick constructed buildings were built to replace old wooden structures that had burned down. Many of those buildings are still in use today.
The Shoot
A couple of times a year, my friend and fellow abandonment photographer Walter Arnold returns back to his roots and me here in upstate New York. His reason for return is not only to see his parents who live here but to hang out with me and do some serious exploring and photographing of abandoned and decayed sites. So twice a year or so, I am tasked with hunting down some good prospects for a shoot. This time and often now, a site was "donated" to our cause. I had known about this place for about a year and was very excited to finally get to shoot there. My friend Robin knows the difficulty behind shooting locations like this so she had given me explicit instructions to talk to a lady that owned and lived on the property. I was told she was a bit eccentric but sweet and easy to deal with. We just had to sign a form and donate a few dollars to go in and shoot. We make the 3 hour drive from our home and pull in to the partially paved circle drive at the home. Out in front of the county home is a small administrators house. Dotted around the property are several barns and buildings. We head up to the administrators house to introduce ourselves and get the shoot underway. After 10 minutes of knocking and looking around we arrive at the conclusion that no one is home. We decide to leave a simple note on the car explaining that we are inside taking photos and to please come find us. We paste the note to the windshield, pack up the gear and head in.
Just inside the door we are bathed in beautiful light from the stained glass windows in the stairwell.

Purchase a Print
We hang a quick left into a front facing room and decide to drop our gear there in case she came looking for us, she would know we weren't sneaking around or hiding. This first room is loaded with very creepy oddities… The windows cracked and candles on the sills, not to mention this little beauty.

Purchase a Print
I couldn't help but wonder as I was shooting this, what the heck this child's tricycle was doing in a County home.

Purchase a Print
Some of the items in this room where a little less creepy but still somehow strange for such a long time abandoned place.

Purchase a Print

Purchase a Print
We had heard through the rumor mill that this place was supposedly haunted. We hear that a lot. And to be honest I am very sensitive to my environment and can usually de-bunk most "bumps in the night". This was a little different. There was definitely a sense that there was someone here just a short time ago. Sure there could have been someone else exploring the place but this felt more powerful than that. Maybe it was because I knew that so many people had been through those doors, or that the owner would mill about, I don't know. I just had an overwhelming feeling that I was going to turn the corner and there would be someone there at every turn. That usually doesn't happen at the places we visit. In fact we spent the day yelling out "Hello, anybody home?" but there was no answer.

Purchase a Print

Purchase a Print

Purchase a Print
Having stowed our equipment, we decided to do a bit of looking around. The building is a large "H" format with a building in the cross section of the "H" which housed offices and administration.

Purchase a Print
It is believed that over the years this building has been re-purposed many times, so it's hard to see many of its inhabitants original traces. If you look closely though, they are still there. And though the building is in complete disrepair, because of its over-rebuilding after the fire, still seems quite stout and safe. There are some areas that are questionable though, such as this oddly place set of skylights.

Purchase a Print
As we make the turn into the first wing, we cannot believe our eyes..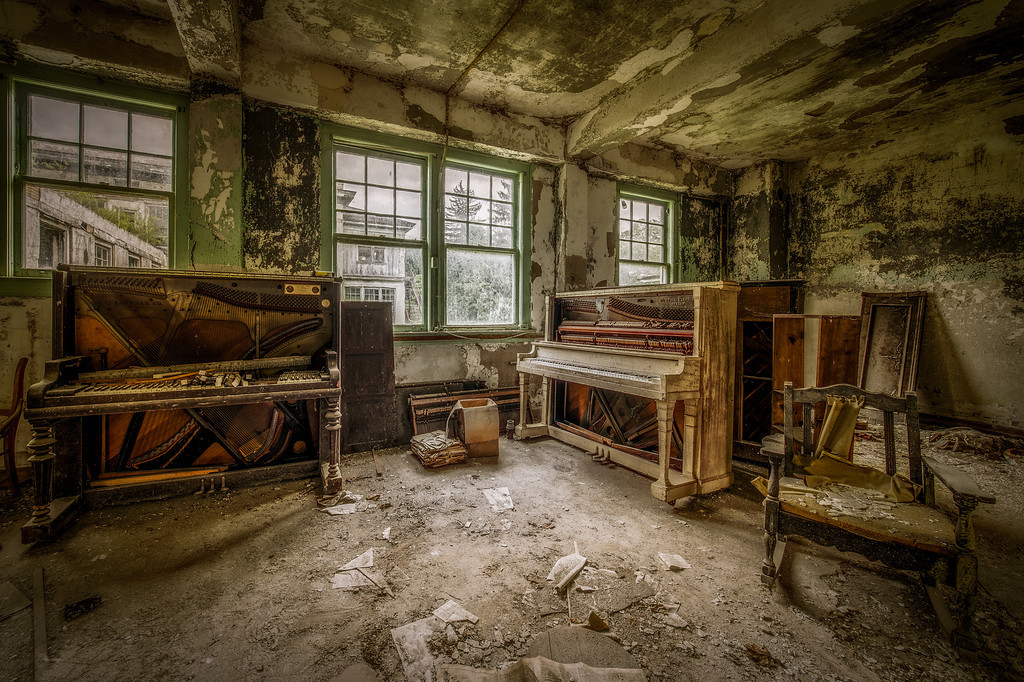 Purchase a Print
It looks as though this may have been a piano repair shop at one time. At least that's all that we can assume at this point. There are boxes of keys, and 3 half-built vintage pianos here along with boxes of papers. Some of them, are tax records from 1953? Very strange indeed. Nothing goes together like music and taxes I always say?!?

Purchase a Print
Being a musician most of my life the sentimental aspect of these old vintage pianos is to irresistible to not to shoot.

Purchase a Print

Purchase a Print

Purchase a Print
After doing some research on these Merrill Pianos I found out that The Merrill Piano Company was established in Boston in the year 1885. Their factories were located in Neponset, Massachusetts and also on Boylston Street, Boston. Merrill was known for building a excellent quality pianos that were more affordable than most other Boston piano makers. In 1925 Merrill became part of the National Piano Manufacturing Company, and they were affiliated with the Jacob Doll Piano Company. The Merrill name was discontinued shortly before the Great Depression. During their 40 plus years of existence they offered a complete line of quality upright pianos, grand pianos, and player pianos.

Purchase a Print
Sitting behind the Merrill and seemingly angled and positioned as if someone was just sitting at the keyboard and playing just moments before we arrived, is a real gem. This is a pre-1929 Janssen cabinet grand piano, made in New York.

Purchase a Print

Purchase a Print
Janssen was founded in 1901 and was located on Brown street in New York city. They were known throughout the industry for strength and integrity through intrinsic quality standards throughout their manufacturing facility. The fact that this piano was sitting here in this uncontrolled environment and I was still able to bang out a relatively well sounding tune, is amazing. And from the writing on the sound board it looks like 1937 was the last time it was professionally tuned.

Purchase a Print

Purchase a Print

Purchase a Print
I certainly hope my piano playing did not cause this.

Purchase a Print
Maybe it was Junior.

Purchase a Print
This place sure had some great light.

Purchase a Print
Probably due to all the leaded glass that was still intact. It just has this way with sunlight that is un-matched I think.

Purchase a Print
Getting our fill of the music room we discover staircase to the second floor in the back and decide to check it out.

Purchase a Print
The floors are covered in plaster but seem firm enough. Even with the door open the stench of moldy air is pretty thick. We venture up. Problem was, it took me 15 minutes to get to the top of these stairs because I had to stop every 3 steps to shoot this incredible light and texture.

Purchase a Print
Once we reach the top we notice that the post has one side painted bright red. This was most likely done to warn residents against falling down the stairs.

Purchase a Print
Note the intact vintage light and the collapsed roof to the right.

Purchase a Print
Next to the music room, this was definitely the coolest room of the day. The floor is thick with moss and looks strong enough. Neither of us dare to test neither the roof that looks to be held up by the electrical wiring or the moss covered floor. Here is a look from down the hall which has seen its share of water damage as well.

Purchase a Print
At the opposite end of the hall with the collapsed room was a completely different set-up. This area had been used recently (in the last 20 years) as some sort of office…with a big yellow couch, hmmm.

Purchase a Print
With the day getting late, and my lungs getting angry, I decide to head down and outside for a look at the grounds. It is gorgeous day out which lends a stark contrast to the building and its quickly deteriorating condition.

Purchase a Print
There are four barns on the property which I can only assume were once run by the home. A small barn just behind the administrators house which was a swarm with bees. I can only imagine that there must be a huge hive inside.

Purchase a Print

Purchase a Print
The flowers growing under the window against the barn wood was just too classic to pass up.

Purchase a Print
Heading east on the property takes you to the dairy barn. As the wind whips through the open barn the loft doors creak and slam open and shut.

Purchase a Print
It's around the side that we see the name displayed on the barn.

Purchase a Print
While the decay is beautiful here, this place must have been amazing when it was being taken care of. I head back to the main building. There are two smaller barns along the way. One looks to be storage for tools and a tractor. Time is running short so I just take a shot from the path.

Purchase a Print
Along the same path, just behind the main building is a longer barn/garage. I stepped in the doorway to take a look and bumped right into this:

Purchase a Print
It scared the heck out of me. After I gathered my shorts I decided I would take a photo of it. Very weird indeed. With my wits fairly scrambled I decided to head back in and find my friend Walter. I make my way around the back to enter near the doorway we saw from the music room.

Purchase a Print

Purchase a Print

Purchase a Print
I make my way through the music room into this incredible room filled 4 feet deep with old newspapers. As I kneel to take this shot I notice that the newspapers underneath the pile have expanded so much from the rain and snow coming in the windows, then freezing in the winter that it has bowed the wall behind me considerably. I get in and out of this room as quick as I can.

Purchase a Print
I make my way down the bowed out hallway outside of the newspaper room to the west wing of the building. Here I find a near perfect room. Outfitted with several couches, another old piano, some tables, and oddly enough an old D & D manifest.

Purchase a Print

Purchase a Print
This room by far looks the most "lived" in. At one time, I am sure it was the popular hangout for the local youths. I make my way back to back of the building, still no sign of Walter. This is the west wings rear porch. The late afternoon sun is really making this room and everything in it look great.

Purchase a Print
This shot ended up being part of a "Silent Hill" concept piece I did for my company "Studio X Imaging".

Purchase a Print
I could just imagine the old folks sitting out here, rocking in the sun and reading…

Purchase a Print
Well, not quite what I had in mind.

Purchase a Print
And not what I expected them to be reading either. This place gets creepier around every corner.

Purchase a Print
Blueboy statues were all the rage back in the day.

Purchase a Print
It was at this point I decided to head back to the first room and see if Walter was around as I hadn't seen him all day. About half the way there I had the BLANK scared out of me as I was making my way through one of the dark hallways Suddenly, through the unending silence of the day, one of the pianos started chiming out a tune. I immediately went to investigate the music room and there was no one in sight. It really freaked me out. I decided not to hang about and made my way to the room where we stored our gear and there was Walter, setting up his camera. I told him what happened and he just started laughing at me. Apparently, he was shooting a video of himself playing the piano and then headed out to gather a GoPro that was filming outside. I must have come in right after. He went around the outside and arrived in the first room just before me, completely oblivious to my "close encounter". That whole weirdness left us both parched and in some need of some long overdue lunch. So, we decided to take a short break and head into town for some pizza and a much needed break. As it turned out, after our 2 hour drive to get there and our 3 hour drive home ahead of us, both of us were too tired to continue. We decided we would drive back the next day and try to meet up with the owner again. We grabbed some pizza and headed out of town. The next day it was pretty much déjà vu of day one. We knocked, looked around, and ended up leaving a note again. Hopefully someone would show up that we could talk to about this amazing place. This day, Walter was going to work on shooting extra video footage starting outside, so I headed to the 2nd floor on the west wing to continue my interior shooting.

Purchase a Print
The first room on the right at the top of the stairs is this awesomely large open room full of great light and decay.

Purchase a Print
While the lower floors of the west wing looked to be in fairly good shape, the decay was really showing on the second floor. This tiny room with a single chair in it is a good example.

Purchase a Print
Obviously scrappers had pulled the hardwood from this one. I liked the torn curtains..

Purchase a Print
And yet another scrapped hardwood floor.

Purchase a Print
We only had limited time today so I made my way out to the front of the site to get some historical architecture shots. We were once again blessed with beautiful day.

Purchase a Print

Purchase a Print
It was about 85F on this day and that heat coupled with no breeze, the 18 inch deep grass, and mosquitoes in attack mode made for quite the uncomfortable walk-a-round.

Purchase a Print

Purchase a Print
Well, still not a soul to be seen or heard in two days. This was very strange as we usually run into someone. It is also sad because part of this kind of thing is hearing the stories behind these old places. We take one last walk around for me to grab a shot of the rear sun-porch.

Purchase a Print
We decided to take one quick walk-through to make sure we didn't miss anything and the strangest thing happened. The tricycle and rocking chair that we had photographed the day before, where now moved into completely different positions.

Purchase a Print
Both were moved in the same direction and about the same distance from where they were the day before. Someone had to have been there yet we have seen no one.

Purchase a Print
There were also some bottles out in the hall that I set up on a table to get a better look at and to photograph. They were neatly placed back in the wooden cupboard that I set them on and the door closed. If there was someone there, we never saw them unfortunately. Walter and I called it a wrap and decided that we would head into town for pizza again before the ride home. What can we say, we like pizza. While at the roadside stop we asked a few of the locals about the old place that I originally mistook for a State Hospital of some sorts. They were the folks that told us that after the poorhouse burnt down it became a county home for senior citizens. They also told us that the nice old lady that owned the place had passed away just two weeks prior. Her son had taken over the property and had auctioned off most of what was there. I can only imagine all of the stuff that we missed. 🙁 It was still a great shoot. Several weeks later another photographer and business partner of mine expressed interest in seeing the place and taking a few photos. We had some free time so I said, "why not?" Maybe we can meet up with the son who owns it and find out some more about the place. Off we went on a 3 hour tour. Upon arrival everything was pretty much as it was 2 weeks prior. No one there, no one around. We left our note and I showed Lou around. There were some notable differences though. In the newspaper room there was now a rocking chair atop the mound as seen in this next shot.

Purchase a Print
There was also another chair that was moved near the music room. I suspect that maybe there were other photographers there although I have not seen many photos posted.

Purchase a Print
In the long room beyond the chair in the light were piles of wooden doors. All with the number plates still on them.

Purchase a Print

Purchase a Print
Vines are covering every window that lines this room and that is casting an awesome greenish light which really brings out the hues in the fire-brick.

Purchase a Print
The overgrowth in and around this building is quite impressive. Almost every window is creeping with vines or tree limbs fighting their way in.

Purchase a Print
One of the places that we did not explore when I was with here with Walter, due to us forgetting our respiratory masks, was the administration offices in the front of the building. This area was particularly wet and moldy. Mold can be seen here on the paneling along the right wall.

Purchase a Print
This room, which is adjacent to the last had an entire tree in it that look as though it had grown through the window and someone had chopped it off and left it there.

Purchase a Print
Out of all of the areas on site, this was the most decayed by far. On the second floor above this section it was obvious there was a roof breach and the weather had been taking its toll.

Purchase a Print
Here you can see the doorway to the front porch. Most of the ceilings on the second floor in the center section were compromised. Sad to see buildings reach this state, knowing the end is so near.

Purchase a Print
Towards the back of the center section on the second floor there is still ceiling left although the upper porch is gone. Something strange happens just after I snap this photo.

Purchase a Print
Yes! We finally we run into someone on the property. As I start to explore the open porch I notice two gentlemen in bib overalls walking down below. I shout down to them, "Hello" and proceed to introduce myself and ask who they are. They tell me about the owner passing and that they are "renting" one of the barns out back from the son. We chit chat about the building and such and both Lou and I leave them with our cards. I ask the men to please let the owner know that we were there taking photos and were interested in the history. To this day (about 5 months later) I have not heard from them or him. Would have been great to include him in the story and maybe helped him re-purpose or liquidate the property or even given photo tours to help with upkeep. Lou and I take a few last shots around the various rooms, including this one of the bottles that I spoke of earlier.

Purchase a Print
And these cool old toys found just one room away from the tricycle.

Purchase a Print
We bid a fond farewell to this old building and pack up to head back home. The Allegany County Home, seems to be just another lost, but hopefully not forgotten piece of our history.
Full gallery for the shoot can be see here: Allegany Poor House Gallery
Lou's story and photos from the shoot can be seen here: LouisQPhotography.com