Mono Lake (moh-noh) is a large, shallow saline soda lake in Mono County, California, formed at least 760,000 years ago as a terminal lake in an endorheic basin. The lack of an outlet causes high levels of salts to accumulate in the lake. These salts also make the lake water alkaline.
This desert lake has an unusually productive ecosystem based on brine shrimp that thrive in its waters, and provides critical nesting habitat for two million annual migratory birds that feed on the shrimp and blackflies (that also feed on the shrimp).
The human history of Mono Lake is associated with its productive ecosystem. The native Kutzadika'a people derived nutrition from the pupae of the alkali flies that live in the lake. When the city of Los Angeles diverted water from the lake, it lowered the lake level, which imperiled the migratory birds. The Mono Lake Committee formed in response and won a legal battle that forced Los Angeles to partially restore the lake level.
Ironically, it is because of this water level change that visitors are able to view the amazing tufa that are present in just a few areas of the lake's shore.
These tufa as they are known are formations of limestone, formed by the precipitation of carbonate minerals from ambient temperature water bodies.  Originally, before the lake was partially  drained these formations were not visible.  They have now become a huge attraction for photographers and tourists.  So by draining the lake and exposing these tufa, awareness has been raised in order to save and preserve this unique habitat.  A sad path to take, but it has ended well.
While in the Yosemite area we would visit Mono Lake twice.  It is located just outside Yosemite through Tioga pass near the small town of Lee Vining.  Our first visit to the lake was done in order to pick a nice spot for some night photography, which ended up being a bust.  Luckily for us we also scouted out an area for sunrise the next day.  I did manage to capture this black & white photo utilizing my new #29 Red filter.
The rest of the day we would spend exploring route 395, and the June Lake area with a nice stop at the Double Eagle Resort for refreshments.  On our way back to Yosemite for the evening we wandered across this beauty and had to stop for some shutter time.
Scouting around while the others lined up their shots I found a note from the previous owner.
This left me warm and fuzzy and I had a great feeling about meeting up with Sharlea Taft of SGT Photography the next day to catch the sunrise over Mono.  Back to the camp for a good nights rest as a 4am start would come mighty early.  And so it did.  Up and ready to go, Erin, Danielle, and I made our way down Tioga Pass in the dark to find Sharlea at Mono, fingers crossed all the while that we would get good light.  Once there (way too early) we all decided we should get breakfast and then make our attack.  A quick breakfast down and we were parked and heading in.  It was pretty chilly but the adrenaline kept me warm.  Here we are getting set up and praying for the sun to break through.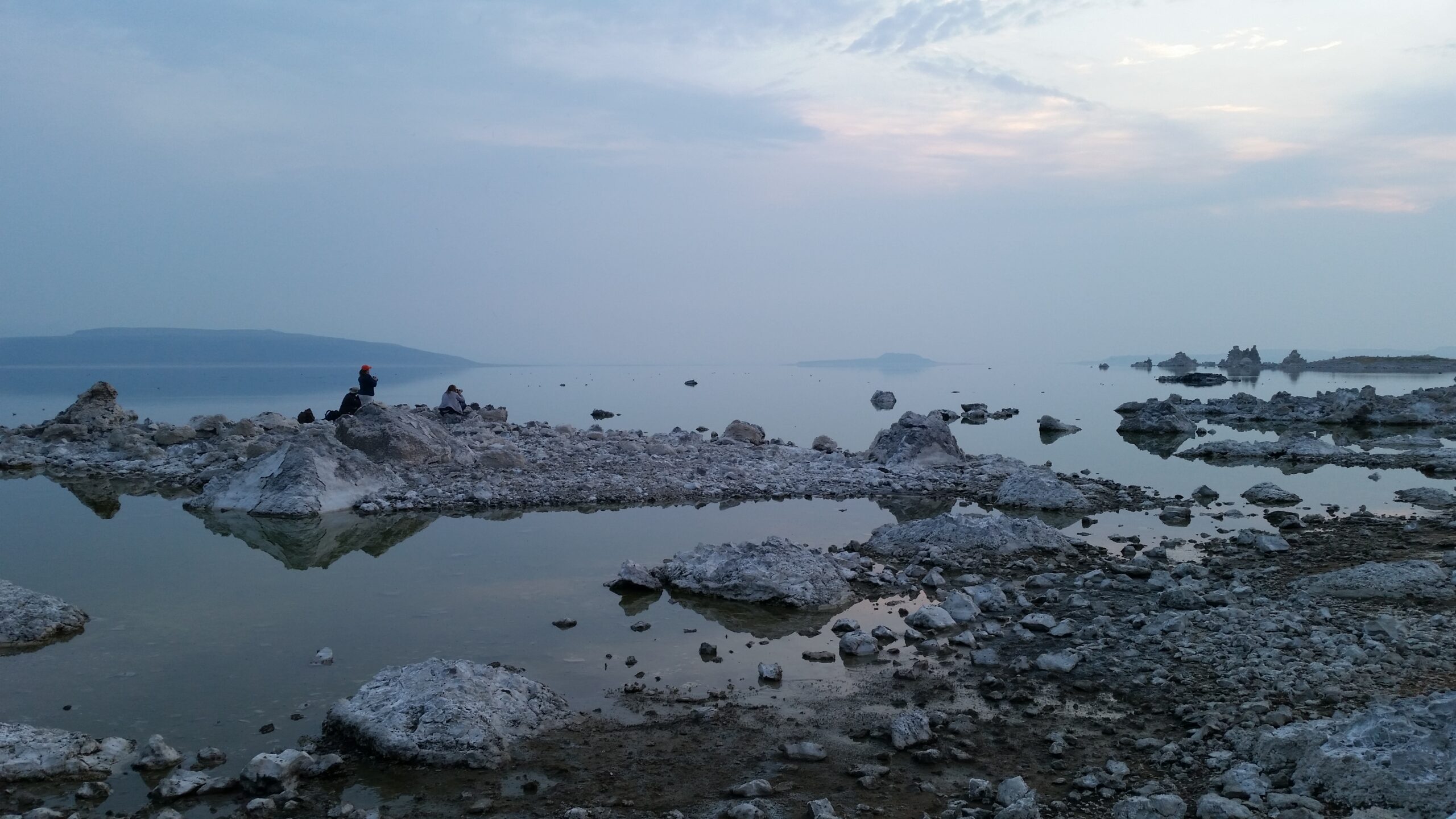 Our first glimpse over the lake and it doesn't look too good for a popping sunrise.
But, not 10 minutes later we get our wish.  Once up off the horizon a bit, the sky turns dramatic and the lake lights up a brilliant blue and then various shades of pink and purple.
Mono Lake does not disappoint!  Just a few minutes after this shot the color had come and gone and we were headed off for a long day shooting at Bodie Ghost Town.  I really wish I had more time here at Mono Lake, even if my nose did not.  I really loved the odd and alien-like landscape and would have loved to explore and discover more.  It is definitely on my return trip list!  You can view all of the shots from my visit there at THIS LINK.
Here is a map where you can find the Tufa for yourself.  Download the Park PDF HERE
How to get there: