Berkshire, New York is a sleepy little town about halfway between the two megatropolis cities of Ithaca and Owego, New York.  Upstate New York is full of small towns just like Berkshire. Once bustling with business and industry, now just small hamlets with a smattering of homes, abandonments, and the families that used to work there.  Many weekends are spent on the road just driving to see what I can see an this was one such trip. While heading towards a site that was suggested by a friend, something interesting caught the corner of my eye and I had to go check it out!  After a few turns off the main road, I found out what it was…
…an old vacuum tower.  This was an abandoned saw mill!!  Although, I must admit, at the time, I had no clue as to what I was looking at other than a REALLY cool place to explore and photograph.
HISTORY
 Stephen B. Howland, who is treasurer of Howland Bros. Company, Inc., of Berkshire, is recognized as one of the able and highly successful business men of Tioga County. He was born at Lisle, Broome County, October 25, 1882, the son of George S. and Sarah (House) Howland. George S. Howland was a native of Broome County, born at Nanticoke. He died in 1883 and is buried at Lisle. His wife, born at Truxton, died in 1920. Throughout his life Mr. Howland was a farmer and he died at the age of thirty-six years. Politically, he was a Republican. Four sons were born to Mr. and Mrs. Howland: 1. Herbert S., lives at Berkshire, where he is president of Howland Bros. Company, Inc. 2. Edwin G., lives at Berkshire, where he is secretary of the company. 3. William, who died in 1882. 4. Stephen B., the subject of this sketch. After attending the public schools of Lisle and Dresserville, Stephen B. Howland entered the employ of his brother, Herbert S. Howland, who at that time owned a machine shop at Dresserville, New York. After five years he came to Berkshire with his brother, Herbert S., and engaged in general machine work in a shop now owned by Edward Jewett. Two years later they erected a shop for the manufacture of keg headings for the Wickwire Mills of Cortland. Gradually, the business grew, and Edwin Howland became associated with the enterprise. They also conducted a lumber business until 1918, when their mills were destroyed by fire and they built another plant and gradually went into the manufacturing business. In 1926 the plant was again destroyed by fire and they built the present factory and the business was incorporated at that time. They are extensive furniture manufacturers and also furnish finished stock of various kinds to be used in the chairs and tables manufactured by Stackmore & Company, of Owego.  The business caters to a wholesale trade and direct to stores, having salesmen on the road.   Thirty-five men are employed in their plant which covers 22,000 square feet of floor space. Officers are: Herbert S. Howland, president; F. L. Aidrich, vice-president; Stephen B. Howland, treasurer, and Edwin G. Howland, secretary.
The Howland brothers were much more than furniture makers as well. In 1923 they filed a patent with the U.S.Patent Office for a Storage Battery Box as seen here in the original patent document.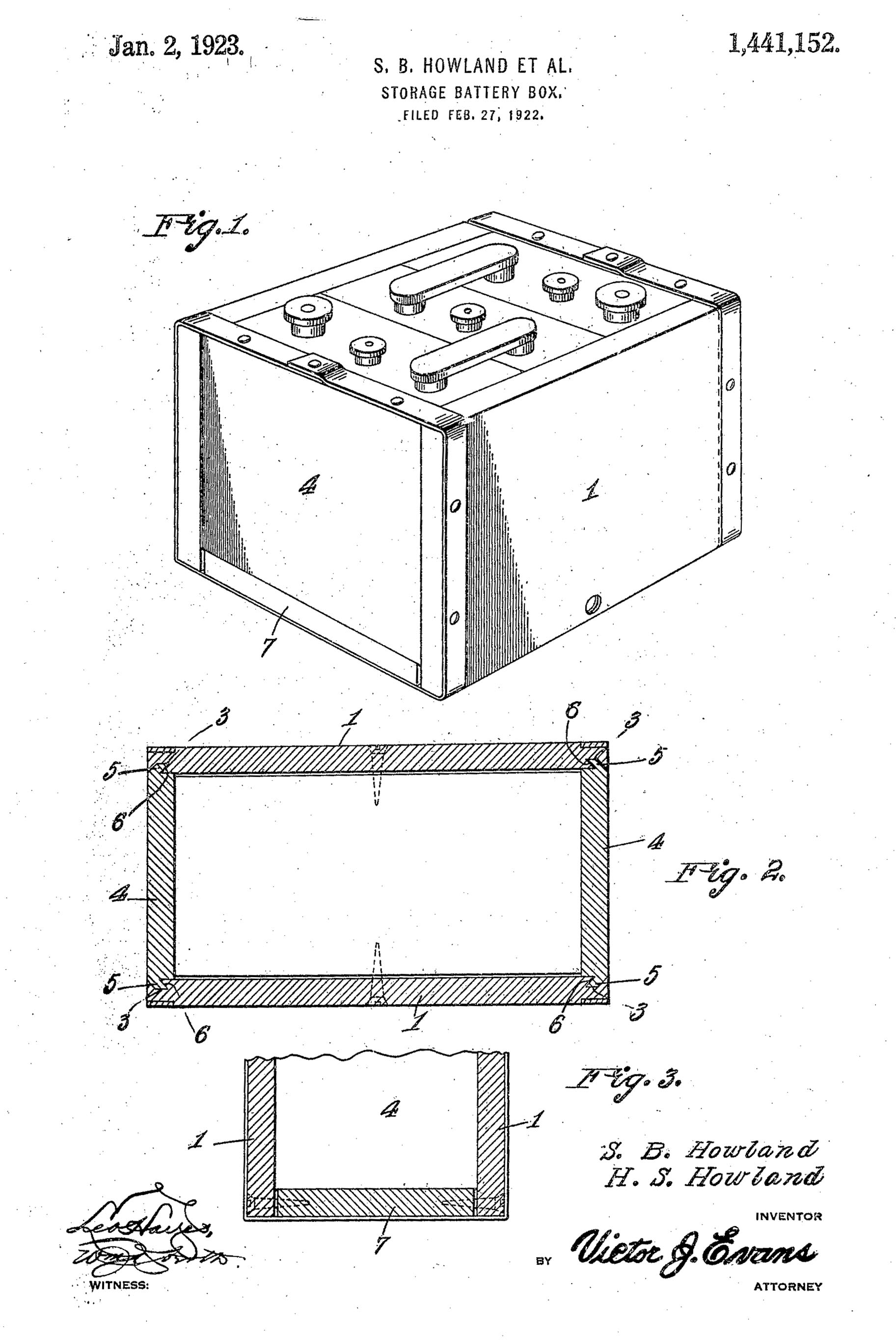 The mill dropped it's Stakmore contract in 1927 because the novelty furniture, shook stock, or semi-finished stock became so successful.  It is said that during the great depression their business actually increased due to the low price of unfinished furniture.   Income was generated by unfinished hardwood tables, hardwood dimension stock, and rough-cut lumber.  Business continued through at least 1970 from what I can tell and the file photo dated then and seen here: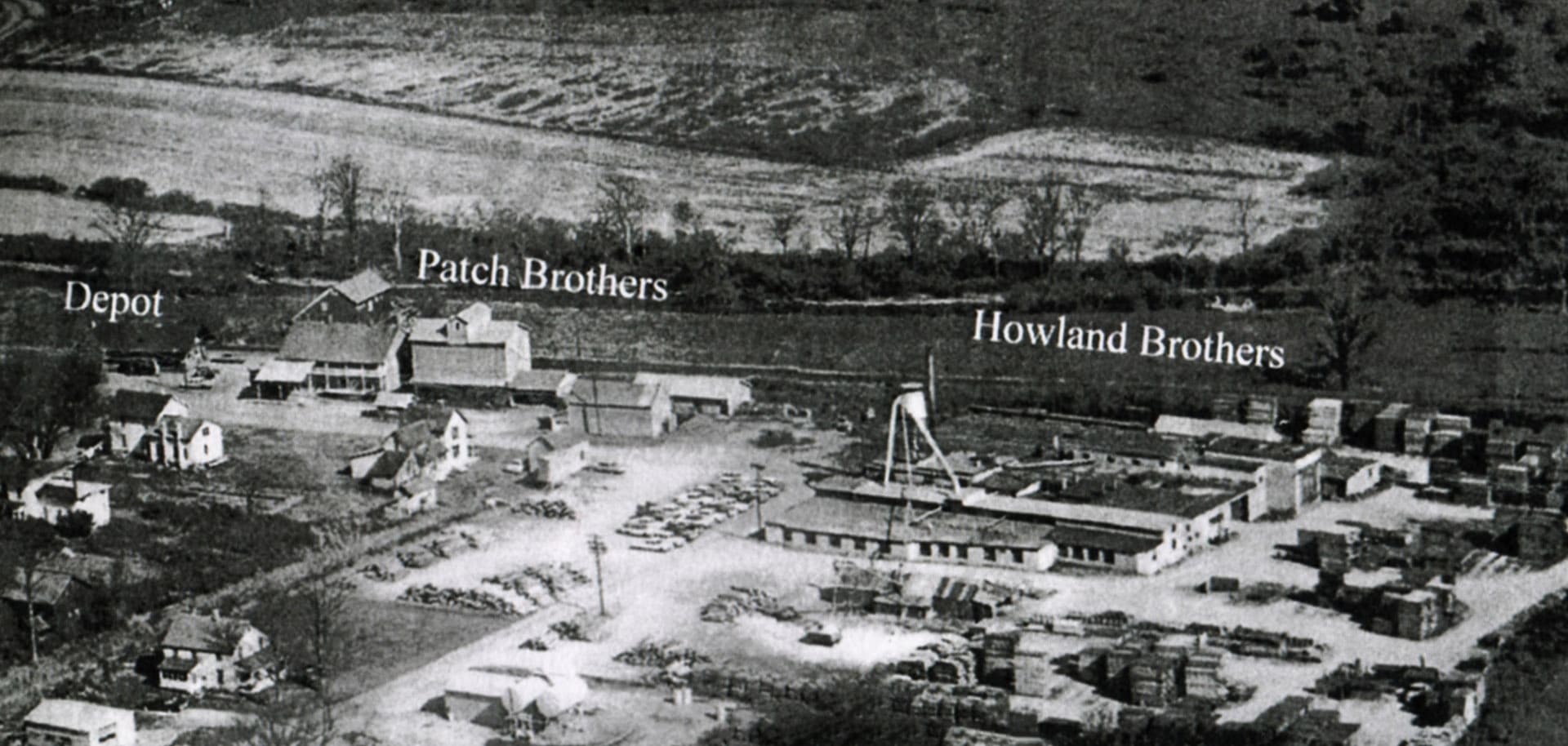 Thanks to Joan Hunt | Genealogical Researcher at the Tioga County Historical Society for the article and history background.  Obviously it will be left up to our imagination how the mill got from 1970 to present day. Part of me wonders if the 1972 Agnes flood had anything to do with it.
The Explore
Very cautious at first, I made my way around the building.  There were no visible "No Trespassing" signs, and the place looked very deserted and overgrown.   The major roof collapse led me to believe the building has sat here unoccupied for quite some time.  I parked right out in front of the place so if there was anyone around they would know that I wasn't sneaking about and had a legitimate reason for my curiousity.
Making my way to the back of the property, and across a marshy area I found the first out building with what looks to be a giant industrial planer in the back!
What is that I see in between the breaker boxes?
Well, not much can bee seen from this angle. BUT, I can see that this machine is no planer, it's a de-barking machine!  Making more sense to me now with all of the mulch strewn everywhere.  Let's take a look at this monster!
Nice!  From Niagara Falls, NY!  The window has me curious enough to open the cover and take a look inside. Mind you, when I do this, something regularly flies out, startles me and I fall on my ass.  Praying for a reprieve I unlatch the 6ft side-panel door and swing it open……Oh wow!
It's no de-barker either, it's a ginormous belt sander!  I know I am weird, but I just love this kind of stuff!  I could have photographed this thing all day, but much more exploring to do!  Time to find the exit to this building….there it is!
Oooh, but what's in the cabinet?!
Definitely some tools of the trade to keep the machines well lubed….and on the other side?
Yes'm, apparently the workers here were well lubed too!  Things like this, are what I love about finding these old places… we used to not be so walled in, and we STILL got things done and in an amazing manner!   So could this day get any better?  Off to the main building, let's find out.
Oh wow!! That is a resounding, "YES!"  This must have been the receiving area for the raw rough cut wood. Brought in on these super-awesome carts! Carts, that were EVERYWHERE!
And my favorite shot from this adventure has to be this next one.
I just love the carts, upon carts, upon CARTS! Anyway, continuing on.  The open room to the left of all the joyous carts is a different story.  Apparently, some local has been feeding the stray cat population (stray rats too probably), as the entrance to this area is ankle deep in empty tuna cans!
The smell here….well…THE SMELL!  I would love to get a closer look at the cabinet and sign on the right but decide that I do not have the proper hazmat gear on to do so.  Moving on.
The next building to the right looks to be an old warehouse.
There were train tracks leading up to a bay door here.  I am figuring that this would be where they would load up for shipments which was all train based in those days.  Something we seem to actually getting back to.  You gotta love taggers.  Notice the swastika attempt on the left wall. Close! LOL!
Though the roof was pretty suspect here, I decided to inspect the structure.  Around the corner I found what was left of the huge kilns here used to dry the wood. Here is a cell phone shot.

I no more snap this shot and a brief torrent rolls in. Pretty scary place to be when the rain is pounding.  I had the feeling the rest of the roof was going to join me on the floor.
Thank goodness it lasted only a few minutes.  There is another large warehouse to the west of the kilns and when I step in, I cannot believe my eyes.
Peering out the back door here reveals the rain has stopped but, the rest of the buildings are NOT explorable.
Time to head back out front and explore the office there that I saw when I pulled up.  Through the windows on the front of the mill I can see  an area that is not accessible to me because of the "tuna fiasco" earlier, and well, a minor collapse there in the back.  Luckily, I can squeeze my camera through the window so I don't miss this:
Attention temporarily averted I manage my way to the front door. Which is in great shape compared to the rest of the site.  To my surprize the closed front door is actually unlocked.  Carefully I make my way inside, concerned that I may find another collapsed roof. Sure enough.
You can tell this wont be standing long. The roof rafters are sagging terribly under the weight of that giant vacuum tower.  To my right is a pretty cool item.
You really get an ideal here of how bad this building really is.  Note: More tuna cans… what the heck?  Since the tuna cans are starting to really freak me out, I say it's time to go.  A quick shot of the office before I go.. The ceiling in here is coming down as well.
I couldn't resist a little Salvador action… There are a few remnants of business left here. Including this apparent clue to the Mill's demise I found on the desk.
Apparently, they DID have a personal computer in the place.  That would put them in business into the eighties at least.  Much is left to learn.  If you find my story and know anything more about the mill, I would love to hear from you.  I will leave you  with one last photo that I feel is quite poignant.
It's really hard for me to understand how a site can be left like this.  Obviously it has not been tended to for ages.  The amount of waste sinking into the ground here is a crime.  Repurpose this buildings or clean them up!  This sort of thing should never happen.   A cruel reminder of what is happening to our rural America.
~AD