A truly American sentiment recognizes the dignity of labor and the fact that honor lies in honest toil.
~Grover Cleveland
Out in what seems to be the middle nowhere in western Maryland is the tiny town of Lonaconing. Home to the iron blast furnace built by the George's creek Coal and Iron Company in 1837. This would be an amazing attraction for a city twice the size of Lonaconing. But this little town has an even bigger secret garden, the Lonaconing Silk Mill (aka The Klotz Throwing Company).
The Lonaconing Silk mill is the last fully intact silk mill left in the United States. It's no longer in operation, but it's looms and machinery are alive and well in the hearts of creatives, photographers, and it's caretaker. But, unfortunately it may not be much longer. The mill is under the watchful eye of it's lone caretaker, Herb Crawford. Herb offers tours of the mill in 4 hour blocks for a measly $100. 100% of that money goes right back into the mills roof fund to help stop the encroaching winters. But interest has waned over the years and Herb is struggling to find photographers interested in shooting the mill. Personally, I think the word just needs to get out there. He told me he has had many a collector approach him to piece out the mill and sell it off. But his love for the old place runs deep. He is doing everything in his power to save the place for generations ahead to enjoy. Late October of 2014, I returned to the mill for another shoot. I was there originally in 2011 and was short on time so only got a couple of hours in this amazing place. This time, I was bound and determined to spend the entire 4 hours getting my fill. To add to the fun, I was meeting up with apprentice Tricia Booker from The Arcanum for the shoot! Here is a shot of Tricia, Herb, and I.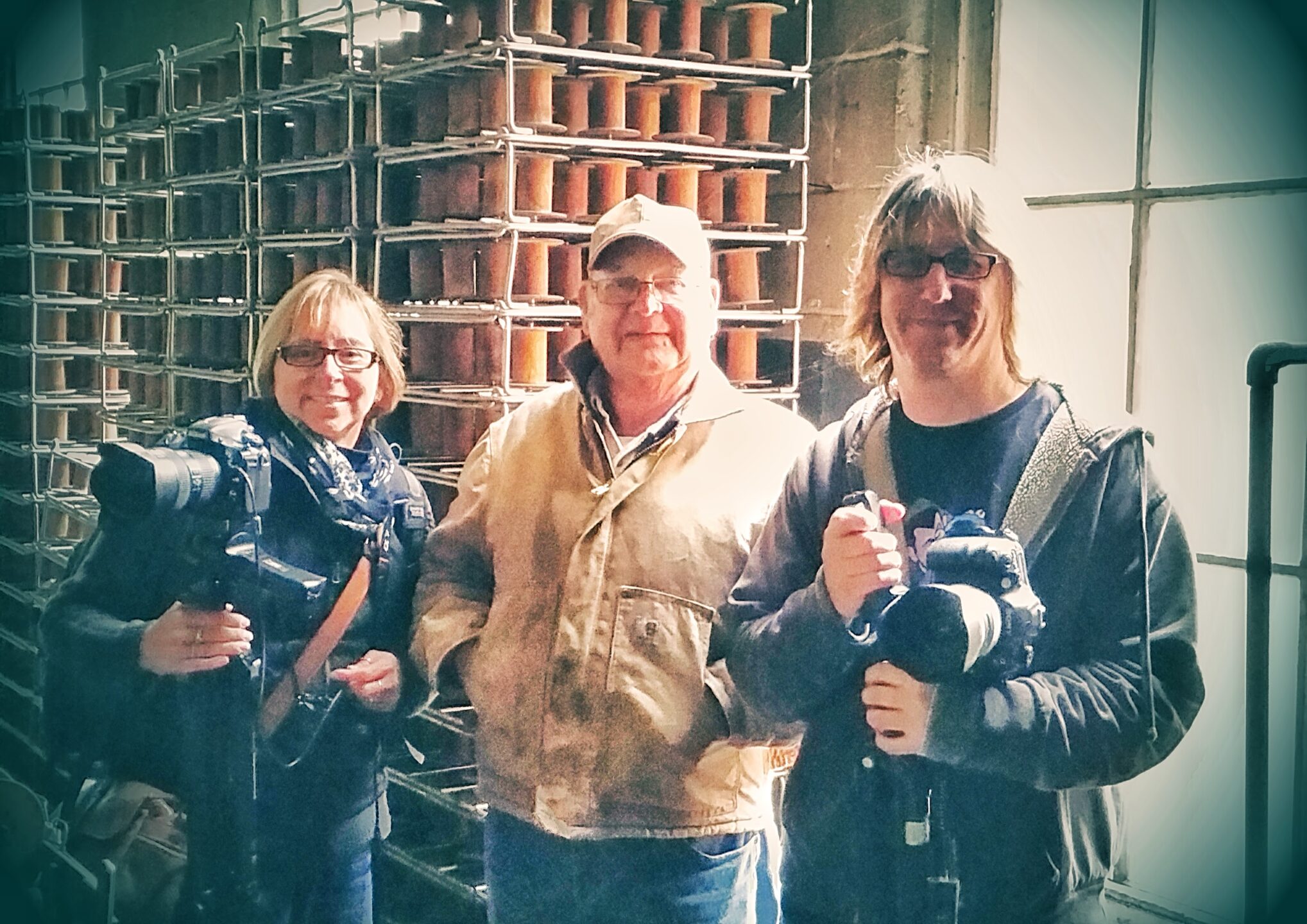 This was Tricia's first time shooting in an "abandonscape" environment so a fair amount of time was taken to discuss proper camera settings and bracketing for the super wide dynamic ranges found in the mill. With brightly lit lead glass windows all around the perimeter, and nothing but natural light inside, the setting is eerie yet beautiful and inherently difficult to capture. I gave her a few pointers and off we went into the cold to capture the sole of this monument to American industry.

Purchase a Print
Shooting in a place such as this not only challenges your photographic wit, but tests your composition skills as well. Everywhere you look there is a story to be told. A real treasure chest for your portfolio.

Purchase a Print

Purchase a Print
Not to mention the millions upon millions of bobbins! Herb makes sure that every visitor gets a bobbin or two to take home with them as a memento from their visit. You are guaranteed to end up with a camera full by the days end. Not enough can be said about the gorgeous light in this place as well. It may be difficult to shoot, but it is so worth it!

Purchase a Print
In 1957, the doors where closed for the very last time. In those days, the workers were handed their paychecks with a note. When the last worker left for the day, the doors were closed and sealed. That note told them not to come back. Unlike today, where businesses are liquidated, back then the goal was to sell the building, land, business, and machinery all in one big lump. For the silk mill, that day never came.

Purchase a Print

Purchase a Print

Purchase a Print
The silk industry left the United States and headed for China. This mill is the last remnant of that industrial age. A moment frozen in time. It's not often if ever that a place like this is open to the public to photograph.

Purchase a Print

Purchase a Print
So what can you do? Well, just get there and photograph it! Herb needs more photographers to come to his amazing place and shoot. It's a win-win all the way around. I know of no other place like this that you can shoot for 4 hours for just $100. I believe if you come in a group of 4 he gives you a discount!

Purchase a Print

Purchase a Print
If you are worried about the size of your group, there are 3 floors to shoot. Tricia and I stuck together and managed to not get in each others shots the entire day.

Purchase a Print

Purchase a Print
All the time I am shooting here I just keep trying to imagine how loud it must have been. So quiet now, nothing but the wind blowing the plastic tarp on the ceiling protecting the caving roof.

Purchase a Print

Purchase a Print
One of the areas I was unable to get to last time was this cool old drinking fountain and the dyeing kilns.

Purchase a Print

Purchase a Print
Having covered the first and second floors of this behemoth, we decided to head towards the basement. A few things catch my eye along the way.

Purchase a Print
I had shot this last time I was here, but could not resist taking another photo of this old cart on the elevator. The light from above is awesome!

Purchase a Print
Herb clicks on the only lights in the place for us, even with them the basement is a pretty creepy place. Here is one of the wash units left to rust.

Purchase a Print
Most of the shots in this place are processed in 32bit HDR consisting of 3 exposures each shot on a full-frame Sony a99v camera. I mention this because last time I was here I had an aps-c crop sensor DSLR and had to shoot quite a few more exposures to get the range of light needed to capture the scenes here. If you shoot full frame you can get away with -2, 0, +2 exposures in most situations here. There are a few spots where I took a couple extra for good measure though. This shot was one of them.

Purchase a Print
While you can shoot most detail scenes hand-held with a f/1.4 or similar lens, a tripod is suggested for any of the wider scenes. I used a tripod with these shots and focus stacked them to get all of the detail in the spool and paper. See if you get the "Google" reference, and then "Google" it…you will be surprised at what you find. 😉

Purchase a Print
The old log books down here are preserved perfectly.

Purchase a Print

Purchase a Print
We make our way to the back of the basement in the mill to find boxes upon boxes of bobbins! They're everywhere!!

Purchase a Print

Purchase a Print
All the way in the back, where I thought I had seen everything was a whole other room full of more spooling machines! Amazing!

Purchase a Print
Cold and tired with a long drive a head of us, we are ready to call it a day. As I head back upstairs to the exit I see an old fire bucket and broom gathering cobwebs in the corner.

Purchase a Print
It's at this moment that it hits me hard. Places like this just don't exist anymore, at least like this. Still cared for and preserved as best as one man can do. Herb not only oversees the property but has installed cameras and other security measures to protect the property from vandals and scrappers. All on his own, without help from anyone other than a few small donations and the photographers. So shutterbugs, I call out to you to help save this last American treasure. Plan a trip there now! Don't wait, call Herb today! Here is his phone number: Herb Crawford :301-268-1168 Tell him Andy from New York sent you! Through your shoots there and spreading the word, he can save the roof, and save the mill.

Purchase a Print

Purchase a Print
Check out the bonus photos from the shoot: (At this link)
And Tricia Booker's story and shoot here: (At this link)