After a friends recent trip to Kinzua Bridge I decided to dig back in my archives and post a story about my first travel photo trip outside of my own state.  This was not only my first trip outside my state, but I was still a camera newb (truth be known I still am). I had no thoughts of composition, HDR, color, tone, aperture, blah, blah, blah.  I was just shooting what I wanted to, the way I wanted to.  More on that later but first, let's see what drew me to want to photograph this place.
History:
The twice built, twice demolished bridge was first constructed in August of 1882. The first construction was completed by a crew of just 40 men in 94 working days.  This was accomplished through the use of a gin pole to build the first tower rather than the tradition scaffolding.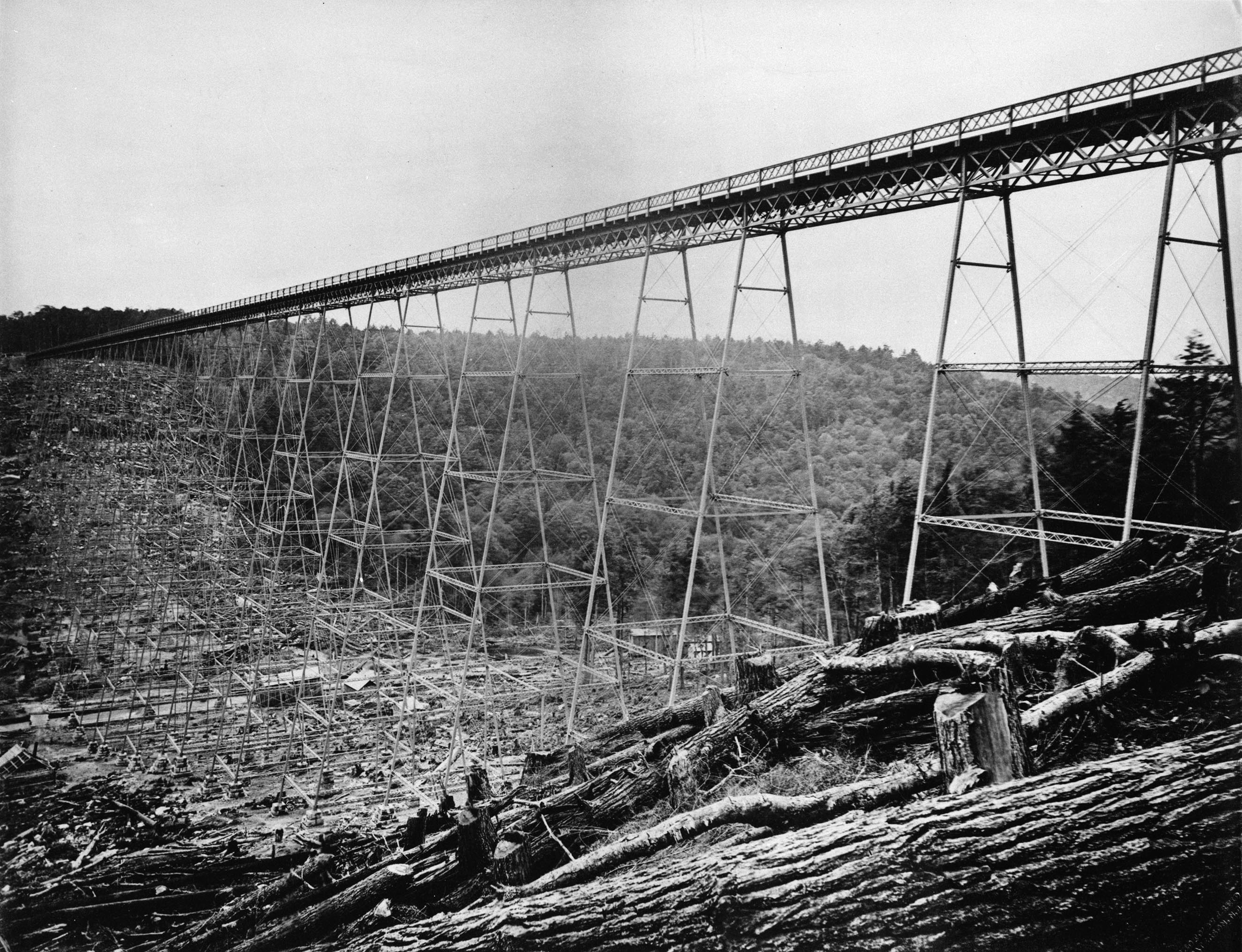 The bridge was billed as the "Eighth Wonder of The World" as 6 of the bridge's towers where taller than the Brooklyn Bridge. Up until the construction of the Garabit Viaduct in France during 1884 at a height of 401 feet, the Kinzua Bridge held the height record.  Until it's record fell it was not only the tallest, but the longest viaduct in the world.  Excursion trains came from Buffalo, NYC, and Pittsburgh to cross the span. Trains were held to just 5 miles per hour as wind and the trains themselves would shake the bridge. The bridge was built to support loads of 265 short tons and was often mistaken for being built out of wooden poles.  In reality,  the bridge was built by the Phoenix Iron Works, which specialized in producing patented, hollow iron tubes called "Phoenix columns".   Another attractant of the bridge was the tale of a bank robber who supposedly hid $40,000.00 in gold and currency under or near the bridge.
Fast forward to 1893, due to bankruptcy of the NYLE&W line, Erie Railroad became the owner of the bridge.  Locomotives by this time had become almost twice as heavy as they were just 10 years earlier.  The old iron bridge was deemed unsafe and the last traffic to cross the bridge was on May 14th 1900.  On May 24th demo work began on the old Kinzua bridge and four months later a new steel framed bridge was completed buy the Elmira (my hometown) Bridge Company.  The Kinzua bridge was reopened for commercial traffic on September 25th 1900.  The new bridge was able to support one of the largest locomotives in the world at the time, the 511 short ton Big Boy.
Not made known at the time, the bolts used to hold the towers to the anchor blocks were reused from the first bridge, which would eventually play a major role in the bridge's demise.  C.R.Grimm, the designer of the bridge, later admitted that the bolts should have been replaced and not reused.  Regular commercial use of the bridge ended in 1959 due to a bypass created by the B&O line.
Eventually, in 1963 a bill was signed into law and the state purchased the bridge and nearby land for $50,000.   In 1965 the deed was recorded for the 316 acre park and it was opened to the public in 1970.
On July 21st of 2003, the bridge would suffer extensive damage when it was struck by an F1 class tornado packing 94mph winds.  An investigation of the damage found that towers 10 and 11 had collapsed first.  Towers 12, 13, and 14 had been picked up from their foundations and moved northwest and set back down upright and intact.  Held together only by the train tracks that ran across them.  Towers 4 through 9 then collapsed, followed by 12, 13, and 14 finally falling to the ground.
Luckily, there were no injuries.  According to Wikipedia, the investigation also hypothesized that the whole structure oscillated laterally four to five times before fatigue started to cause the base bolts to fail. The towers fell intact in sections and suffered damage upon impact with the ground. The century-old bridge was destroyed in less than 30 seconds.
I visited the bridge in 2008 with my Sony a200 DSLR,  new medium for me. I was trying to learn about 50 things at once and failing at many.  I shot the whole day in jpeg to start, as I didn't even know that the camera had a RAW mode or what to do with it.  To be honest, I wasn't really even thinking about it. I was just in the experience, enjoying the scenery and taking in the whole wonder of it all.
Many would ask, why release these images, aren't you embarrassed?  To which I say, "Why should I be?"  This is me, in my rawest form.  I know so much more now, but does it make me any better? In some way yes, in others, no.  I look back and I am very happy with my journey.  Where I came from, where I am, and where I am going are all good in their own ways.  I am getting back to just shooting what I feel, and realizing that those feelings are altered now because of my practice, experience, and things I have learned.  And these are hings I still do every day.  I think it was guitarist Steve Vai that once said Frank Zappa gave him this piece of advice, "Practice like crazy, then when you get on stage, forget it all."  We often cannot separate that practice from performance. Or as photographers we feel that we MUST perform whenever we are out with the camera in public. This is just not true.  In this digital age, we can practice, as much as we want. We can even experiment, it has never been easier.  I think it is good to separate the practice from the performance. I also think that experimentation has to be part of the latter as well.   Soon, it all becomes one and we are a learning machine.  If we try to analyze it or force it though, the journey becomes much more difficult and the art will not emerge.
So, I look back at these images and think they still hold up pretty good.  Not my best work, but some of my best practice.  Where are you in your journey?  Where is this never-ending creative track taking you?  I think maybe for me, it's time to revisit this old friend and see if that spark in my eye is still there.  Thanks for coming along with me!
If you would like to see the rest of my images from this day, please visit my gallery AT THIS LINK.  Thanks!