It's not often that you drive out into the middle of the southern Nevada desert in 100 degree heat, dodging a tarantula migration only to meet the nicest people you have ever met and a literally finding a photography mecca. In 2012 that is exactly what I did. So, in September of 2013, when my "Beautiful Landscapes and Abandonscapes of the Southwest" kickstarter project was successfully funded, I decided that part of that project was to return to my favorite location in Nevada, and take one of my best friends with me. Here is the story and the photos from that visit in October 2013.
Though it was a tight squeeze time-wise and not originally in the plan, it was too tempting not to re-visit the Eldorado Canyon Gold mine in southern Nevada. Bright and early on the 18th of October 2013 we headed out of Kanab, Utah towards St. George and Las Vegas. In order to avoid the traffic of Vegas we headed off the main road and trekked through the Valley of Fire state park. Having come this way the last time I was pretty familiar with the route and made our first stop in the valley at a familiar rest stop in the park. Though it has no real name, I have dubbed it the screaming Indian rock rest stop. Just behind the rest rooms at the stop is a large rock formation and if you get the angle towards the road just right, well…see for yourself.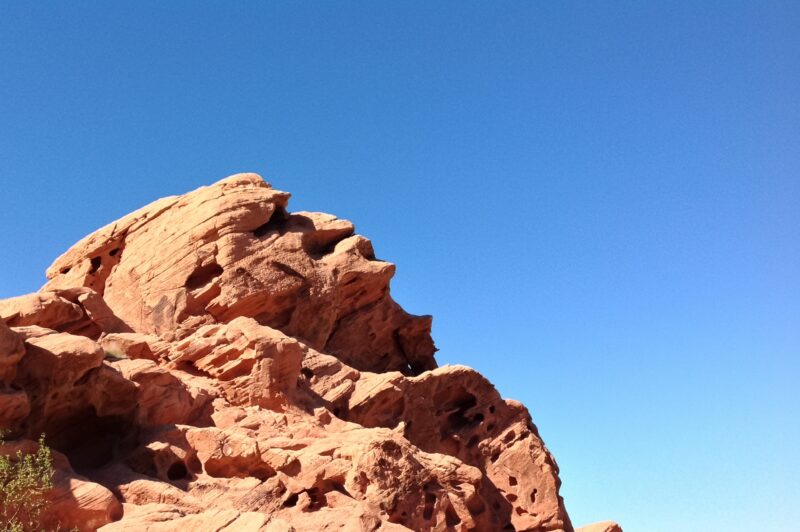 With little more than time to take this ipad shot we hit the road towards Boulder City. We make good time and soon hit our left turn off Nevada's Veterans Memorial Highway onto highway 165 toward Nelson. While heading back east on 165, which is a fairly barren road, Lou keeps an eye out for anything along the road of interest. A couple of times he mentions seeing something in the road but he isn't quite sure what it is. I mention to him that we are on the tail end of the famous tarantula migration and there might be one or two crossing the road. Sure enough, the closer we look, the more we see. Luckily we did not hit any of them, and even stopped at one point to shoot this:

I was only a few miles later we would pull into the parking lot of that old familiar general storefront in Techatticup.

Purchase a Print
Before I could get out of the car and take this shot, Lou had already disappeared. There were several vehicles parked in front of the store and people milling about and heading out on the mine tour with Tony Werly, one of the sites owners, so I decided to head inside to see whats new. Behind the counter was a lady tending to some paperwork. I introduced myself and asked if Bobbie was around. She looked at me oddly and said, "Well, I'm Bobbie." I stood there with this bewildered look on my face and finally muttered a confused, "Well, hello." See, last time I was here, Bobbie wasn't. And in my excitement, and confusion apparently, I got it in my head that Bobbie was Tony's brother. Obviously, I was VERY confused. Bobbie is actually Tony's wife! Color me embarrassed. Anyway, we chatted for about 15 minutes, or at least I did about how much I loved their little ghost town. So much in fact I decided to drive all the way from New York just a year later to photograph it again. Bobbie told me she was a huge fan of mine as well and that she had gotten my emails and seen the photos from 2012. Luckily I had brought several prints with me from that trip and left them with her for display. We continued to talk about each others wild adventures in the southwest until Lou finally made his way back in from the heat to grab a drink. By that time, Tony had returned and I filled him in on our intentions for the day. He sat Lou down and explained the many hazards of the site and what to look out for. The same speech that I got my first time there. And it is a speech that should be well heeded. The site is wrought with rattlesnakes, scorpions, lizards, tarantulas, and nasty cholla cactus. The latter are wonderful to photograph but get too close and you will end up covered in hundreds of them that can only be removed with pliers and and strong arm. With Lou having been filled in with all the precautions we head out into the 90 plus degree heat to take some shots.
First thing that I notice beyond the fact that the place was packed with tourists, a model shoot was just setting up, and Lou has disappeared again was that there was a huge amount of new "artifacts" all over the place. I mean, it had only been a year!

Purchase a Print
There were some old favorites still lurking around. Like this old mater inspiring International truck.

Purchase a Print
Since I had already shot a lot of the site in 2012, while Lou had a lot of catching up to do, I had time to shoot a few "selfies". This one turned out…interesting. 🙂

Purchase a Print
Definitely some anomalies showing up in that shot.
Here is another old International truck except I didn't see this old brute last time. It looked perfectly happy retired here in the warm desert.

Purchase a Print

Purchase a Print
Seeing a few new things, I decide to stroll the grounds and get my bearings. I can't resist stopping by the old ford out in the Cholla field. Being careful not to get too close and receiving a teddy bear "hug".

Purchase a Print
Another new addition to the site is this old piano. I set up with my ND and IR filter for this long exposure shot I named "It's 5 O'Clock On a Saturday". Named in honor of my mom who passed when I was 28. Her favorite artist was Billy Joel.

Purchase a Print
My favorite new addition was this vintage Chevy Wayne school bus!

Purchase a Print

Purchase a Print
Just around the corner from the bus is an old Coca-Cola delivery truck that I couldn't get to last time I was here. This time I wasn't going to let no teddy bear stop me.

Purchase a Print
Nothing goes better together than an ice cold coke and rust.

Purchase a Print
After rooting around the grounds I find another "new" item, the "choppah".

Purchase a Print
Maybe you have guessed it, but obviously this isn't a real bike. Tony and the boys at the mine get a lot of stuff to "decorate" the old mining town with. Sometimes a bit of improvisation is needed to make the stuff presentable. I think what makes Techatticup unique is that everything here, is art. This chopper is no exception. They have also started working on an outdoor barbecue pit and eating area. (probably finished by now) You can see part of the retaining wall on the right of this shot.

Purchase a Print
Starting to get hot and thirsty so I start to head back to the store. If course I can't make it there without taking a shot of what is probably the most iconic piece at the site sans the downed airplane from the movie set of 3000 miles to Graceland. The "Hamm's" water tower.

Purchase a Print
Having chatted more with Bobbie and Tony, and gotten some refreshment, I headed back into the heat. I no more got outside the door and started to set up my camera and a couple of young men approached me from across the road asking if I was A.D.Wheeler. Of course, immediately I think, "oh know, what did I do wrong?" Turns out they are from Nevada Magazine, have seen my work and are interested in one of my shots for a cover story on the Werly's and Eldorado Canyon. We chat for a bit and exchange cards and the guys head off snapping photos. It turns out, the shot I was setting up for is the one they ended up using.

Purchase a Print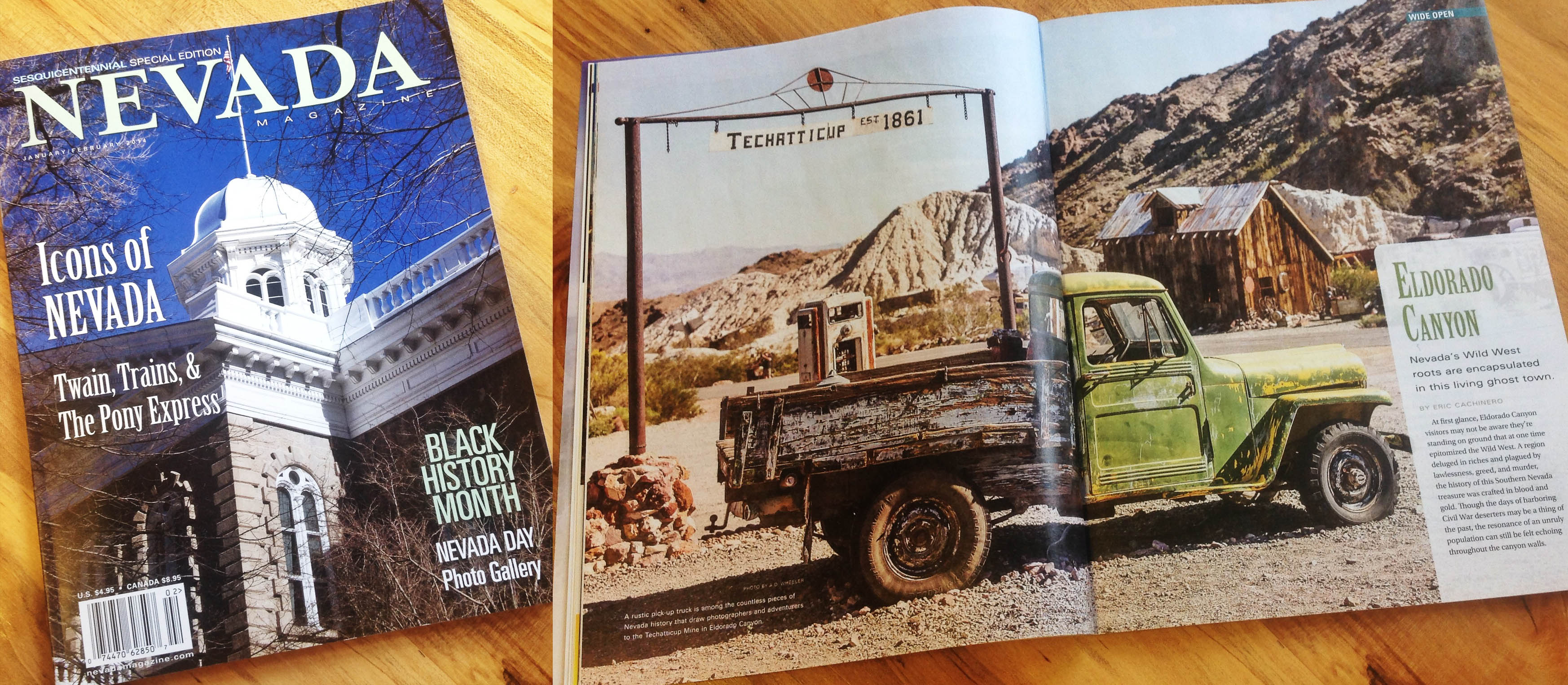 Just beyond the old green truck is a sign that catches my eye. No, not the Coca-Cola sign…

Purchase a Print
I am sure it has nothing to do with Willard, NY but it is interesting, none-the-less. Speaking of interesting, I love this old orange truck they have next to the store. I shot this with a 70mm lens at fairly close distance and then stitched all of the frames together in a macro-pano. Then gave it the selective color treatment. This shot is huge and could be printed on the side of a building with little to no resolution loss.

Purchase a Print
Just one more piece of memorabilia before heading over to the mine side of the road.

Purchase a Print
On the side of the main road opposite the general store is a plethora of buildings and old vehicles. While all of the buildings on this side of the road are off limits to visitors, most all of the vehicles are open for exploration.

Purchase a Print
Here is a detail shot of the giant pulleys on the bed of this old crane.

Purchase a Print
Of course, how could I miss an opportunity to take a shot of the plane from "3000 Miles to Graceland"? This time I decide to stack my IR and ND filter for a super long exposure shot. For some reason, this plane in black and white against the Nevada background reminds me of the old monster movie films that used to play on Sunday mornings when I was a kid.

Purchase a Print

Purchase a Print
Here is one of my favorite vehicle set-ups at the site. I jokingly call this one, "Spartan Manor". Truth is, Bobbie and her family are so nice that, if they would let me, I would live in this thing!

Purchase a Print
There is even a place out back to park my bike!

Purchase a Print
One of the latest classics to be donated to the site was this old beetle. All I could think when I saw this was that this is where Herbie came to die.

Purchase a Print
The Ford work truck in this next photo was here before as was the old Ford bus on the far side. Albeit modified with a new roof since the last time I saw it as thing seem to take on new and ever changing lives here at the mine. The bus in the middle though, is new. Err, old, new old.

Purchase a Print
Lou and I do a quick meet-up for a selfie at the manor. I had a little fun with this in post production that we used as an advertisement for our studio.

Purchase a Print
I don't recall seeing this old Chevy pickup and the big monster panel van last time I was here but to tell the truth, I was so overwhelmed that I might have missed them.

Purchase a Print

Purchase a Print
Everywhere you look there is something interesting to check out and for a first timer it can be quite a daunting task to undertake. Adding to that you constant list of things to be careful of whilst exploring. Just about every square inch has a little sign, or machine, or vehicle, it is truly amazing what the Werly's have built here.

Purchase a Print
About time to take a selfie for the folks back home. There is so much cools stuff here that this one place I don't mind doing a selfie or two. Mostly because all the cool stuff in the shot makes people pay attention to that instead of my ugly mug.

Purchase a Print
One staple that is still here and remains un-changed is this wonderful blue pickup. This vehicle has been featured in countless music videos, and even in some shots with country music star Luke Bryan. If you look close in this first shot, on the right you can see that BBQ pit!

Purchase a Print

Purchase a Print
Well that about wraps this visit to Eldorado Canyon. Time to wrap it up and head back to the General store for some goodbyes. When I get back to the store, Lou has not arrived yet so I do some more looking around. It isn't until I get to a back room that I see the real secrets that the Werly's are hiding…It seems that all of these other items here are just a smoke screen for the real truth.

Purchase a Print
I should have known when I got the blurry shot of an alien baby in a jar, during my last visit. To further my proof, I secretly snapped a clearer photo of the artifact this time.

Purchase a Print
I do believe that this and the other photo are the only two clear photos of real aliens that exist! Either way, I think it is time to get out of here!
Whether you are into the old west, 50's sci-fi movies, a gearhead, or even believe that the Werly's gold mine is actually a breeding ground for harboring aliens, you HAVE to visit this place! And whatever you do, don'f forget your camera! You'll need proof that all this cool stuff actually exists is in one place, because no one will ever believe you without proof! 😉
If you do decide to visit, make sure you tell them A.D.Wheeler sent you! How do I get to the Eldorado Canyon Gold Mine? Here is a google map:

Please LIKE and SHARE my stories! And if you do like what you see here, please consider purchasing even a small print to support my work, every bit helps! Thanks!