I first drove the Beartooth Highway in Wyoming/Montana when I was driving from Yellowstone to NY in 2010. It was my first BIG road trip for photography and because I had no idea how long the road was or how dangerous, I never actually drove the entire road. Flash forward to  August of 2017.   For our annual photographer's retreat we decided that Yellowstone would be it this year.  This held a significance for me as it was a redemption trip of sorts which you can read about here.   I am still working on the follow-up story for that part of the trip which will be coming soon.  Because of where we were staying for the retreat and the length of the Beartooth, the group opted out of taking the journey during our short 7 day stay.  Dani and I decided that we would take the road on the way home as we drove out from New York and were headed home.
About the Beartooth
Before we get started on our adventure, here are some facts and a map of the Beartooth (Highway 212).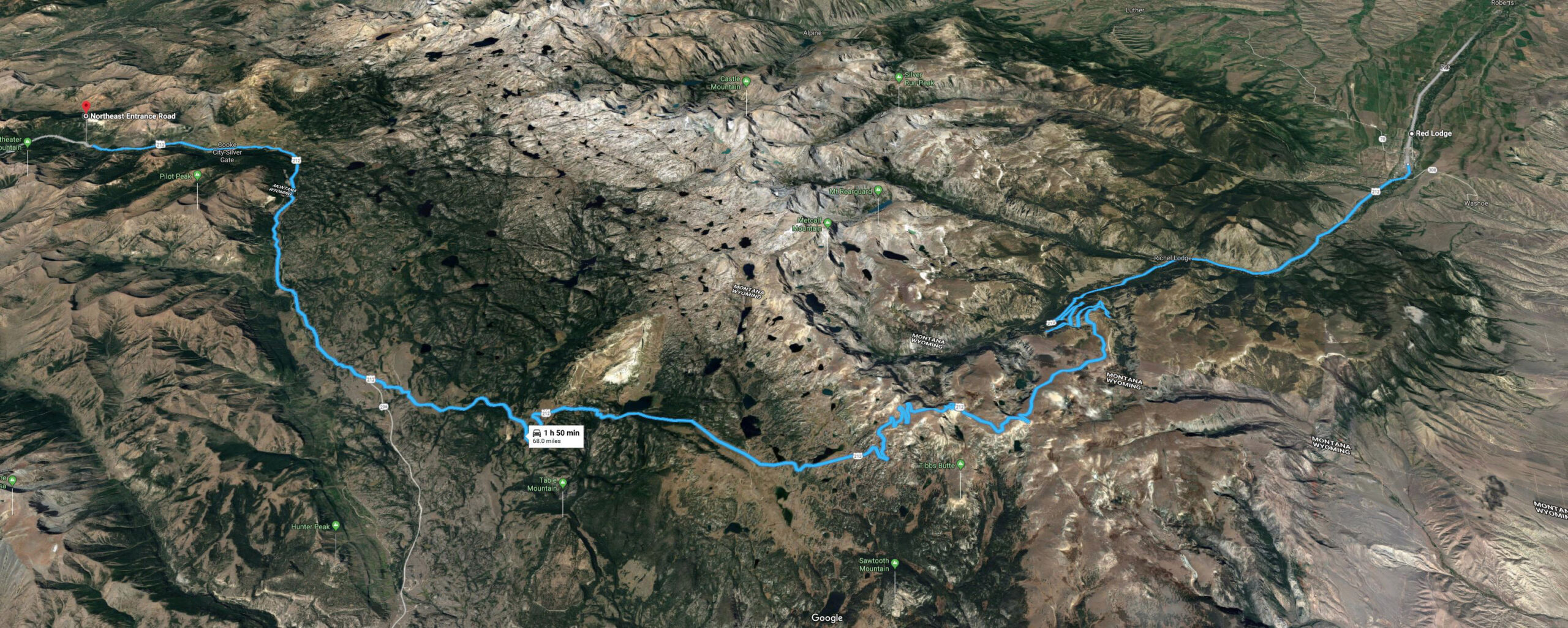 Length: (from Yellowstone's NE Entrance to Red Lodge) 68 miles (109.4 km)
Highest Point: 10,947ft (3,337 m)
Switchback Elevation Rise: 5,200 ft (1,600 m) to 8,000 ft (2,400 m) in 12 mi (19 km)
This road is ideal to take if you are heading east out of  Yellowstone National Park or from Red Lodge, MT heading west. This stretch is approximately 68 miles and at speed takes about 2 hours to complete.  That is not taking into consideration weather (parts of the road are above the snow line) and frequent stops to "Ooh" and "Ahhhh" and of course for photos.   For an added bonus, couple this with the Chief Joseph Highway to make an unforgettable Loop drive.
I driven a LOT of famous roads in the United States. From Highway 1 in California to the Blue Ridge Parkway in the east to Route 66 through the heartland to the west coast. In 2015 alone I covered over 50,000 miles of roads. The Beartooth, hands down tops them all for sheer beauty and thrill factor for me.  I have driven it both eastbound and westbound and I think my favorite way is eastbound.
Many of the trips I plan and travel are based upon building the excitement through the journey.  The Beartooth is a little different when heading east on it.  You most likely will be leaving Yellowstone and experiencing the Tower falls area and the amazing Lamar Valley area before exiting the park.  With your head spinning from  the amazing scenery and wildlife of Yellowstone you have to wonder how it could get any better.
The Drive
At first the road is unassuming.  Don't get me wrong, it is pretty and all but nothing like what you will see when you make the summit. As you leave the NE Entrance to Yellowstone towards the Cooke City, Silver Gate, Colter Pass area, the road gently ascends.  I would highly suggest a stop in the small town for a bathroom break, refreshments or just a casual stroll around and shopping. It's a pretty cool little town with a lot to offer.
You'll enter the state of Montana briefly as you are surrounded by mountains and tall pines. The road meanders as your mind begins to pick up the rhythm of the road.  When traveling east to west, the first half of your journey is in the state of Wyoming, the second half, Montana.
Suddenly, you are snapped from the driving dream as the land turns to craggy rock with shorter hardier trees, the road steepens. The high mountains begin to stage their appearance. You reach the first switchback,  a lazy turn that seems totally innocuous, yet lends to your continuing ascent.  The road begins to violently wind more and more as if to prepare you for the twisties ahead.  You pass Beartooth lake and the Top Of The World Store and so it begins.
Just as we leave what seems to be the last of civilization for a while something catches my eye to the side of the road.
This is Long Lake.  What you are looking at is a pond next to the lake that is about 10ft higher in elevation than the lake beyond it.  When I first saw this we kind of drove past it, I did a quick turn around to see if my eyes were lying to me.  Turns out they were not.  It was like someone had just set this up just for me to photograph. Truly, this was a very unique scene, a natural illusion of sorts.  All the while I was shooting this, right next to me was a herd of open range cattle.  They meandered about and didn't even seem to notice I was there.  The next leg of the drive will take us through the pass that you see to the right of that mountain in the distance.
We no more than get back in the car and make the next turn when I spot a small nondescript lake along the road with the deepest emerald green water I have ever seen and a big storm moving in.
The air is crisp but not cold.  At least, I didn't notice the cold. Probably due the adrenaline rush I was experiencing at the time.  After a few snaps it's back in the car for the real thing.
Just around the next corner, 6 sharp hairpin turns as you ascend to the fabled Beartooth Pass.  Initially, this little guy was our reason for stopping.  He was VERY friendly.
This was the first time I had ever seen a Marmot in the wild.  He came right up to the car (which bothered me a little bit). These animals obviously were TOO used to humans, and that's never a good thing.  We did not feed or approach him.  He hung out and posed for about 10 mins while we snapped away.  All the while we were photographing our model we didn't realize that just across the road was this awesome view.
This was also one of the few places you can see Beartooth Mountain in the distance.
Back in the car for some tense switchback driving. 4 more hairpin turns and we climb ever higher. I have to confess, I would be lying if I told you my palms were not wet with sweat by this point.   It's beautiful, breathtaking, and scary all at the same time, and it's wonderful!  We pull off at the Gardner Lake overlook to catch our breath and take in some more of that clean mountain air.
The storm was fast approaching and made for a dramatic panorama!  I don't know what it was, but this spot made me feel like I was in the Scottish Highlands.  Maybe it's because while standing there, I realized we were about 1500 feet above the snow line. I am not quite sure, I have never been to Scotland to even compare.
Probably the coolest part of the drive was this area that we stopped at that wasn't even a pull off on one of the last twisties before crossing over into Montana.  It was a large rock strewn plateau overlooking several lakes and a stunning vista.
Even though the elevation was high, the hike out into this field felt tireless. Maybe it was just the sheer beauty.  I had been to other vistas that were gorgeous at lower altitudes and struggled to hike. Maybe this was at such a higher level in my subconscious that the adrenaline just drove me.  It was amazing and soul refreshing.
The final trek into Montana featured a wonderful rest stop known as Rock Creek Vista. Definitely have your camera ready here for the crazy chipmunks. Go there, you will see what I mean.  Rock creek is barely visible from this area but we would find it at the end of our journey as we descend into Custer Gallatin National Forest.
Just driving through Custer we determined that this is a MUST return visit to explore more.
Sorry this was such a long post, apparently I really like this road. 😉  Want to drive it yourself?  Before you go, make sure you check out their website  for important tips and warnings about your journey: http://beartoothhighway.com/
See all the photos from this shoot: Full Gallery
~AD