First off, Who is Macphun?
Well, as the name implies they are about Macs, photography, and fun.  You put that together and you get Macphun.  Kind of like what I do with The Explorographer.  So naturally, when I finally got my 2017 Macbook Pro, Macphun photography software was first on the list.  And in all honesty, I bought the Mac just so I could use the Macphun suite. More on that, in a bit.
But wait, you don't like Macs
As many of  you know, I am a PC guy first.  I build my own high end machines and have for over 2 decades.  I am comfortable in the environment and for me, it is 100% about being comfortable when I am trying to create.  Do I think PC's are better than Macs? Um, no.  I think it depends more on the person using them. Whatever you are used to is what you should go with. You should also be open to giving the other guy a go. And by go, I mean an honest try.  Not a look over in an electronics store "go" either.  Really give it time.
When I got the MBP I actually hated it. Now, after giving it a couple of months, no it is not my main machine, but I can use it and it does not get in my "creative way".  Part of this is thanks to Macphun and their software design. Part of it is my undying passion to learn everything.
I never shy away from taking on a new learning experience, or the chance to pass on my knowledge to others.  I self-discovered this trait while mentoring in The Arcanum.  We go through life often wondering what we are here for and now I truly know.  While at the Arcanum I met and hung out with some incredible people. One of those that rose to the top of the list was Laurie Rubin.  Some people just seem to "get it" and Laurie is definitely one of those folks.
The Arcanum gave me the exposure to seek affiliates with my favorite software companies and at the time, that was Nik.  I was super green at the whole affiliate thing, but Kevin La Rue who was my affiliate rep at the time, came to  my rescue and set me right.  I must have done something right because 4 years later, when Laurie brought me into the Macphun family, he remembered who I was. (Good or bad). 🙂
Macphun had contacted me through the years and asked if I was interested in trying their software, doing some projects.  It was a kick for me because as I still think today, "Who am I? Nobody. Why are they interested in what I think?".  I always had to refuse because I didn't own a Mac.  I even tried building a Hackintosh PC.  Which, I did, and most everything worked except the GPU, which macphun relies on and therefore refused to work.  Even my mentor Trey Ratcliff offered to have me beta on Aurora HDR from Macphun but again, no such luck.
Fast forward to early 2017.  Things have been going quite well here in the Explorographer camp. So, when Laurie reached out and asked if I was interested in doing a project for Macphun, the powers that be convened and I said, "Yes!".   As a result of  Laurie's communication and because this would be a paid gig, I decided to invest in the future and went out and purchased a shiny new 2017 Macbook Pro with all the fixins'.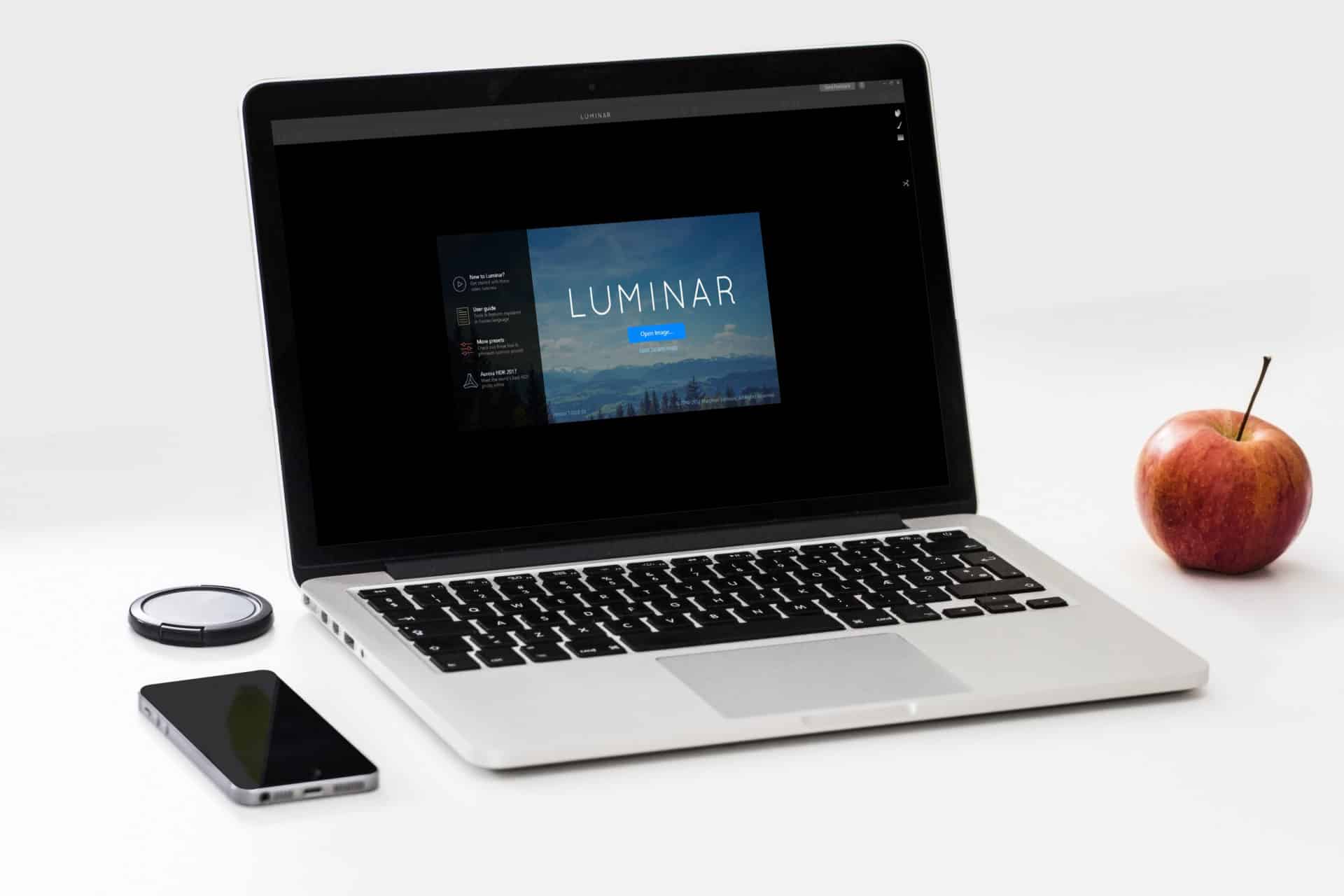 Now I am not 100% immune to the Apple ecosphere.  I owned an iPad retina for a while as well as an iPad mini. We now have 2 iPad Pro 9.7's in the house.  My preferences with a lot of research over the years are iOS for tablets, Android for phones, both PC and Mac for laptops, and PC's for desktops.  This of course is like art, and very subjective.  Everyone will have their own opinions.  I think it is super important as a creative to be open to all tools…not just one set.
Luminar on the Mac
Being that I got my Mac specifically because I wanted to use Luminar and Aurora, my focus out of the gate is mainly on these two programs.  Because I also needed a good laptop for my travel excursions, the Mac made it to the top of my list.  I could do a whole review on the Macbook Pro, and I probably will after putting some more time on it.  While getting the Mac ready for the road, I did a lot of testing, including a few games for down-time.  Amazingly, the MBP does well with 3D gaming and also 3D printing programs because it has a decent GPU.  Beyond the Macphun products, the Mac is turning out to be a great purchase.
The thing I am finding out with Luminar is that it is designed with intuitiveness in mind.  Simple, yet powerful.  I found that just about everything about the program is second nature to me.  One of, if not the easiest program I have ever learned.  Yet, at the same time, the most powerful. If you want to go deep with Luminar, you can go deep. If you want to just slide one slider and get a win, you can do that too.  I will be doing a full review of Luminar for the Mac and now for the PC as well, very soon.  I want to give the PC version, which is in early beta, a chance to gain some ground on the Mac version first.
If you are interested, you can see the first project that I did with Macphun AT THIS LINK.  The tutorial called "5 Monochrome Muted Looks for Luminar" works for both the Mac and PC version of Luminar.
In addition to that project, I have been co-hosting a podcast on facebook called Macphun LIVE.  This podcast is streamed live on the Macphun Facebook page and users can post questions and have them answered on the show.  Each week we do the show we feature a special guest to come on and show their work flow. You can watch the show which usually airs on Wednesday or Thursday nights at 6p Pacific/9P Eastern AT THIS LINK.  Shows are advertised on the Macphun facebook page so  you can schedule accordingly.  If you would like to watch past shows, you can do that AT THIS LINK.
In between webinars with Kevin for the new PC beta, Macphun had me work on a new project I am super happy with.  They have commissioned me for and released a new set of presets called Analog FX.  To learn more, get the free presets AT THIS LINK, and watch my video on how to use them AT THIS LINK. These are for the Mac only right now, but will be out for the PC soon.
In closing, I am so grateful for my relationship with the Macphun fam.  And it is family.  I love that philosophy throughout my creative family.  We all support each other and share the same beliefs in our work.  Nothing makes for a better creative environment and that goes far beyond brand and boundary lines.  Stay creative!
~AD
Take 10% off your order by using the code: "Explore" at checkout at the links below.
Try the PC (beta) version of Luminar for free:  AT THIS LINK
Purchase the Mac version of Luminar: AT THIS LINK
Purchase the Mac version of Aurora: AT THIS LINK (PC version coming)