We were on our way home from an amazing US cross-country trip from New York to Wyoming and back when we came across a Dr. Evermor's Forevertron billboard in the middle of nowhere Wisconsin.  To be honest, when we first started to see them, we took them about as serious as..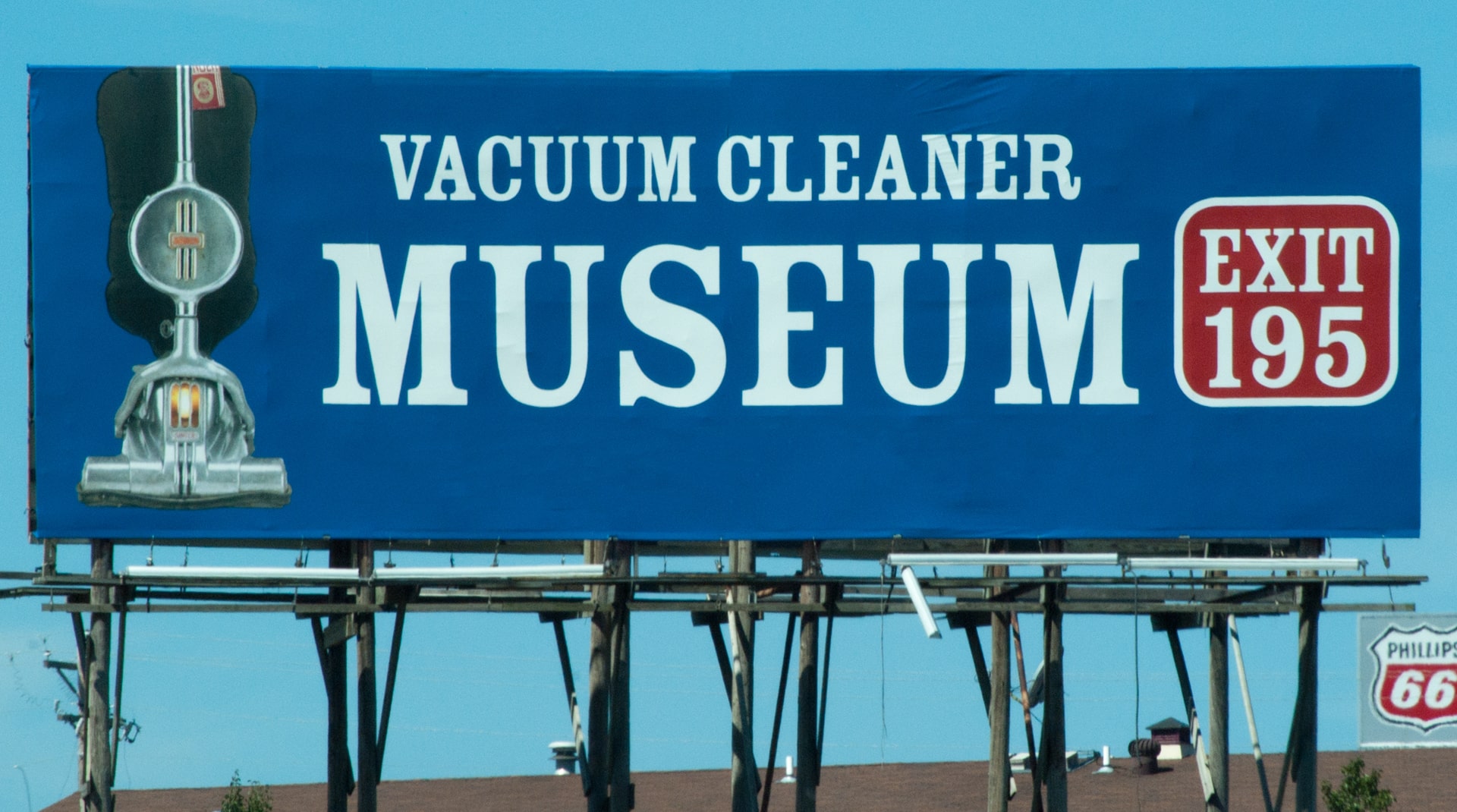 …and the always funny…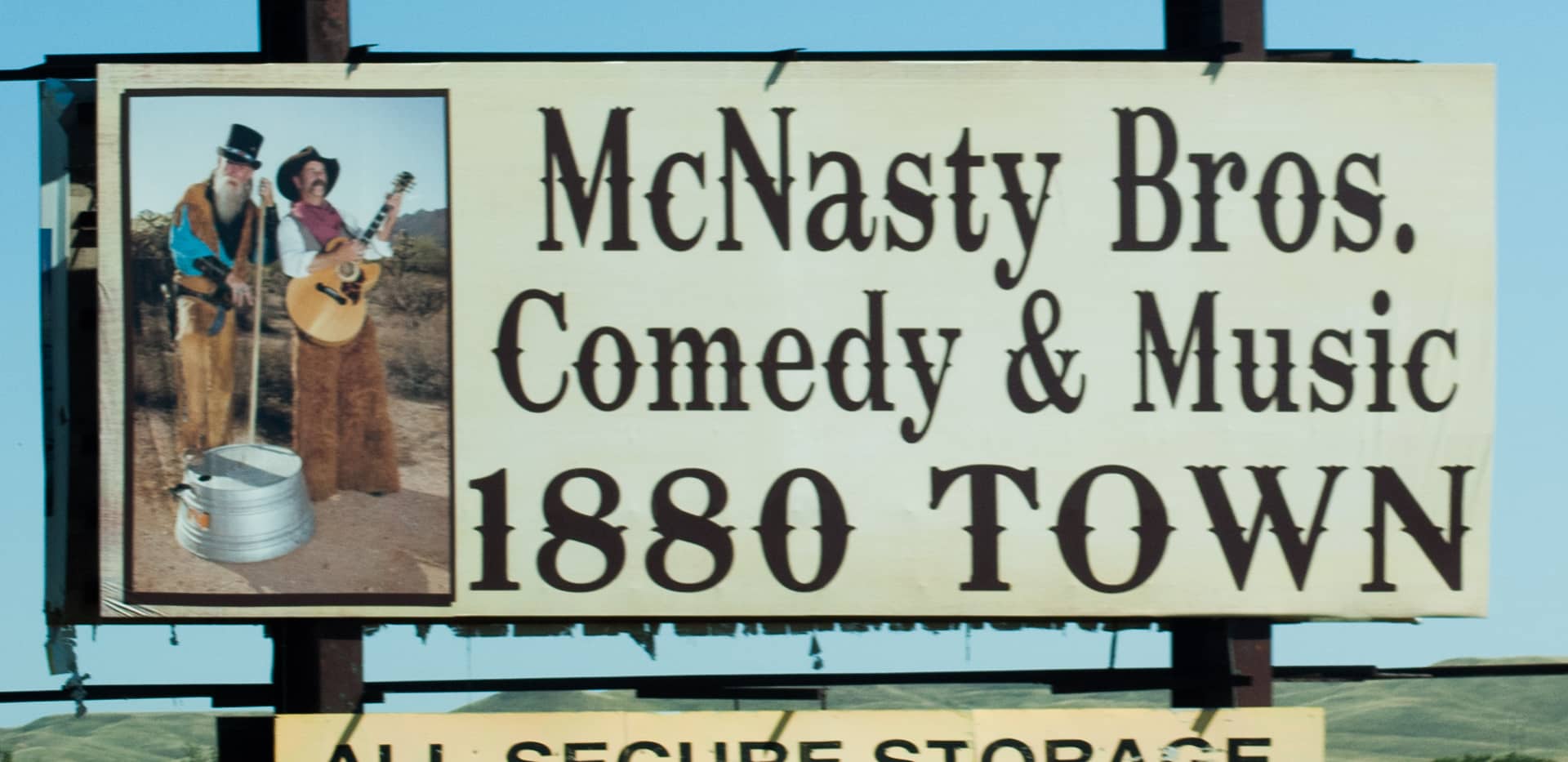 ..and what trip wouldn't be complete without a stop at…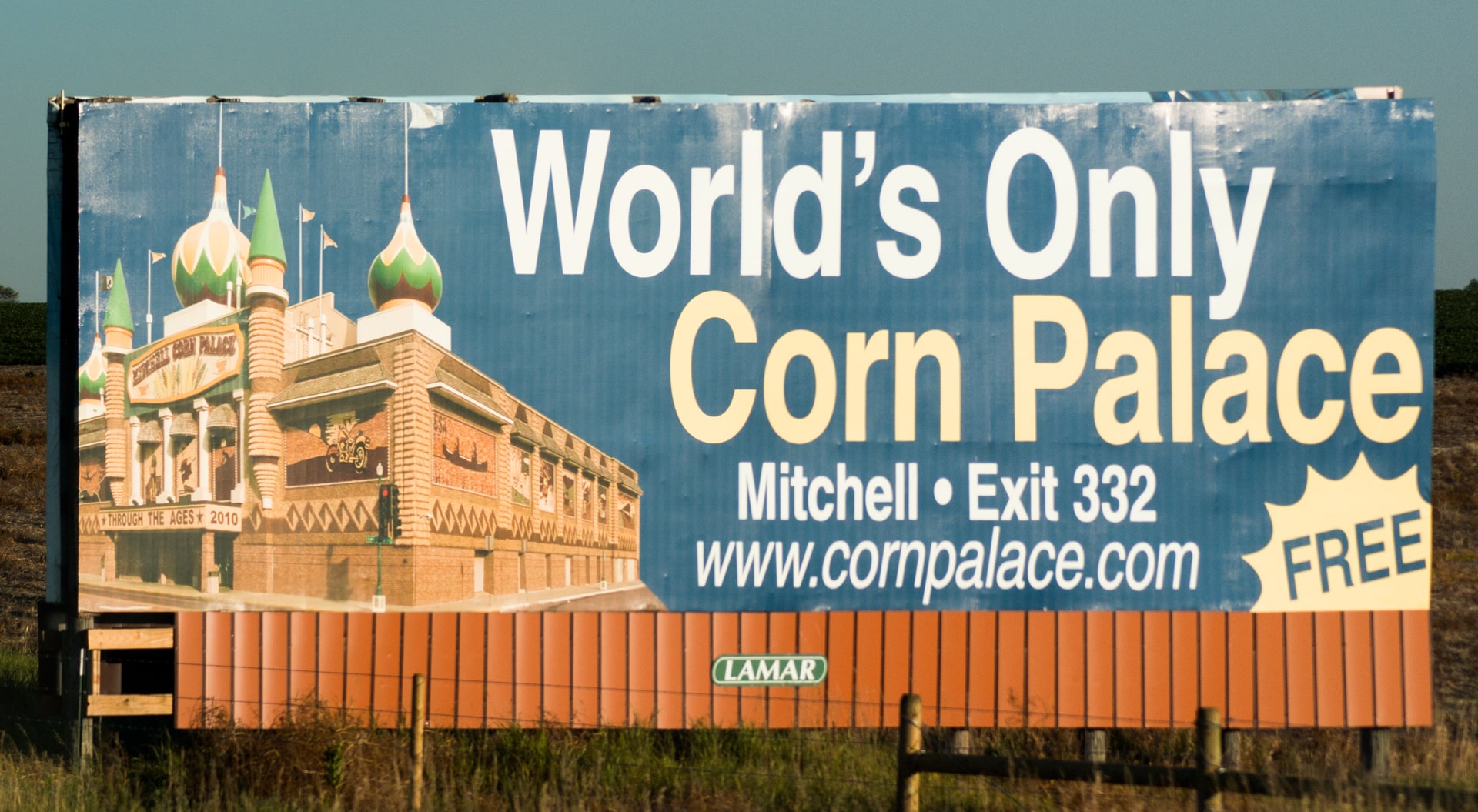 All jokes aside, Dr. Evermor's Billboards were pretty much on the same level.  But, during a stop at a local diner called Leystra's Venture Restaurant in Sauk City, Wisconsin, we discovered that this area had more than meets the billboard.    As we were leaving the diner, Dani noticed a bench in the entrance way.  On the bench was a plaque that was dedicated to August Derleth, the famed founder of Arkham House Publishing.  Most known for publishing the works of H.P. Lovecraft!   Oooh, the plot thickens!  We decide that the Forevertron billboards require further investigation.  Besides, it wasn't too far out of our way as we headed back to New York.
O'r the river and through the woods to Dr. Evermor's Forevertron we go.  Actually, it's located just off Route 12, dead smack between Baraboo, Wisconsin, home to famed Ringling Brothers and the aforementioned Sauk City.  Marked only by a small 2 foot by 4 foot handwritten sign in a nondescript field. In fact, the salvage yard next door has a larger more prominent sign.  Turning down the gravel road we are greeted this time by a large gate, which reads, "Guineness Book of Records… World's Largest Scrap Metal Sculpture "The Forevertron"" in itself is one of the Doctor's creations.  Oddly though, we take note that the spelling of Guinness is wrong.  Even still, we decide to continue on.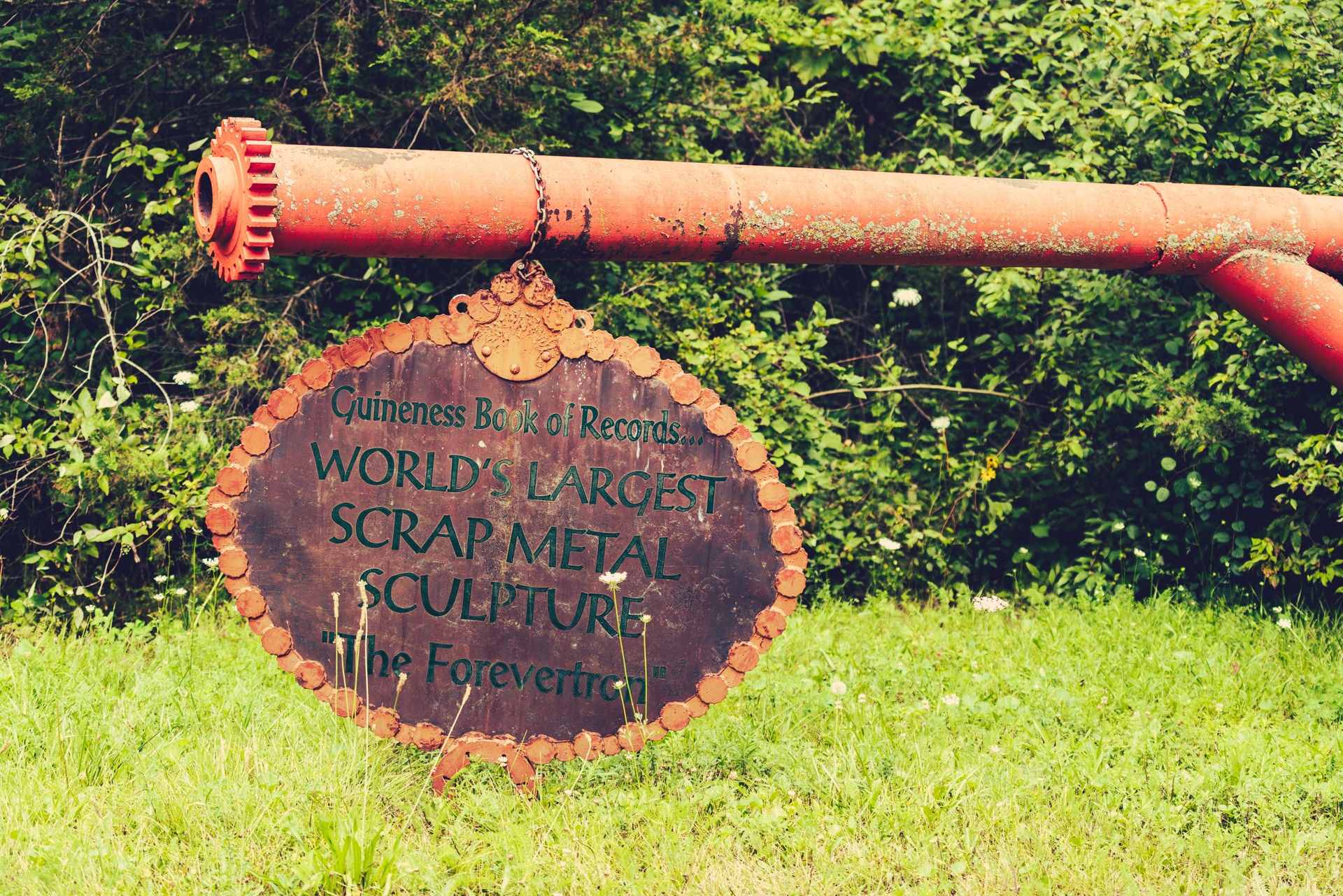 This is only the beginning of the oddities we would encounter ahead.  As we make the corner and the brush and grass thicken, I begin to question my decision to visit. Then, a clearing and creature appear.
It was at this moment, I knew I was in someplace really special.  After getting home and reading up on the life of Dr. Evermor, I later discovered that this creature was his most recent creation. And that it was still unfinished. I mean, all art is unfinished right? But, if you look close you can see the crane couplings that were to be used to lift this behemoth into the air so that it's legs could be attached.  Sadly, the Doctor has been unable to complete the beast.  You see, this project has been going for many, many years. Dr. Evermor, aka Tom Every used to be a demolitions expert. Then one day in his storied career, he decided that enough was enough, and instead of destroying things, he would create them.  So Tom started by creating Dr. Evermor, and thus the rest is history.
As we gaze in wonderment, Dani grabs my shirt sleeve and squees, "look at this".  I turn to see another wondrous creation.

It is clearly apparent to me at this moment that these sculptures are special.  I cannot put my finger on it completely. They are definitely of a tesla-punk nature and modern steampunk definitely.  We still have yet to see a soul. Walking around the car we then see it, The Forevertron!
A machine created by Dr. Evermor to help him transcend to the heavens.  And the surrounding park is a giant party of sorts with all sorts of creatures and devices there to see him off.  I'm starting to think that we have found abandoned heaven!  Then from within the machine it seems, we hear a tiny voice saying, "Hello?" The voice gets louder, "Hello??"  It was Lady Eleanor, the good Doctor's wife and grounds keeper.  Her first words were, "You are not a professional photographer are you?"  "No commercial photography is allowed".  Instantly, in my head I thought, "This place really IS abandoned and we weren't supposed to be there".  I explained to Lady Eleanor that we were on vacation and while I was a professional photographer, I really just wanted to capture the park for this blog and share, so all was good.  She was a lovely lady who has had to endure rude people, vandals, and more at the park.   We got to sit with her and talk about the Doctor, and her work as well.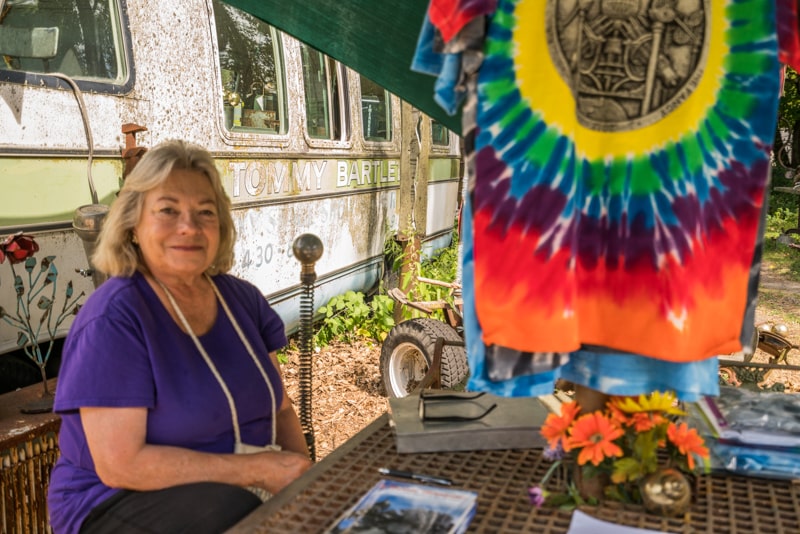 Truly she was a wonderful soul and I felt a good connection.  We purchased one of Dr. Evermor's sculptures while there.  Only a few select pieces are for sale. We were VERY lucky to be able to buy one.  Each comes with it's own special story.  She tells us that the Doctor's steampunk creations are unique in that he never bends or shapes the metal.  All of the pieces are cut and welded together as they are.  He takes scrapped pieces from industrial sites all over the world, even NASA and makes these wonderful machines and creatures from the world of Dr. Evermor.  This place is SO special and it isn't just the steampunk that is resonating with me, it's the magic here.  We head off to explore the park and take more photos.
More creatures show up to see Dr. Evermor off on his afterlife journey.
Later on, after returning home I learned that Tom Every has had several strokes and is currently in constant care.  Sadly, it seems that continuation of the park may never happen.  This place is so unique and different it must be saved and continued.  I even held thoughts of offering to take over those duties myself.  That is how much this place spoke to me.  I've written to the organization and offered to come back and do a special piece as a fundraiser for the park and have not heard back.   I find it sad that this man built this amazing world and that it touches so many people and just may end up a pile of rust that children of all ages may not be able to enjoy it in the future.  As it seems, once the good Doctor complete's his journey, the park may just up and disappear.  Maybe that was his plan all along.
Imagine though, as you look through the rest of my photos, a Willy Wonka-esque production for visitors. With these wonderful sculptures lite up, and steam spewing from various parts with the Dr. himself and actors in steampunk cosplay wandering the grounds…who wouldn't pay an admittance price to be a part of that?  Like a nightly living VR experience?  Well, maybe I am just a Jr. Evermor, I'd like to believe we all are.
See all the amazing creatures of Dr. Evermor's Forevertron Sculpture Park by clicking on the link below.
Evermor has a book available which you can purchase @ Amazon
Find out more on how to visit @ http://WorldofDrEvermor.com
Visit while you can!