Charlevoix Michigan was probably the last place on my list for vacation this year. Okay, admittedly, it wasn't on the list at all. In fact, I had never even heard of Charlevoix, Michigan until September.  But now, it is definitely in my top five favorite towns to visit in the fall.
Every year we take a major vacation if at all possible. Dani works long stressful hours so I try to plan a nice getaway for us.  Starting in 2016 we started organizing and holding "Photography Retreats" with some fellow photographer friends of ours.  Basically, we rent a large home in a beautiful place and spend 6-8 days photographing, processing, breaking bread and just having a grand time.
In 2016 we traveled to Acadia National Park, and then in 2017 it was a triumphant return to Yellowstone and Grand Teton National Parks. Two stories I still need to pen.  This year though, has been wrought with change. We purchased a new home and moved which was a huge undertaking for us.  I am still trying to acclimate to living in a new place after 53 years in the same small town.  Also, I am a very hyper-person and that change has brought health issues which I am slowly beating down.  All of this together put the kibosh on travel this year.  We literally planned this trip 10 days before leaving.
We were not looking for anything extravagant. I had not shot a lot this year so I, of course was looking for the photographic opportunity while still keeping in mind that Dani would like to be able to shop, and enjoy the trip as well.  Luckily, this is something that I have a knack for.  I scoured AirBnb.com, HomeAway.com and a few other sites.  Homeaway ended up being the lucky draw.
We ended up dropping the pin on a small harbor town on Lake Michigan called Charlevoix. ("Shar-Lay-Vwah" is the French pronunciation although the locals say "Shar-Lay-Voy")  No matter how you say it, Charlevoix was named after French explorer Pierre François Xavier de Charlevoix, who first explored the area in 1853.  The town is located at the tip of the pinky of what is known as the Michigan mitten, or the upper west coast of Michigan.  We basically did not want to travel over 10 hours drive time from home so that the first day drive did not exhaust us for the week.  It couldn't have been a better choice.
Dani is the real champ here as she tracked down the dates for this years peak fall foliage in the mitten and upper peninsula and she nailed it to the exact dates.
Our cottage was located in a small hamlet north of the towns center called Mt. McSauba.  It's a wonderful lake cottage community just a short walk to the shores of Lake Michigan, a nature preserve and trails for easy hiking.  Our cottage was hosted by Nancy Mikulski and was amazing.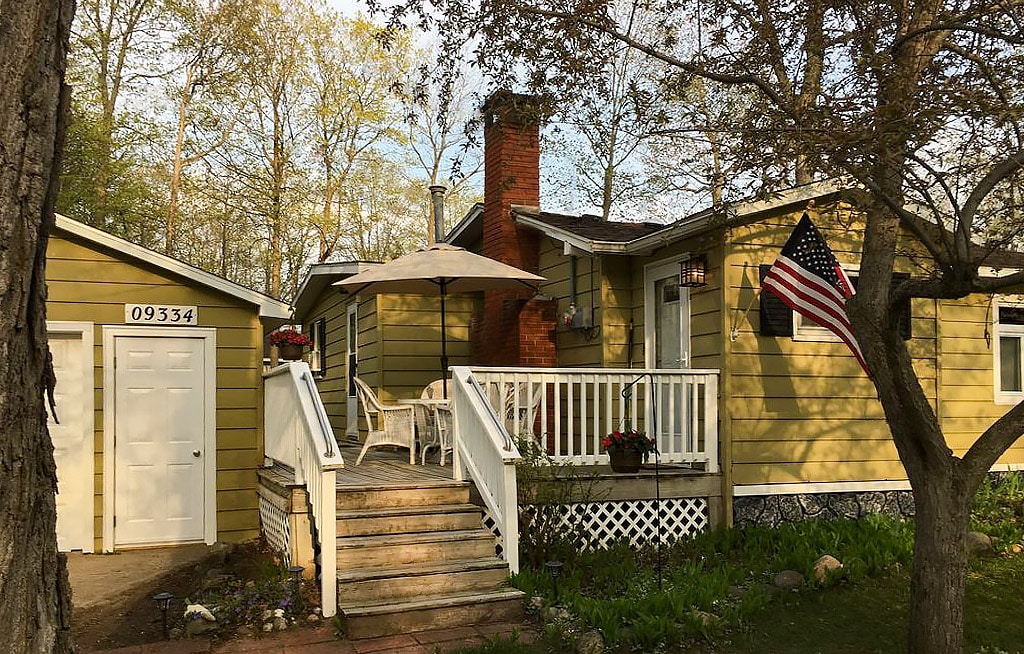 Neat and clean, ideally quaint, and perfectly set up for us. It really could not have been better.  If you are considering this trip, I highly recommend this property for up to 5 people.
Up at 7am we had a light breakfast and put together a loose plan for our first day. We settled on a small roadtrip in the rain to a place called the "Tunnel of Trees" just to scope out the scenes and get ideas for hopefully better weather further on in the week.  Honestly, I had seen a few photos online but had no idea what to really expect.
Our route would be just a loop up the lake and back. We headed north out of Charlevoix on Route 31 to Petoskey where we would pick up North 119 also known as the Tunnel of Trees road.  After a few miles up 119 it becomes a single lane road that meanders the cliffs overlooking Lake Michigan. Scattered along this route are all sorts of amazing lake homes.  Once you break from the cliffs you get a real glimpse of an area that gives this road it's name.
Everywhere you look, fall is in full effect here.  The farther north you travel on the Tunnel of Trees road the more rural it gets.  Along the road when there are a few breaks in the tunnel you are greeted with iconic scenes such as this one.
As I stood there to take this photo, I couldn't help but feeling that I had been whisked away to a French countryside.  With our scouting finished we headed back to the cottage and town to do some local sightseeing.
Charlevoix is a great town with lots of great eateries, shopping, and recreation.  It not only  is on lake Michigan but also hosts its own lake Charlevoix which stretches from the town's center to nearby Boyne City.   Our cottage was just a 3 minute walk from the lake Michigan shore and the North Point Nature Preserve.  The winds were calm this day so I decided to take the Phantom 4 up for a flight, some video and some photos.  Here are some shots of the preserve from above.
And here is a short video that I made at North Point Nature Preserve in Charlevoix from the air.
After some rock hunting and video shooting we head into town for dinner. Our first nights dinner was at a small tavern called The Villager Pub.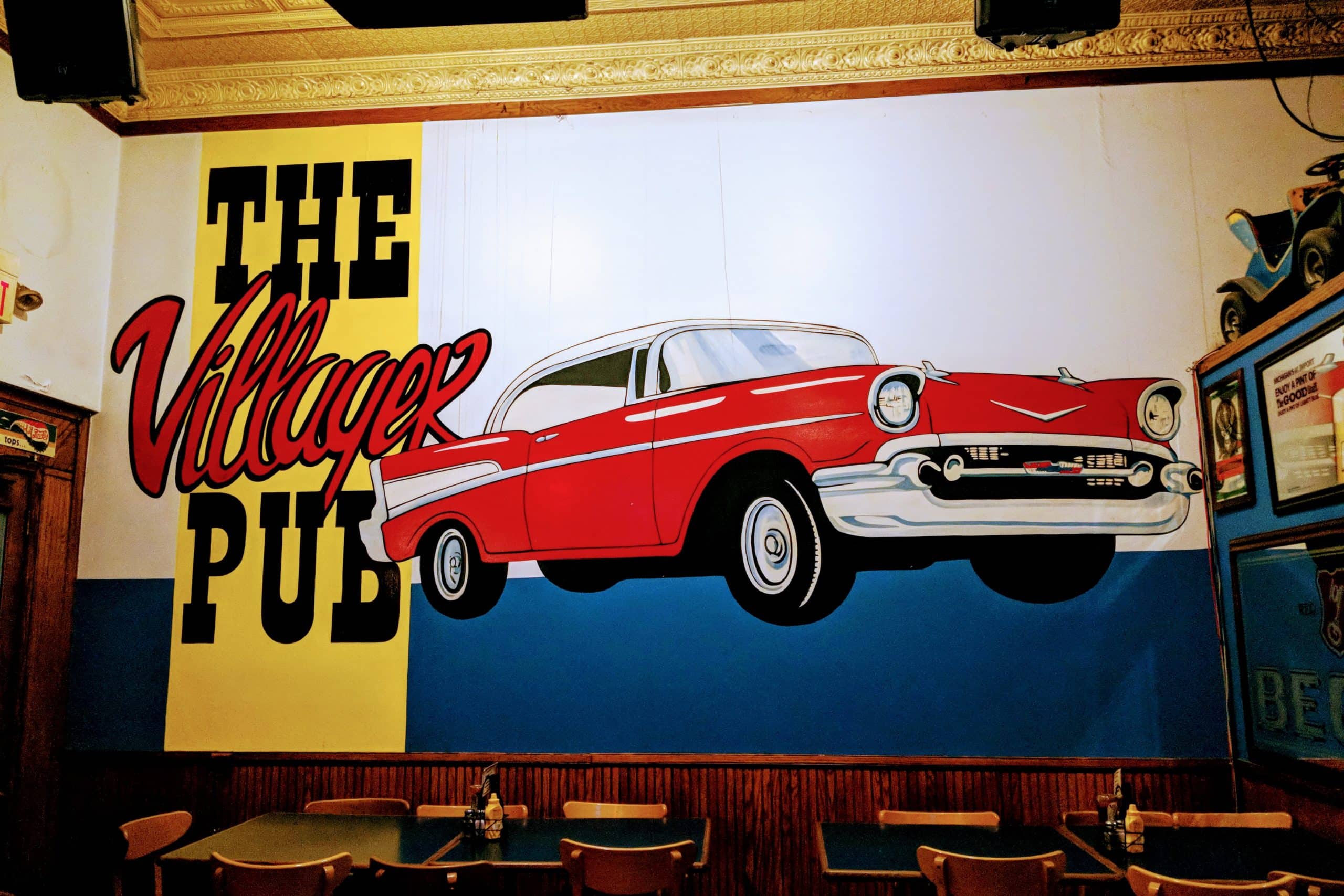 We had whitefish which is a local catch and it was great.   Great weather, great food, a great start to the week, or so we thought.
Day 2
Up early again, but this time the weather was turning.  It was about 58F and foggy with a hint of rain in the air.  The fog was good though. I suggested we head back to the Tunnel of Trees in an attempt to capture the morning sun through the fog and trees so off we went.  Unfortunately, by the time we reached the tunnel, it was fog-less and raining.  Instead of just heading back to the cottage, we stopped for a coffee and whipped up a plan to visit a waterfall in the upper peninsula that we missed on our previous trip through the area. We figured if we couldn't beat the weather, we would try to out run it at least. Off we headed to Tahquamenon Falls State Park.
Tahquamenon Falls State Park has a bonus to it. Not only is it a great park with some amazing waterfalls, it also has a brewery!  Our first stop is upper falls as we have been driving awhile and it is almost lunch time. We decide to take the short 11 min hike to upper falls first before heading in to the brewery for some lunch.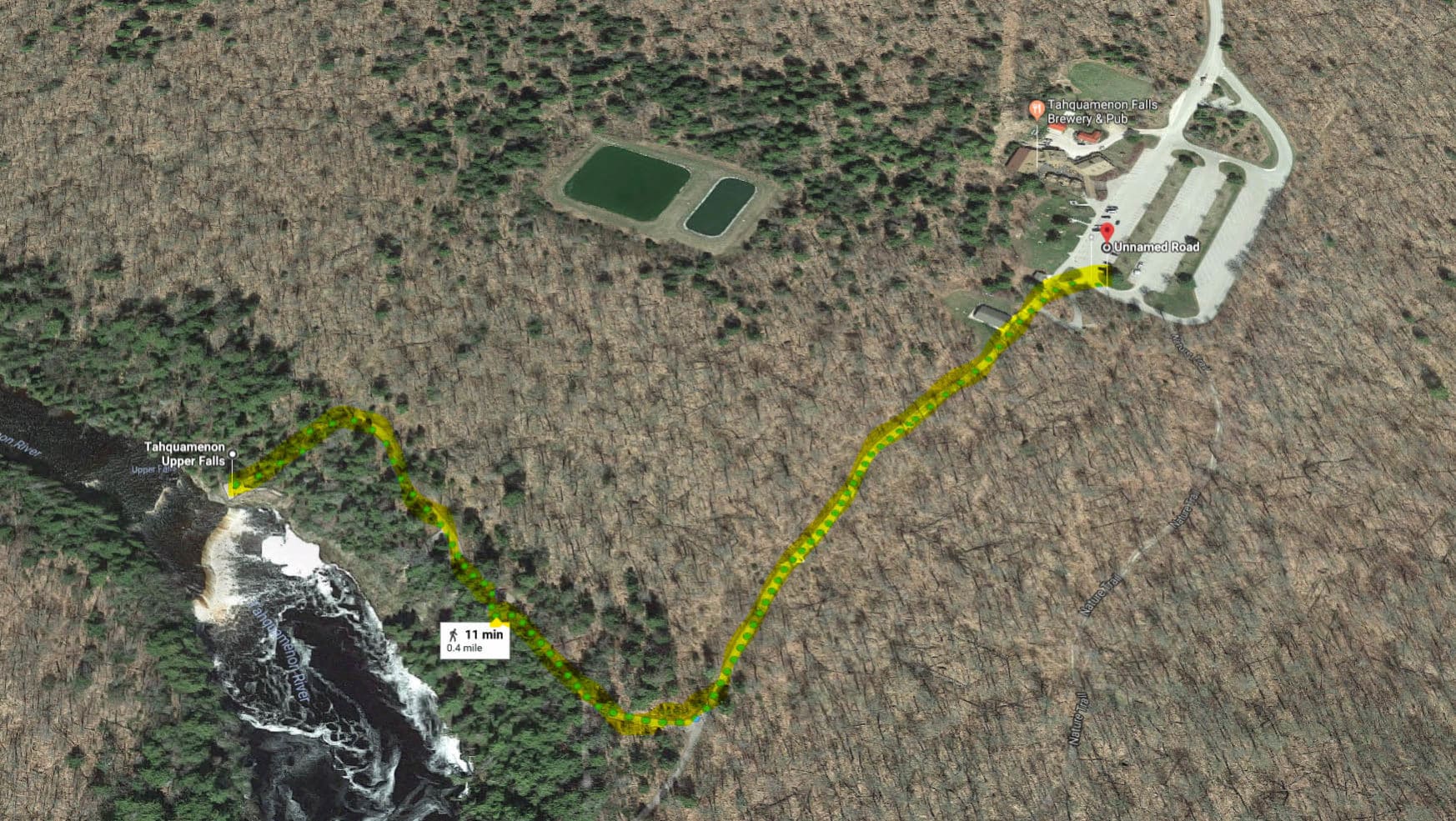 Nothing like a nice walk to build your appetite.  It was an overcast day and the sky was rather dull looking. But, the leaves and water were spectacular. And for waterfalls, this wet, overcast weather is just what you want.  The leaves were wet so the colors were nice and bright, the rocks were wet and rich with color and the light was nice and even.  Couple those ideal waterfall conditions with my ICE 10 Stop ND filter (Read my review on these awesome ND filters here) and let the games begin!  Here is my first shot from these amazing falls.
No ND filter for this first shot. Generally, if I can get my settings to where I can shoot a 30 second exposure without the ND filter I won't use one.  On this occasion I was able to shoot 3 bracketed shots with my longest exposure being 30 seconds. I ended up not using HDR for this as the light was so even it was not needed.  Instead I used parts of each exposure taken and then layered them into each other using masks in Photoshop.  A lot of times when shooting long exposures or  brackets for HDR, leaves and other foliage will be moving and blurry. Water can also turn out funky from this movement.  I use the best exposures for each, and layer them together for the final shot.
In the following shot the water was one layer, the sky was one layer and the foliage in the foreground was another.  This allows me to use the fastest of the 3 exposures to "freeze" the leaves movement thus removing them from being a foreground distraction.  On this next shot I did something similar, only this time I used the ND filter for one shot and no ND filter for the "freezing" shot.
Normally I do not talk about this tech stuff in my posts. I decided to include them on this occasion as I am often asked about my shooting techniques. Please let me know in the comments if you would like to see more of this.  I definitely do not want to bore you with photography details.
When I first discovered this multi-shot technique I was in Yellowstone National park. Using trees and foliage as frames for waterfalls is a favorite composition of mine although I always struggle with moving leaves, grass, etc.  Suddenly, while standing at Firehole falls in Yellowstone it hit me like a ton of bricks.  The only thing I really want to be long exposure is the water, so why not shoot one exposure for the water and another for everything else. Thus, a new workflow was born.  And, just like anything, it takes practice and refinement. So, if you try this and fail, keep at it as the more you do, the better it will get.
While shooting one of my shots I noticed this streak running through the frame. At first I thought it was a bird but then quickly realized there was a girl next to me that was flying a quadcopter. It was a DJI Mavic to be precise.  Being from New York I was immediately appalled of course.  Now before you think ill of me, here in New York we can hardly fly in our own backyards let alone a state park.  I asked the girls significant other if she needed a permit to fly here and he told me that no, you can basically fly anywhere in Michigan other than National parks and lands and obviously airports and other municipalities.  My mind nearly exploded instantly.  All this beauty and I could capture it from the air?
So, after we had a wonderful lunch at the Brewery, that is exactly what I did.  Here is that video with some extra footage from another park we visited on our week in Michigan.
You may notice that the water is a particularly dark color in the photos and video, almost looks like root beer.  This is due to the high concentrations of tannins that are leached from nearby cedar swamps and is not harmful or dirty in anyway. It really makes these waterfalls and waterways completely unique to photograph. After a long day of hiking and photographing we head back to base camp at our cottage.
Day 3
Our 3rd day here was kind of a laid back day.  We got up early and went to a very cool breakfast/bbq place called "Smoke on the Water". (We liked it so much we had breakfast there 2 more times on the trip.)  Their Drunken French Toast was amazing!!  After breakfast we hopped across the street to capture this nice sunrise.
I couldn't resist breaking out the 10 stop ND filter and going for a super long exposure here.
We decided to head across state and check out Ocqueoc Falls as it seemed as though this may be the last nice day to take photos.  Ocqueoc Falls Campground is a really nice area that is a little remote. Located in the north eastern part of the state in the middle of a nice forest.  The waterfalls here are small but plentiful.
It was peaceful and relaxing though the colors were not as bold as Tahquamenon.  While there I had the fortune to talk with a gentleman named Rob who was also carrying a camera.  We hit it right off talking all sorts of photography stuff.  It was nice to meet someone in the wild who shared the same ideals that I do about the craft.
You can check out Rob's Instagram @ https://www.instagram.com/right_brain_images_Photography/.  I am not on IG as most of you know so make sure you say hi to him for me. 😉  So one of the things we talked about was the oncoming gale that was going to hit the area in the late hours. Rob mentioned to me that he had a friend that loved to shoot this lighthouse in a small town called Frankfort when big storms hit. He said she was able to catch huge waves breaking on the wall there.  I think he could instantly see bells and lights going off in my head. I knew exactly where I was going to be tomorrow, THANK YOU Rob!
Day 4
Well, just like the weatherman predicted, there's a storm outside.  Winds kicking up around 50+ mph although most of the rain had subsided.  We had some breakfast and headed down to the shoreline just to see what the lake looked like.  What did we find? This guy suiting up to go surfing!  35F and 50mph winds so, let's go surfing! No thanks! Here he is out on the water.
I think this next shot gives you a better idea of the wave action.
And though you may not be able to tell, the waves were anywhere from 6 to 10ft here.  Nothing compared to what we would see later though.  Even though the wind was stiff and temperatures were chilly, we came dressed for the occasion and decide the chance to photograph huge waves at lighthouse was just too good to pass up. So off we go on a 1 hour 46 minute drive to Frankfort, Michigan.
Frankfort is a cool little harbor town located on the middle western coast of Michigan with a grand population of about 1300 people. The city is on mapped out at about 1.39 square miles with .20 square miles of that being water.  Even though it is small, it's pride is mighty.  Just check out this awesome gateway to the city.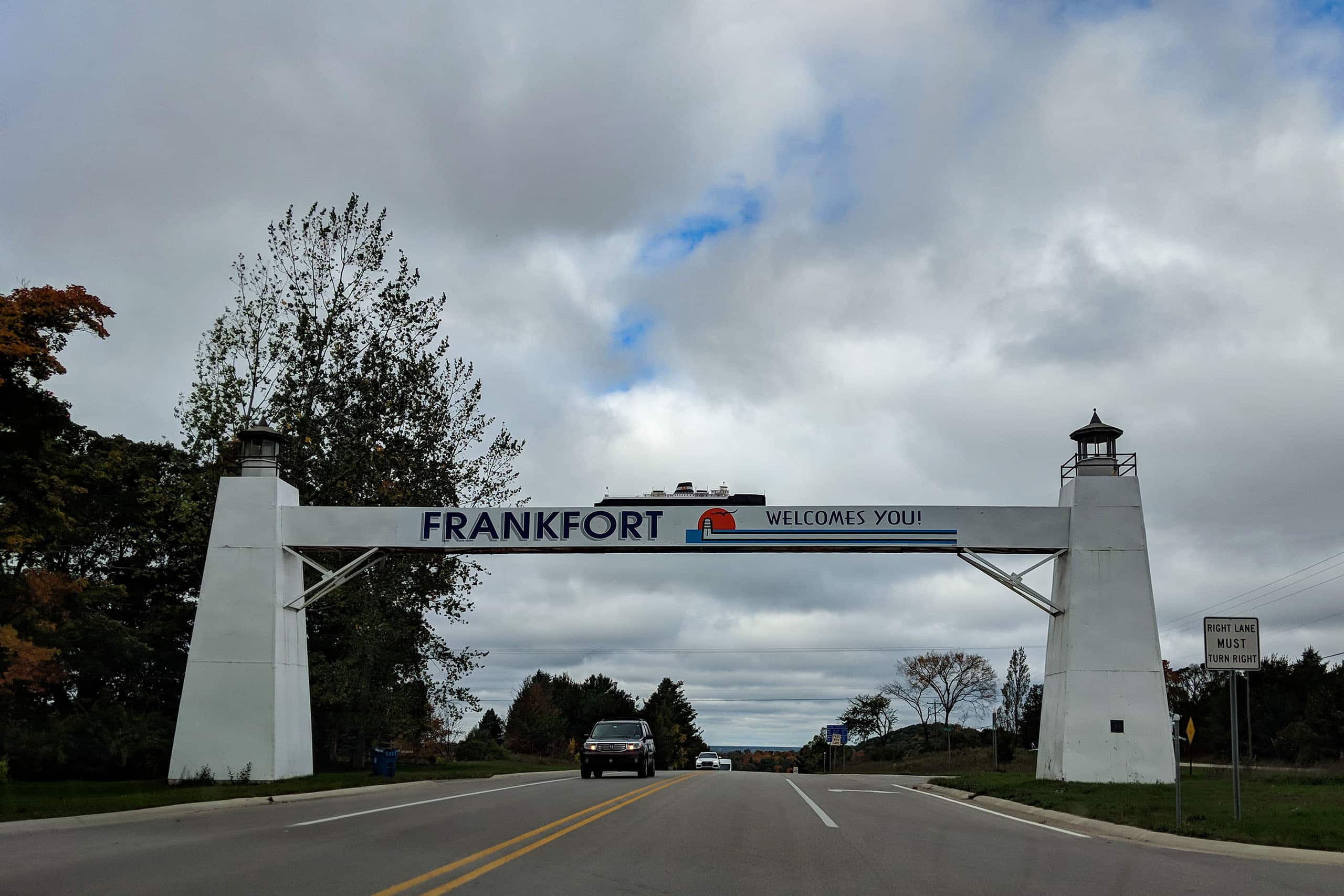 We head down to the Frankfort Public Beach to get a glimpse of the famous stormy lighthouse. Sure enough, it does not disappoint!
Often when seeing photos like this I would say, "How did this photographer get so lucky?"  It has long been on my bucket list to capture a lighthouse like this.  Was I lucky? Well, maybe. Perseverance also had a LOT to do with it.  I stood out in the 55mph winds in 35F weather with sand blasting in my face for over an hour. Taking a whopping 300+ photos, on the first attempt.  That's right, I had to go back and take 380+ more frames just to get this one shot that I was happy with.
I was shooting a manual focus Canon 70-210mm f/4 vintage film lens and it was a bit stressful.  It made me realize that I REALLY need a good 70-200mm auto focusing lens for stuff like this.  Needless to say, it was an experience I will never forget and I feel the payoff was worth the pain.
Completely exhausted we head back towards the cottage.  We decide to stop for a late lunch at an awesome place called Jim's Joint BBQ in a town called Honor.  Honor, Michigan is just a blip on the map but home to what may be the best BBQ I have ever had.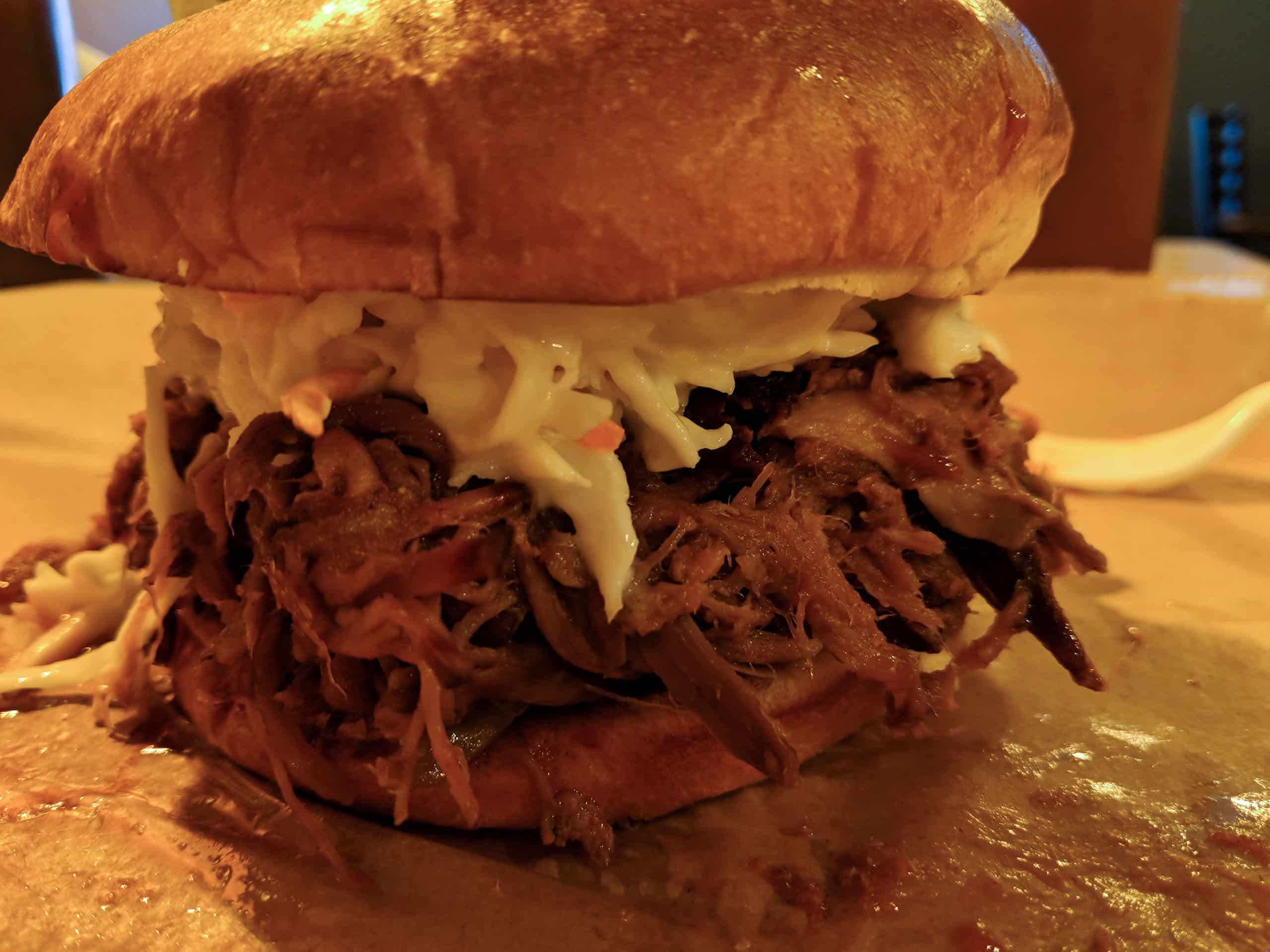 It's making my mouth water just uploading this photo. Big shout out to Jim and his crew there. Cannot wait to return next Autumn!
Day 5
Our final full day in Charlevoix would start out with breakfast at our new favorite breakfast joint, Smoke on the Water.  After which we did some shopping in town. There are tons of amazing little shops from specialized candies, clothing, outdoor goods, and cool antique shops like this one.
Most of the town was starting to gear up for their 40th annual 3 day Apple Festival Arts & Crafts show which we totally lucked out on happening while we were there.  The festival features over 165 exhibitor booths, fall harvest, baked goods and over 30 varieties of apples.  The whole town is converted into a festival and it is awesome.  It was cold and windy and we felt really bad for the artists. In turn I think we bought more and even helped one artist hold down their tent.  It was cool and we felt very at home there.  Sipping hot apple cider tea and visiting with everyone was the perfect ending to this magical impromptu getaway.
I almost feel guilty writing this story and letting you in on our newly found secret spot.  Hopefully you can visit next autumn and take in the magic of Michigan for yourselves.  As always, if you have questions or need help with travel ideas, photo spots, please feel free to leave a message in the comments.
Oh, and one last thing.  We live in upstate New York, and it was easier for us to travel through Niagara Falls and Canada to reach Charlevoix. It cut 3 hours off our drive time as well as helped us discover this gem:
Want to see all of the photos from this journey? (There are a bunch more)
Remember, wherever you go, there you are.
~AD