Niagara Falls the early years
Ah good ole Niagara Falls.  I think anyone who has had the ability to travel has probably been there. And if not, they have seen it or heard about it.  As a result of me being a child of upstate New York life, Niagara Falls was our Disney World when I was a kid.  I grew up in a single parent low income home.  As many of you know, I was adopted. Which, in itself, is a big story to be told another time.
From as far back as I can remember, my mother, grandmother, and I would take yearly trips to a suburb of Niagara Falls, NY.  My mom had a family member there that we would visit.  While my mom visited, I would sit and thumb through all my aunts tourist magazines.  You see, we would never actually get to the falls during these visits.  I don't think my mom could afford anything extra other than the trip up and back. It was usually just a day trip.  Well through much begging by me and encouragement from my grandmother my mom finally took a vacation and it was to be just 2 days in Niagara Falls.  It was an amazing time from what I can remember.
I was 9 years old at the time we visited with my mom. The souvenir shops and the attractions on the NY side of the falls are on the fringes of my memory from the trip.  Most of all what sticks out to me the most was the Canadian side of the falls.  We spent a VERY short time there, but it left an amazing impression. This WAS our Disney World!  Crazy Ripley's Believe it or Not, Louis Tussaud's Waxworks, Houdini Magical Museum, and on and on. We also visited the Botanical Gardens and Butterfly Conservatory as well as the Aquarium on the NY side. But, I was 9 and just enamored with the wild carnival stuff.
While we tried to see everything when we visited Niagara Falls, the one thing I really wanted to see was the falls lit up at night. Unfortunately for us, the system was under maintenance and that wish would go ungranted. I remember being very disappointed and of course my mom being a mom tried to cheer me up by buying me a postcard of the falls lit up at night.  At the time, it did not really do it for the upset 9 year old.
Fast Forward 35 years
I was rummaging through an old shoebox when moving into our new house in 2008, and I found my one and only souvenir from those trips, this postcard.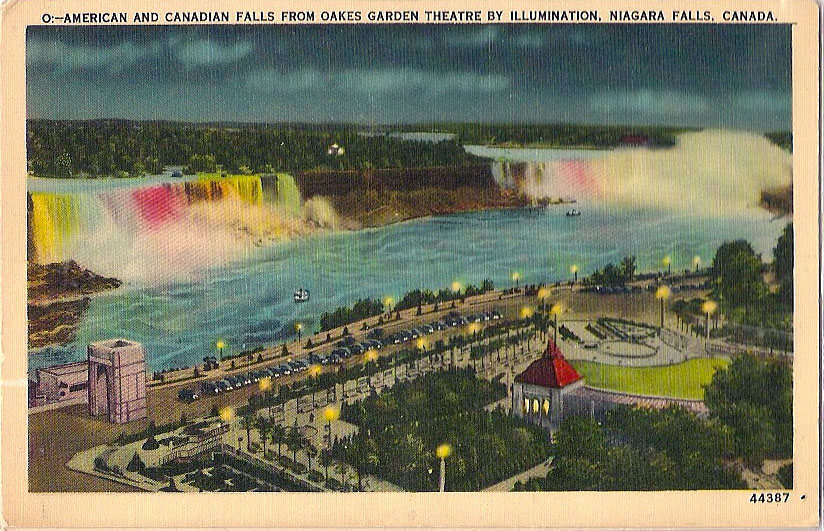 And it immediately struck a nerve.  I was determined to see the falls lit up at night. So after much planning, I put together a loop trip that would take us from NY to Chicago to Milwaukee, to Sault Ste. Marie to Niagara Falls, and then back home.  You may have seen my five part series here on the site for Chicago.  All the other places on that trip have stories coming as well, I just need to find the time to do them justice. ? I will include a map of our route at the end of this post.
So the goal with this one day shoot was obviously to get the falls lit up at night. Part of it would be to revisit my youth and the Falls Ave area as well.  Dani and I had made a previous visit on a day trip in March of 2009 which was to see and photograph the falls in the Winter.  It was c-c-cold!
A balmy 22°F on this March day.  This was also when I first got my DSLR and money was very tight, so no night visit this time around either. The night lit falls would elude me once again but not for long.  Well not for at least 6 more years.  This time around my efforts would not be thwarted.  I booked a room at the Sheraton on the Falls.  We arrived super early that day which was a good thing.  Getting a room, with a killer view, in June, in the Falls Ave area was a longshot at best. I ended up booking 8 months in advance.  Not only that, but the early arrival was important as well. They only have valet parking there as do most of the hotels in the district. While the valets were awesome, they were overwhelmed with guests, and it took almost 90 mins to get checked in, and up to our room.  The hotel was great…and oh yeah…the view?
Yeah, that view was just what I was looking for.  Knowing that tonight I was going to empty a 43 year old bucket list item, the excitement was palpable.  In the meantime, it was off to relive some of my other childhood memories.  But first…LUNCH! Right outside our hotel, conveniently located of course was Niagara Brewing Company.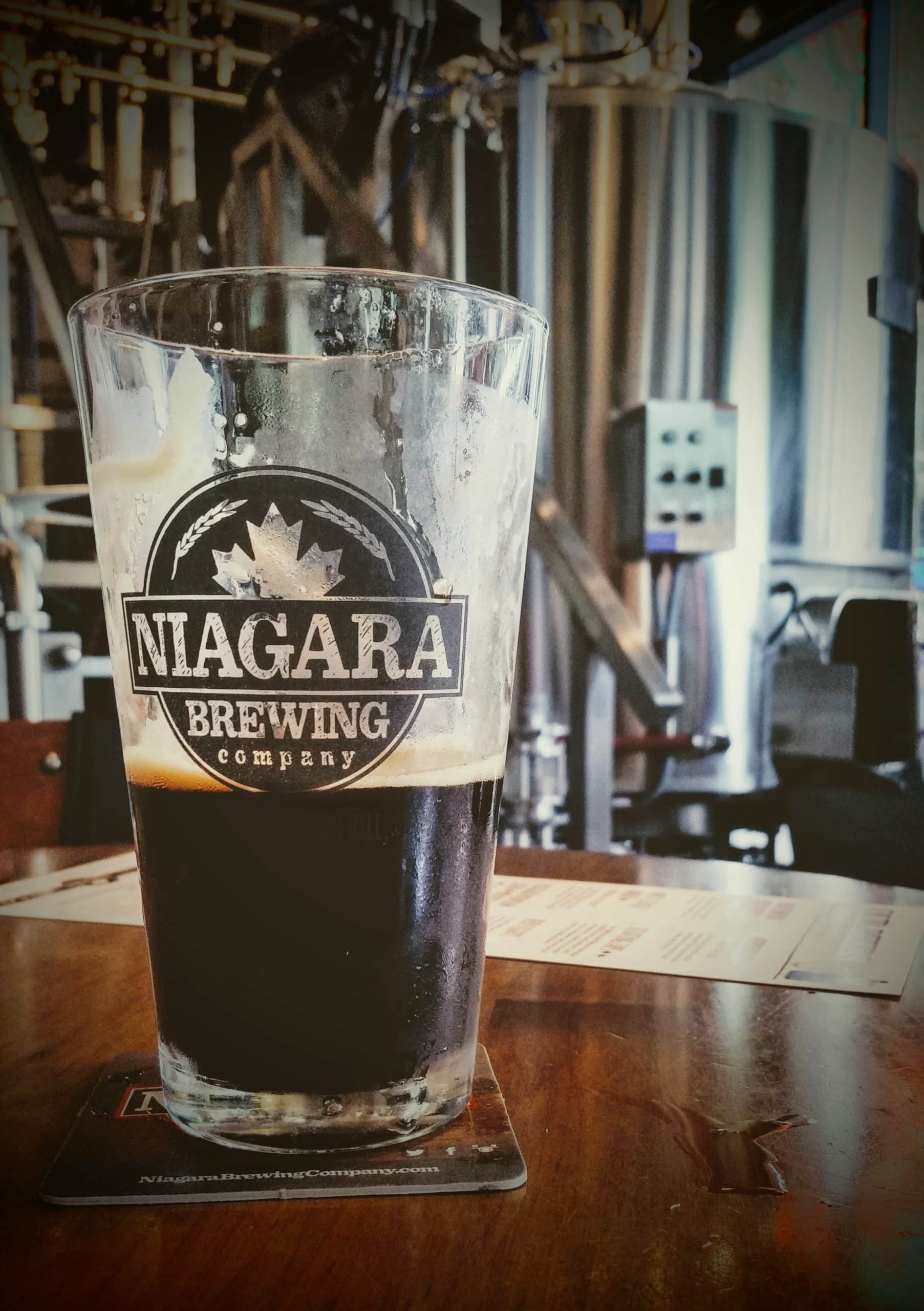 You all know how I can't resist a good brew and burger.  I highly recommend them for both!
Now fueled for the long day ahead it was off to Ripley's Believe It or Not!
Yep, that is the entire building on it's side and I would expect nothing less from Ripley's.  While I took tons of photos here I only have room on the blog to display a few.  Visit my complete gallery to see all the weird things I photographed inside.  By the way, while tripods are discouraged, Ripley's staff was wonderful and very happy to allow me to take my time and photograph all I wanted. Here are just a few of the shots.
I know most, if not all of the stuff here are just novelty items. Yet still, it took me back to being a kid and watching Monster Movie Matinee on Sunday mornings all over again.
Because there was a bit of daylight left, I decided to head down to the falls and test out my Sony a7rII's in-camera long exposure app. This app allows you to get super long exposures in full daylight without using an ND filter.  I was skeptical, but the results are certainly passable.
The app takes a series of normal exposures based on the length you specify. As a result, it alpha blends all of them together, mimicking a long-exposure shot.  You can see the water in the river is a bit jittery in areas along the bottom of the photo, but the falls themselves look great.  I suspect distance and speed have something to do with this. It definitely warrants more investigation. The only downside that I see is that you get a jpg when the app is finished processing instead of the preferred RAW file.  In conclusion,  I would not be afraid to use this in a pinch for sure!
Well, the light is fading and you know what that means.  Just before heading up to the hotel room and getting set up, we are treated to another gorgeous sunsetting rainbow at the falls.
Therefore my day was complete. Now it's time to head up to the hotel room and get set up for the night!
So the set-up at the hotel was super easy for these shots.  I used my Sony a7rII coupled with a vintage Olympus Zuiko 35-105mm f3.5 lens on a Manfrotto O55 Carbon Fiber tripod.  The hotel windows here are full-length and open for an unimpeded view making it super easy to shoot from.   The rest, as they say, is history.  I'll let the photos speak for themselves.
Mission. Complete.   If you are interested in the settings I used for these shots, please hit me up in the comments below and I will do my best to answer your questions.
Finally, a big sigh of relief and an early rise the next day to head home. Before we did that we would explore the gardens in front of the hotel that you see in the photo above.  Many photos from there and the rest of the shoot are available to view in my gallery below:
As always, if you want to download a photo, or use one of my photos, just click on the image you like and it will take you there.  Thanks for joining me on this journey, see you next time! Stay creative!
~AD